Blasphemy politics in Pakistan's unpredictable election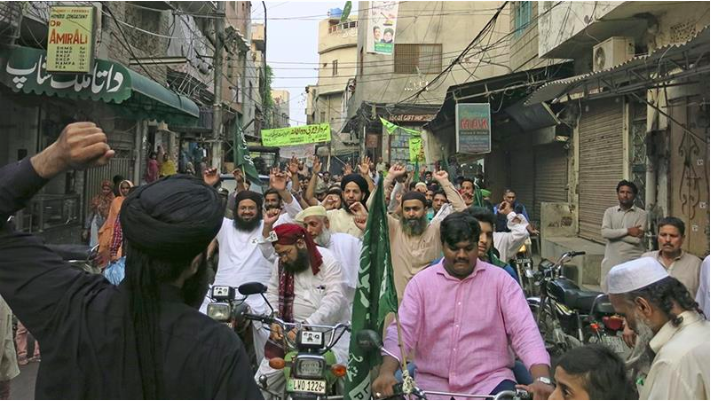 LAHORE — Pakistan's newest hardline religious party, TLP, which calls for blasphemers to be put to death and celebrates those who have murdered the alleged perpetrators, held a lively motorcycle rally last week through the streets of Lahore.
Why it matters: A year ago, this kind of a political rally, in the heart of the political base of Pakistan's ruling party, would have been unthinkable. But as Pakistan gears up for a general election in late July, the political environment is far from predictable, and new entrants have emerged onto the political scene.
Now, the TLP is set to put up more than 550 candidates for national and provincial assembly seats across the country, and is confident it can mobilize a religiously-motivated vote on the basis of its anti-blasphemy and anti-corruption agenda.
Blasphemy is a sensitive issue in Pakistan, where at least 74 people have been killed in attacks motivated by blasphemy accusations since 1990, according to an Al Jazeera tally. The TLP's election posters often carry images of those who have killed in the name of the prophet's honor.
"When it involves the honor of the Prophet Muhammad, the finality of his prophethood or the dishonoring of his person, then every Muslim will become an extremist," says Ejaz Ashrafi, a senior TLP leader, in an interview with Al Jazeera.
The bigger picture: Political analysts say the TLP is unlikely to win a parliamentary seat, but will get a significant number of votes in central Punjab province, possibly acting as a "spoiler" in two-way fights between the PML-N and PTI parties.
Go deeper: Read the full report on Al Jazeera.
Go deeper