The big picture: What to know about Kavanaugh's judicial record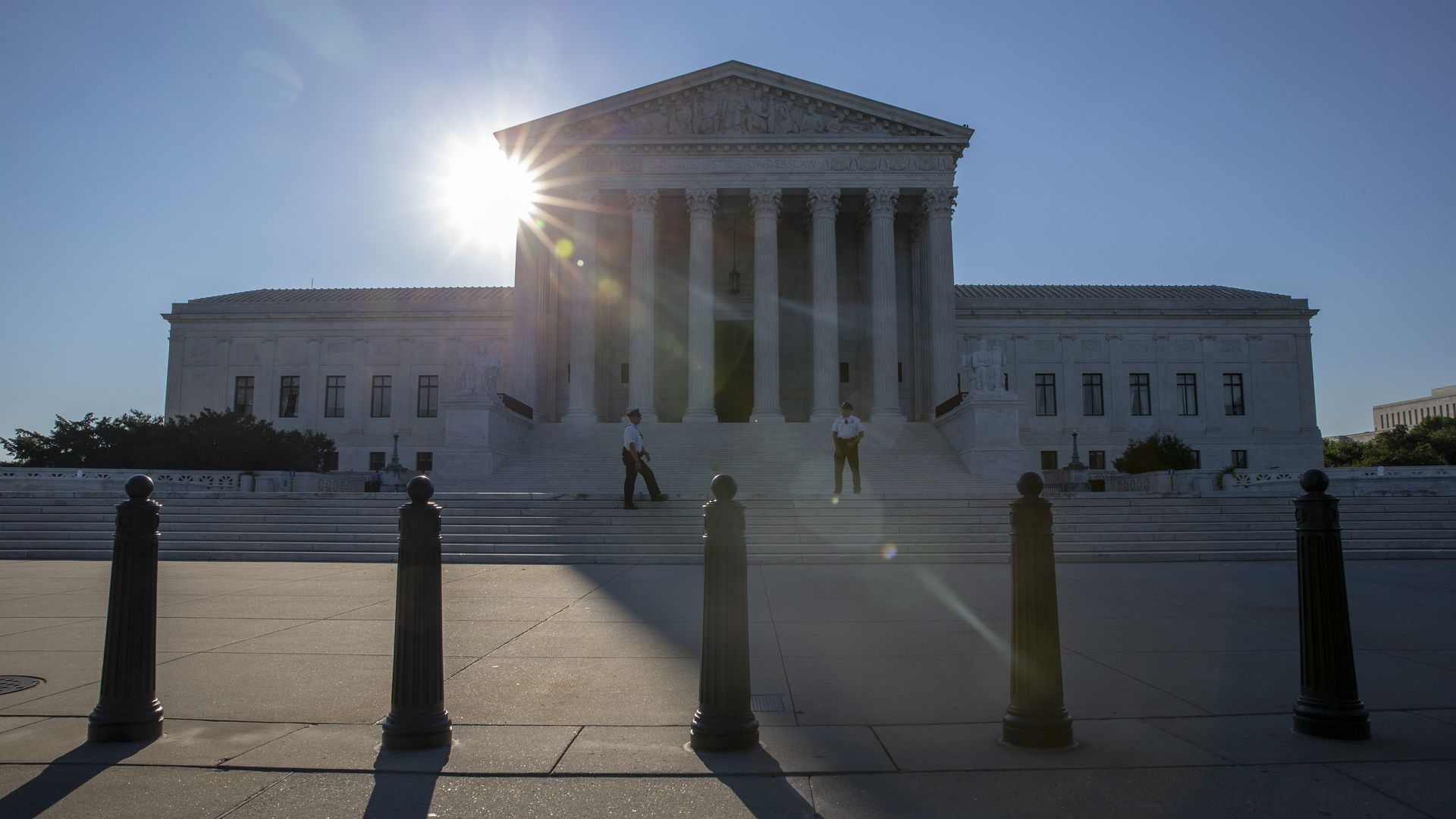 If confirmed, President Trump's Supreme Court nominee, Brett Kavanaugh, would rank just after Justice Clarence Thomas as the court's second most conservative member.
Why it matters: Kavanaugh's confirmation would shift the court for a generation, impacting decisions on topics like gun rights, health care, social issues and more. His judicial record, however, indicates that he may not be as reliably conservative as many Republicans would hope.
Health care
From Axios' Sam Baker:
"Kavanaugh's most significant ACA-related decision was in a case about the individual mandate. He did not, contrary to what some of his critics have implied, vote to uphold the mandate."
"The second case dealt with a more far-fetched challenge: It sought to have the ACA invalidated because the Senate wrote most of it. ... The Constitution's Origination Clause says bills that raise revenues have to originate in the House, not the Senate."
"Such Senate amendments are permissible under the Clause's text and precedent," Kavanaugh wrote. But he said an earlier ruling had upheld the law for the wrong reasons — and that his court should take another look at that decision. He lost.
Environment
From Axios' Ben Geman:
Kavanaugh "won't be inclined to give federal agencies wide latitude on imposing climate and environmental regulations."
"Longtime environmental lawyer David Bookbinder tells Axios that, by his count, Kavanaugh has been involved with six climate change cases, and in five of those he took a 'narrow' view of EPA's regulatory authority."
Former Obama official Jody Freeman told Ben in an email: "I am not sure he is so different from Justice Kennedy on this score. ... Can we expect decisions that cabin EPA somewhat? I think yes. I would expect a Justice Kavanaugh to make sure EPA and other agencies 'stay in their lane' so to speak."
Press freedom
From Axios' Sara Fischer:
"Kavanaugh...is a constitutional conservative that some legal experts argue would likely side with conservatives in supporting corporate free speech cases."
"When it comes to libel, the Hollywood Reporter's Eriq Gardner details a decision authored by Kavanaugh at the U.S Appeals Court for the D.C Circuit four years ago that allows litigation to be used to deter free speech."
"When it comes to net neutrality, Vice has an article explaining why Kavanaugh is a major net neutrality opponent."
Privacy
From Axios' Shanna Vavra:
"Kavanaugh has stood behind warrantless government surveillance in the past, including the NSA's surveillance operation that former NSA contractor Ed Snowden exposed in 2013."
"He wrote, 'the Government's metadata collection program is entirely consistent with the Fourth Amendment. … In my view, that critical national security need outweighs the impact on privacy occasioned by this program.'"
"Kavanaugh also dissented on the court's decision in 2010 about authorities placing a GPS tracker on a suspect's car without a warrant. Kavanaugh said the suspect did not have a reasonable expectation of privacy in his public movements."
Abortion
Per NBC, "Kavanaugh's record of public comments and legal decisions on abortion rights is relatively thin."
He told Sen. Chuck Schumer in 2006, on the issue of Roe v. Wade: "If confirmed to the D.C. circuit, I will follow Roe v. Wade faithfully and fully. That would be binding precedent of the court, It's been decided by the Supreme Court."
In October, when a pregnant undocumented teenager wanted an abortion, Kavanaugh wrote in his dissent that "the court was wrong to conclude she had the right to 'an immediate abortion on demand.' ... He said delaying the procedure until she could be released to a U.S. sponsor would not impose an undue burden on the abortion right," NBC reports.
Executive power
Kavanaugh has "consistently [sided] with arguments in favor of broad executive authority," the Washington Post reports.
"He has called for restructuring the government's consumer watchdog agency so the president could remove the director and has been a leading defender of the government's position when it comes to using military commissions to prosecute terrorism suspects."
Something that could come up during his confirmation: In 2009, Kavanaugh "argued that presidents should not be distracted while in office by civil lawsuits or criminal investigations," per The Post.
Regulations
Kavanaugh "has often been skeptical of government regulations," the Wall Street Journal reports. "And he has argued in favor of greater judicial power in reviewing the actions of administrative agencies on major questions."
He's "been open to using the First Amendment to strike down government regulations."
His career on the D.C. Circuit has "been marked with dozens of votes to roll back rules and regulations," another WSJ report states.
Corporations
Politico reports that business groups were called upon by the White House on Monday "to help push his confirmation."
The White House, in a document sent out to business groups, "wrote that Kavanaugh has overruled federal regulators 75 times on cases involving clean air, consumer protections, net neutrality and other issues," and most recently "favored curtailing the power of independent federal regulators."
Go deeper