Go deeper: Rescuers race to retrieve Thai soccer team trapped in cave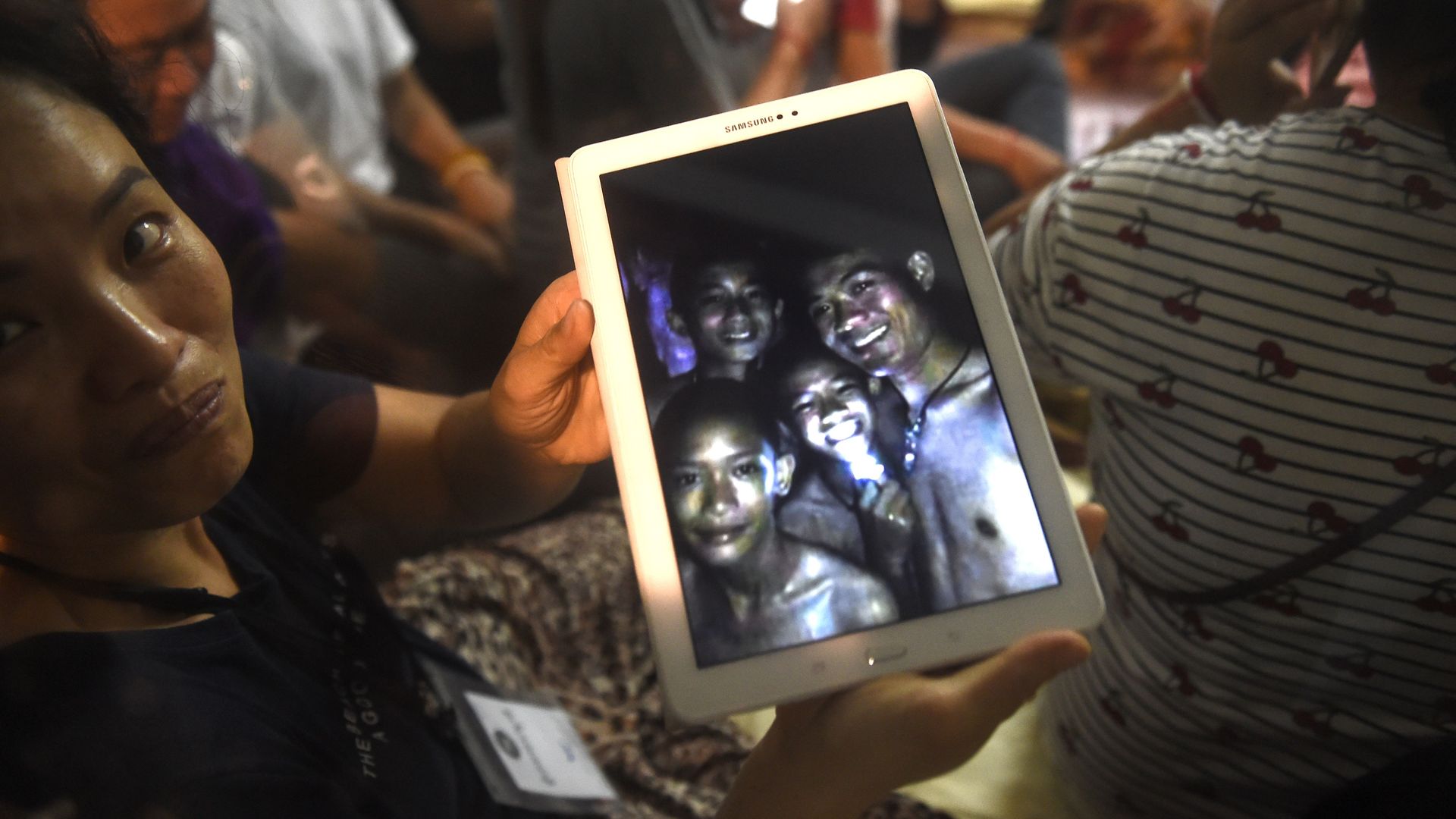 The youth soccer team trapped in the Tham Luang Nang Non cave complex in Thailand won't be rescued on Saturday, CNN reports, as officials deliberate on the best course of action to get them out.
What happened: The group of 12 boys, ages 11 to 16 per CNN, and their 25-year-old coach were found alive after 10 days in the cave, per the BBC. They entered the cave "during fine weather but became trapped when a sudden downpour flooded the narrow tunnels," CNN reports.
The latest: A former Thai Navy SEAL died on Friday after running out of air while in the cave, the Wall Street Journal reports. Tesla CEO Elon Musk tweeted on Friday that "SpaceX & Boring Co engineers" were heading to Thailand on Saturday "to see if we can be helpful to govt."
State of play: Governor Narongsak Osottanakorn said that conditions are "all right," and that the "kids are still able to walk around, play around comfortably." Officials have been pumping water from the cave 24 hours a day, according to CNN.
Around 1,000 people are currently involved in the rescue operation, and will only make an attempt this weekend, which expects to see more heavy rain as monsoon season continues, "if the risk to their lives was minimal," CNN adds.
The "narrow, pitch-black tunnels" of the cave may be too dangerous to swim through, though the group is learning to dive, per CNN. The death of the former SEAL "highlights just how dangerous the route out of the cave remains," per BBC.
While they have been supplied with "food, oxygen and medical attention...there are mounting concerns about the oxygen level" in the cave, which has fallen to 15% from 21%, BBC reports.
What they're saying: Handwritten notes by children and their coach, trapped in a cave in Thailand, via AP:
Tun: "Mom and Dad, please don't worry, I am fine. I've told P'Yod to get ready to take me out for fried chicken. With love."
Pong: "Love you mom and dad, you don't have to worry, we're safe. Love you all."
Nick: "Mom and Dad, I love you and Toi. If we get out, Mom and Dad - please take me out for some Pork Pan BBQ."
Coach Aek: "To the parents of all the kids, right now the kids are all fine, the crew are taking good care. I promise I will care for the kids as best as possible. I want to say thanks for all the support and I want to apologize to the parents. ... To my aunt and grandmother, I am doing well, please don't be too worried about me. Take care of yourselves. Aunt please tell grandmother to make vegetable dip and pork rind. Once I'm out, I'll go eat. Love everyone."
Go deeper