Fact-checking my energy crystal ball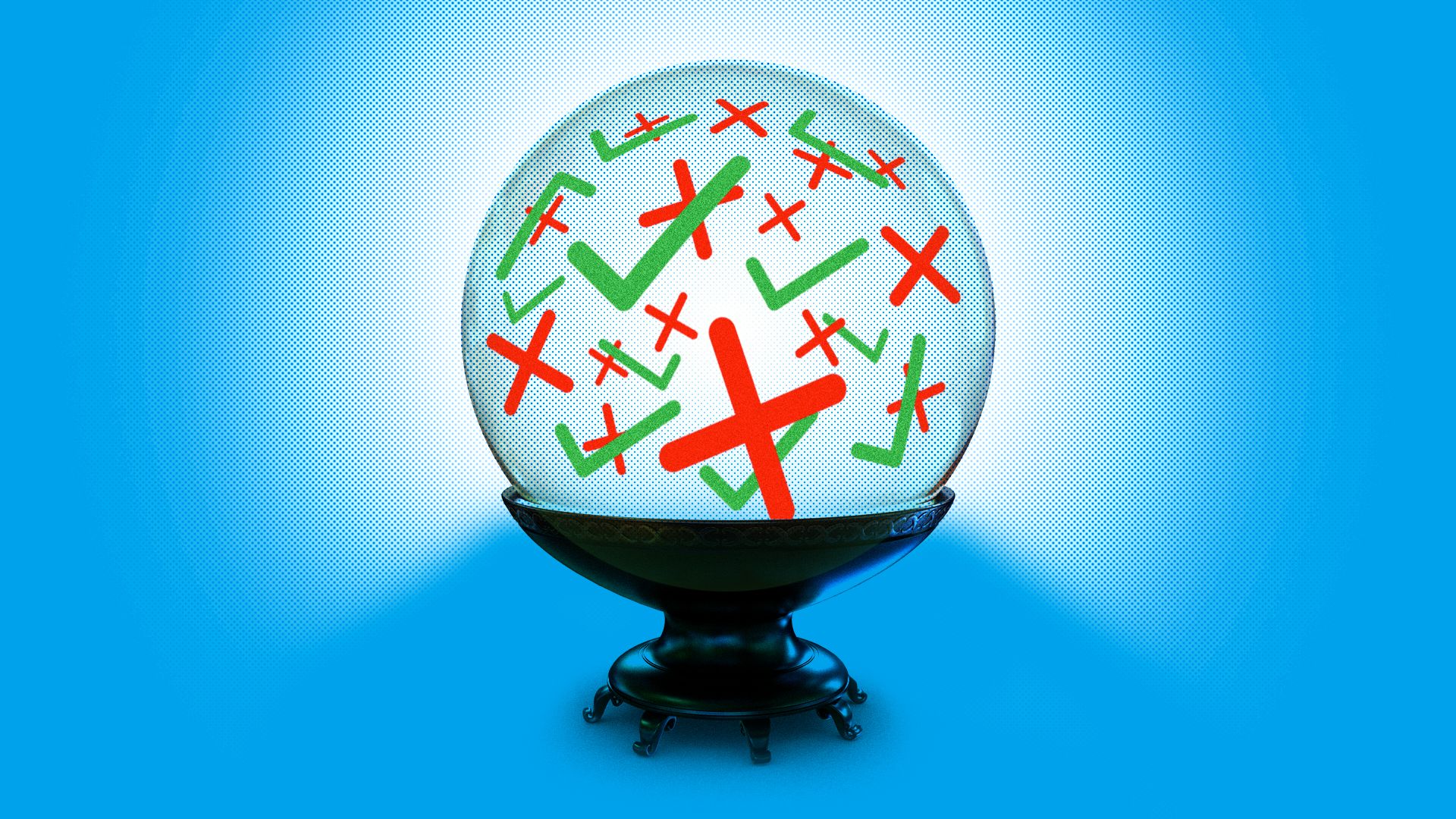 In early January I laid out eight energy and climate issues to watch this year. Here's my rejiggered crystal ball — and a fact check for how my predictions are playing out.
1. Regulatory rollbacks
The pace of President Trump's regulatory rollbacks at the Environmental Protection Agency is slower than I had predicted in January, though this summer is gearing up to be a busy one.
Distracted by his self-created controversies that were largely unexpected in their own right, former Administrator Scott Pruitt wasn't as efficient at repealing regulations as many of his backers would have liked. With him out and EPA's former No. 2, Andrew Wheeler, leading the agency, insiders say things should move more smoothly.
The EPA is expected to propose rules this summer replacing three of the biggest Obama-era regulations Trump vowed to repeal. These rules affect a wide swath of America's economy and environment: coal power plants, fuel economy of cars, and waterways.
Uncertainty persists over other rules, particularly EPA's attempt to roll back an Obama-era rule cutting emissions of methane, a potent greenhouse gas that's the primary component of natural gas.
"I've given up on even paying attention to that," said Myron Ebell, a senior expert at the conservative Competitive Enterprise Institute and former transition Trump transition official. "I'll just be grateful if anything comes out."
2. Trade
I predicted the rubber would meet the road, and it sure has.
Trump imposed tariffs on solar panels in late January, which are reportedly leading to billions of dollars in shelved U.S. projects.
The oil and natural gas industry, dependent upon steel-made pipelines, is grappling with Trump's tariffs on steel, while China has included energy commodities on its retaliatory list responding to Trump's aggressive action there.
These battles are playing out against a broader trade landscape fraught with uncertainty, with Trump railing against the World Trade Organization and vowing not to sign any renegotiated North American Free Trade Agreement until at least after the midterm elections.
3. Electricity market battles
This fight is meeting my expectations, despite no official action from the Trump administration.
A government document leaked a few weeks ago shows an Energy Department proposal invoking a pair of decades-old laws to force sweeping changes in America's electricity markets.
That unprecedented proposal comes after the Federal Energy Regulatory Commission, an independent agency, rejected early this year the department's request to issue rules compensating coal and nuclear coal plants.
4. Paris and Kigali climate accords
I predicted we'd see words move to action on these two climate-related global accords the Obama administration agreed to. I've been more right on Kigali than Paris.
Trump remains committed to withdrawing from the Paris climate deal. But companies, some Senate Republicans and even a few conservative groups are urging Trump to back the Kigali amendment.
This policy is connected to the Montreal Protocol, a treaty protecting the Earth's ozone layer. The amendment phases down hydrofluorocarbons (HFCs), which are potent greenhouse gases in appliances like air conditioners.
The administration would need to send the amendment to the Senate for a ratification vote to ensure U.S. participation. The policy goes into force in January for nations that have officially ratified it.
5. Carbon tax
The tectonic plates I predicted would be shifting here are moving — slowly and subtly.
Some energy firms have launched a new political lobbying campaign backing a carbon tax. Expect conservative groups supportive of the policy, like Alliance for Market Solutions, to become more vocal this summer.
One sign that support is building is the growing reaction from opponents.
6. Transportation fuels
I predicted a battle for America's mostly stagnant transportation fuel mix would unfold this year, and it is — but it's mostly a fight between ethanol and oil.
Trump officials are caught between the president's allies in the ethanol and oil industries. Both sides are jockeying over potential changes to the nation's biofuels mandate.
The policy requires refineries to blend increasingly large amount of biofuels — mostly corn-made ethanol — with gasoline.
Nearly every gallon of gasoline has 10% ethanol, though that has plateaued in recent years.
Despite all the talk of possible changes over the past six months, any substantive overhaul of the program, either within the administration or Congress, is unlikely to happen until 2022. That's when congressionally mandated numeric quotas end, creating urgency for policy change.
7. Oil prices
I was pretty spot-on with my prediction oil prices would trend upward, with gasoline prices rising accordingly.
In response to global oil prices nearing $80 a barrel, the Organization of Petroleum Exporting Countries and Russia agreed last month to boost production to stabilize the market.
One lingering question is whether oil companies are boosting their investments enough to avoid a supply crunch — and much higher prices — in a few years, which the International Energy Agency has warned about.
"Investment is picking up, but not as much as it is needed," its executive director, Fatih Birol, told me late last month.
8. Saudi Aramco IPO
I was mostly wrong about this being a 2018 issue.
News broke in March that Saudi Aramco, the state-owned oil giant in Saudi Arabia, was delaying its IPO initially planned for this year. And just last week, the WSJ reported it may not happen at all.
The reason behind the IPO remains important in its own right: The whole purpose of it is to diversify Saudi Arabia's oil-dependent economy away from being too dependent upon oil.
That mindset is emblematic of a larger trend among the world's biggest oil companies that we're seeing more and more this year.
Go deeper