Lawmakers celebrate Scott Pruitt's departure: "Took you long enough"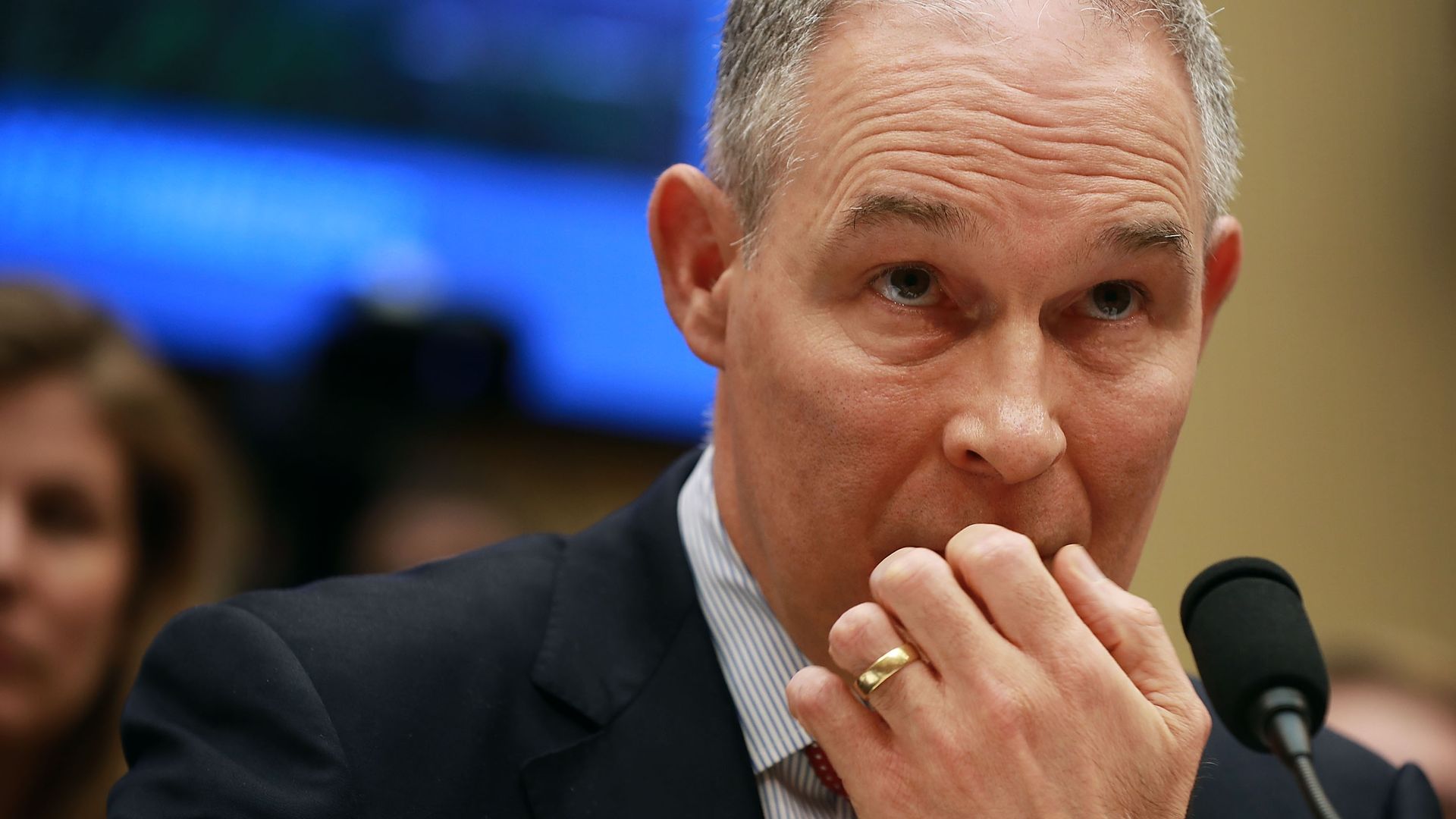 Republicans and Democrats alike are supporting President Trump's acceptance of Environmental Protection Agency Administrator Scott Pruitt's resignation on Thursday.
The big picture: Pruitt was embroiled in several ethics scandals, yet through it all President Trump stood by him publicly, saying in April that "Scott is doing a great job" despite being "TOTALLY under siege." Pruitt credited his resignation to "unrelenting attacks on me personally," saying they "are unprecedented and have taken a sizable toll on all of us."
Rep. Carlos Curbelo (R-FL):
Senate Minority Leader Chuck Schumer (D-NY): "Took you long enough. Still a very long way to go to fully #DrainTheSwamp."
Senator Bernie Sanders (D-VT): "Scott Pruitt was the worst EPA administrator in the history of the agency ... I will do everything possible to see that the next EPA administrator actually believes in environmental protection."
Sen. John Barasso (R-WY), Chairman of the Senate Committee on Environment and Public Works: "It has become increasingly challenging for the EPA to carry out its mission with the administrator under investigation. President Trump made the right decision to accept his resignation. I look forward to the confirmation of the next head of the EPA. In the meantime, I know Assistant Administrator Andrew Wheeler is well prepared to continue the progress already made under President Trump."
Sen. Chuck Grassley (R-IA): "President Trump made the right decision. Administrator Pruitt's ethical scandals and his undermining of the President's commitment to biofuels and Midwest farmers were distracting from the agency's otherwise strong progress to free the nation of burdensome and harmful government regulations."
Sen. Lindsey Graham (R-SC): "I believe the President was right to accept @EPA Administrator Scott Pruitt's resignation. Like @realDonaldTrump I appreciate all of Scott's efforts to roll back the Obama Administration's burdensome regulations ... but it has become increasingly clear it was time for a change at EPA."
House Minority Leader Nancy Pelosi (D-CA):
Former Director of the U.S. Office Government of Ethics, Walter Shaub:
Citizens for Responsibility and Ethics in Washington (CREW):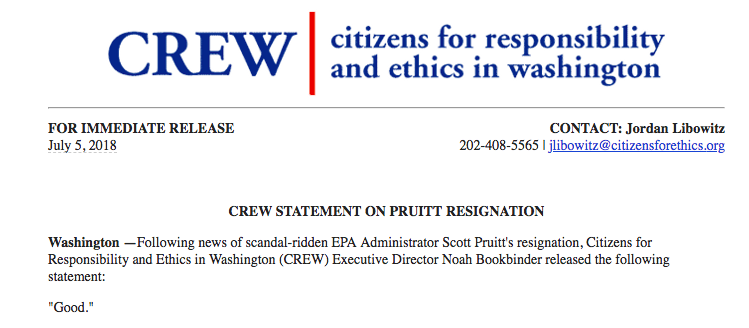 Go deeper: How things will (and won't) change at the EPA with Pruitt gone
Go deeper