How things will (and won't) change at EPA with Scott Pruitt gone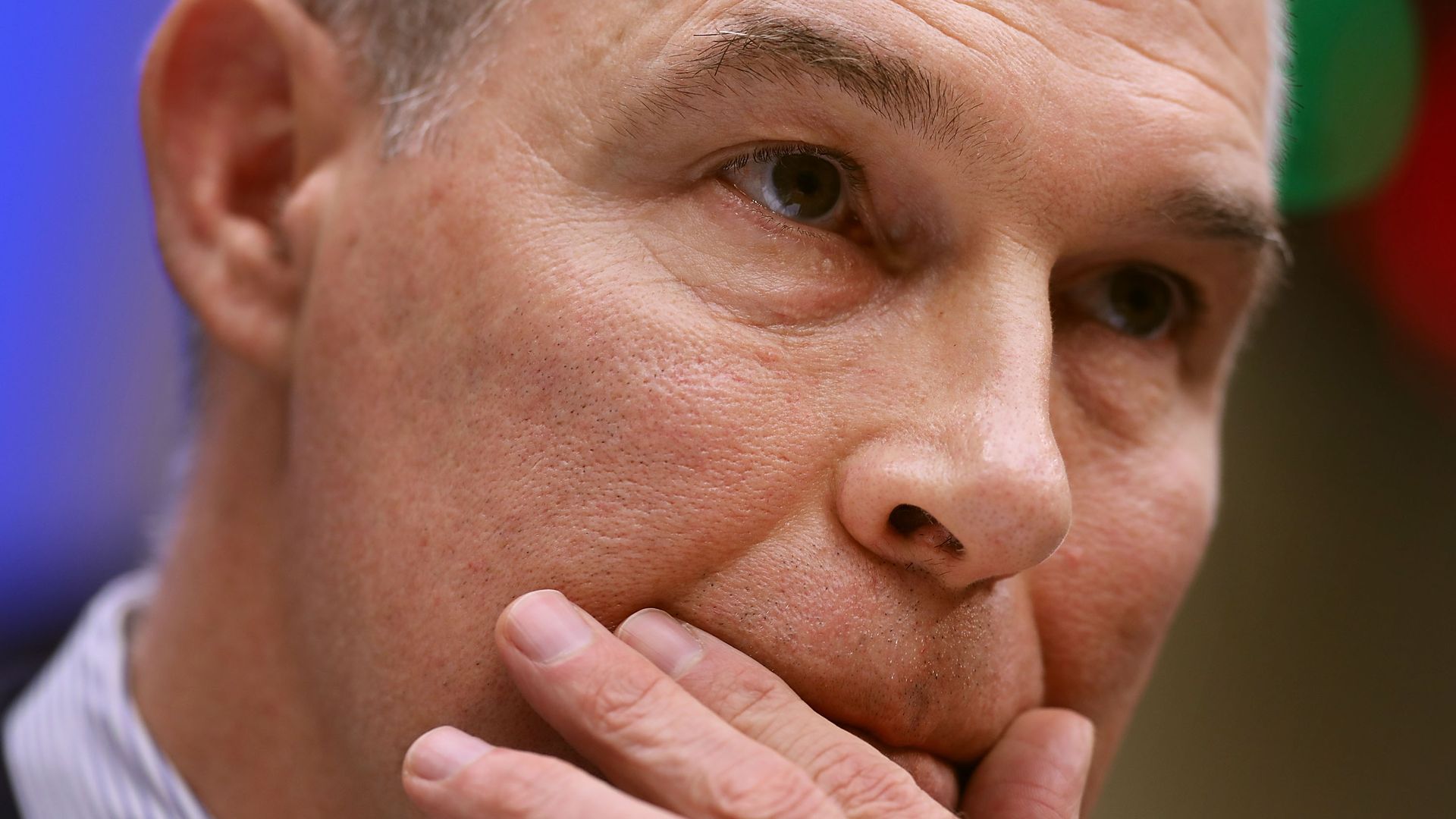 The Environmental Protection Agency is likely to see smoother processes, less ethical controversy and a small number of potential policy shifts with Administrator Scott Pruitt gone. But don't expect the overall direction of the agency to change.
Why it matters: For months Pruitt's various scandals have dominated headlines and distracted attention from the agency's regulatory rollbacks under Trump. With him gone, you will have an agency scarred by a tumultuous run but nonetheless on the same policy track.
What's next: Andrew Wheeler, EPA's current deputy administrator, will be the acting administrator, Trump said in his tweet Thursday. He'll remain there until or unless Trump appoints a replacement and successfully gets the nominee through what would be a protracted and politically grueling Senate confirmation process.
Wheeler is a long-time Washington lobbyist and government official. He has represented coal producer Murray Energy, whose CEO Bob Murray is close to Trump, since 2009, according to federal lobbying disclosures.
Let's run down how things are likely to change — and not change — under Wheeler.
Process
Wheeler is expected to run a more conventional and inclusive policy process, even though the end results are policies similar to those of Pruitt.
"On policies, I don't think Andy will be any different than Pruitt, truly. They see things the same way," Jeff Holmstead, former top EPA official in the George W. Bush administration. "Andy is going to be quieter, and probably less political in advancing the same agenda."
Wheeler has worked at EPA, on Capitol Hill and in lobbying shops in Washington for decades, and is thus expected to operate more inclusively in his native environment. Pruitt, by contrast, was tapped partly because he hadn't worked inside the nation's capital—and because he sued EPA more than a dozen times while he was Oklahoma's attorney general.
Some environmentalists are hoping these differences means an ever-so-slightly more moderate anti-regulatory bent. "I do believe there would be a more nuanced approach to rollbacks, if there is such a thing, compared to Mr. Pruitt's tenure," said John Walke, clean air director at Natural Resources Defense Council.
Climate change
Wheeler is certain to continue rolling back President Obama's climate regulations, including a rule cutting carbon emissions from power plants. He'll also continue the rulemaking process on issuing a far narrower rule to replace Obama's version, a move the agency is taking given legal precedent.
Like Pruitt, Wheeler also questions the mainstream climate science consensus, namely that the burning of fossil fuels, along with other human activity, is driving Earth's temperature beginning in this last century.
The White House has pushed back against Pruitt's idea to host a formal debate on climate science. Given Wheeler's expected adherence to process more than Pruitt, conservative-group and industry sources close to the agency say he's unlikely to focus much in this space. This includes opting not to review a 2009 scientific finding by Obama's EPA that serves as the legal underpinning of most carbon regulations.
Renewable fuel standard
The fate of this never-ending Tug-o-War between ethanol and oil interests remains unclear regardless of EPA's leadership. The agency has authority to enforce this mandate, which requires refineries to blend an increasingly large amount of biofuels, mostly corn-produced ethanol, with gasoline.
Pruitt has faced criticism from corn-state Republican lawmakers that he is skirting a policy Trump supports by giving compliance waivers to more refineries than in the past. That's prompted some experts to speculate that amid the long list of Pruitt's scandals, it could be the ethanol policy war that ultimately didn't sit well with Trump, partly because ethanol is one of the few policy issues Trump has been consistently vocally supportive of.
Oil and refining lobbyists are split on how things could change with Pruitt gone—partly because the industry itself is split on the policy.
Some sources say EPA is issuing waivers in response to a court ruling last year saying EPA had been too strict in this policy, potentially paving the way for more leniency in the future, so Pruitt isn't central to the shift. Others, however, say Wheeler would know the program better and be able to make better, more lasting decisions.
Rollback of truck emissions rule
EPA is rolling back an Obama-era rule that closed what most objective experts consider a loophole in air-pollution standards in big trucks. The particular rule exempts trucks known as gliders, which use repurposed diesel engines that emit a lot more air pollution than new engines.
This regulation has a lot of support from industry, but Pruitt has moved forward with rolling it back anyway, due at least partly to lobbying by a Tennessee truck dealership, per the NYT. This could be an area Wheeler may go in a different direction, multiple industry officials said.
Go deeper