Five dead, two injured in shooting at Capital Gazette newsroom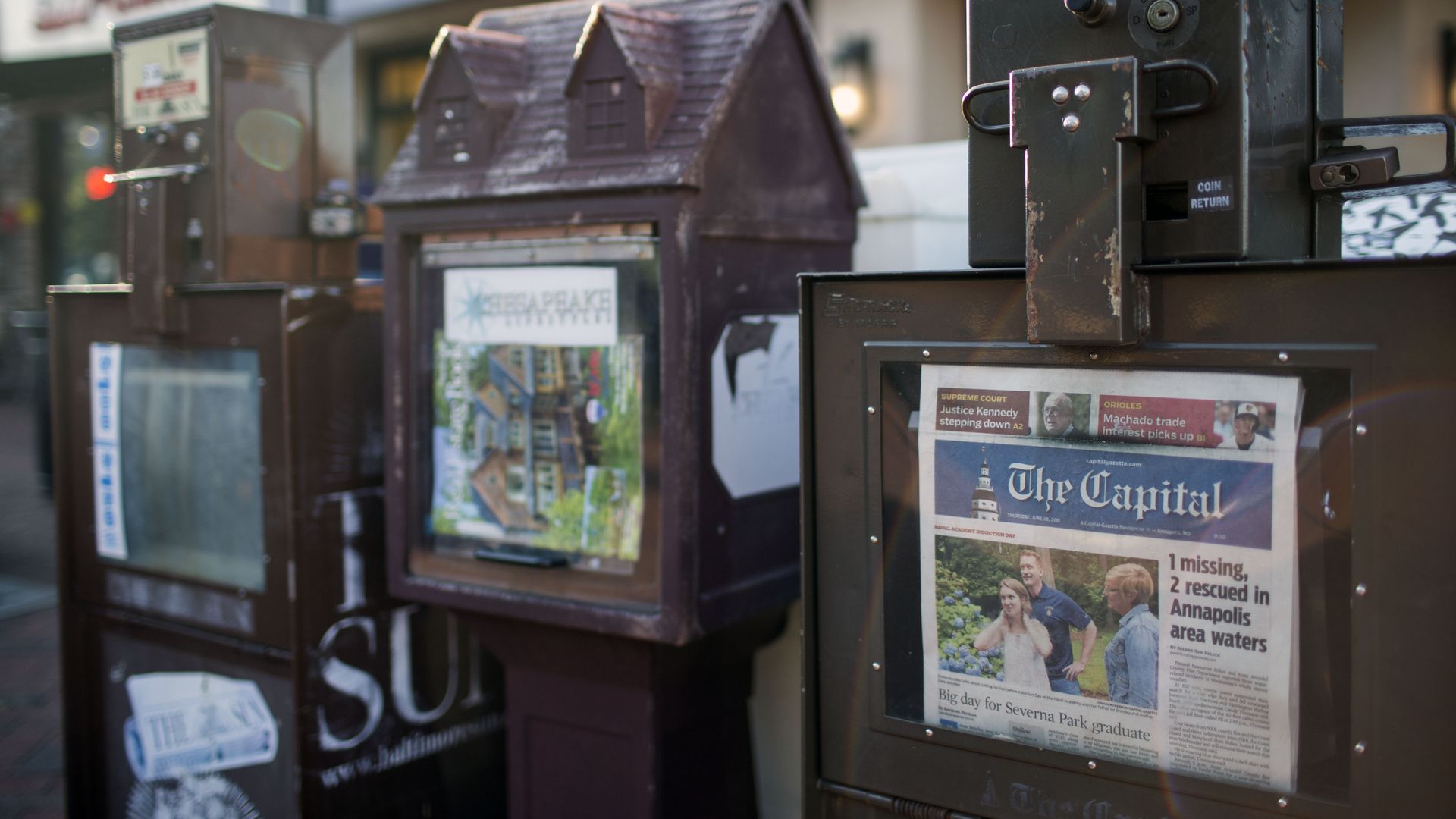 Five people are dead and two are injured after a shooter opened fired in the Capital Gazette's newsroom in Annapolis, Maryland, on Thursday.
The latest: Deputy Chief Bill Krampf said that the suspect, who has been identified as 38-year-old Jarrod Ramos, entered the building with a shotgun and canisters of smoke grenades, looking for victims as he walked through the lower level of the building. "This person was prepared to come in, this person was prepared to shoot people, his intent was to cause harm," said Krampf.
The five victims have been identified by the Baltimore Sun, which has the same owner:
Rob Hiaasen, 59, an editor at the Capital. He had just celebrated his 33rd wedding anniversary, "was a philosopher and a poet. He was a coach, and he was a mentor. He wanted to teach young journalists to be better," said Tina Reed, a former reporter at the paper.
Wendi Winters, 65, "a community correspondent who headed special publications."
Gerald Fischman, 61, the editorial page editor.
John McNamara, 56, "a staff writer who had covered high school, college and professional sports for decades."
Rebecca Smith, 34,"a sales assistant hired in November."
Updates:
In July 2011, a columnist at the paper reportedly covered a criminal harassment case against Ramos. Ramos later brought a defamation lawsuit against the columnist, as well as the Capital's former editor and publisher, according to the Sun.
Yes, but police are still investigating the motive behind the shooting. Krampf said the suspect has "possibly" interacted with the Capital Gazette over social media — the Capital received threats that "indicated violence" as early as Thursday — though authorities have not yet confirmed if those threats came from the suspect.
The suspect "mutilated" his fingers, the Associated Press reports, hoping "to thwart identification." Krampf said there was not information they could give out about that at this time.
From the scene: Capital Gazette courts and crime reporter Phil Davis tweeted from the scene while waiting to be interviewed by police: "A single shooter shot multiple people at my office, some of whom are dead... Gunman shot through the glass door to the office and opened fire on multiple employees. Can't say much more and don't want to declare anyone dead, but it's bad... There is nothing more terrifying than hearing multiple people get shot while you're under your desk and then hear the gunman reload.
Despite the tragedy that unfolded before them today, the Capital's employees have remained resilient, and still published a paper for Friday morning.
Go deeper