Go deeper: Anthony Kennedy's most important decisions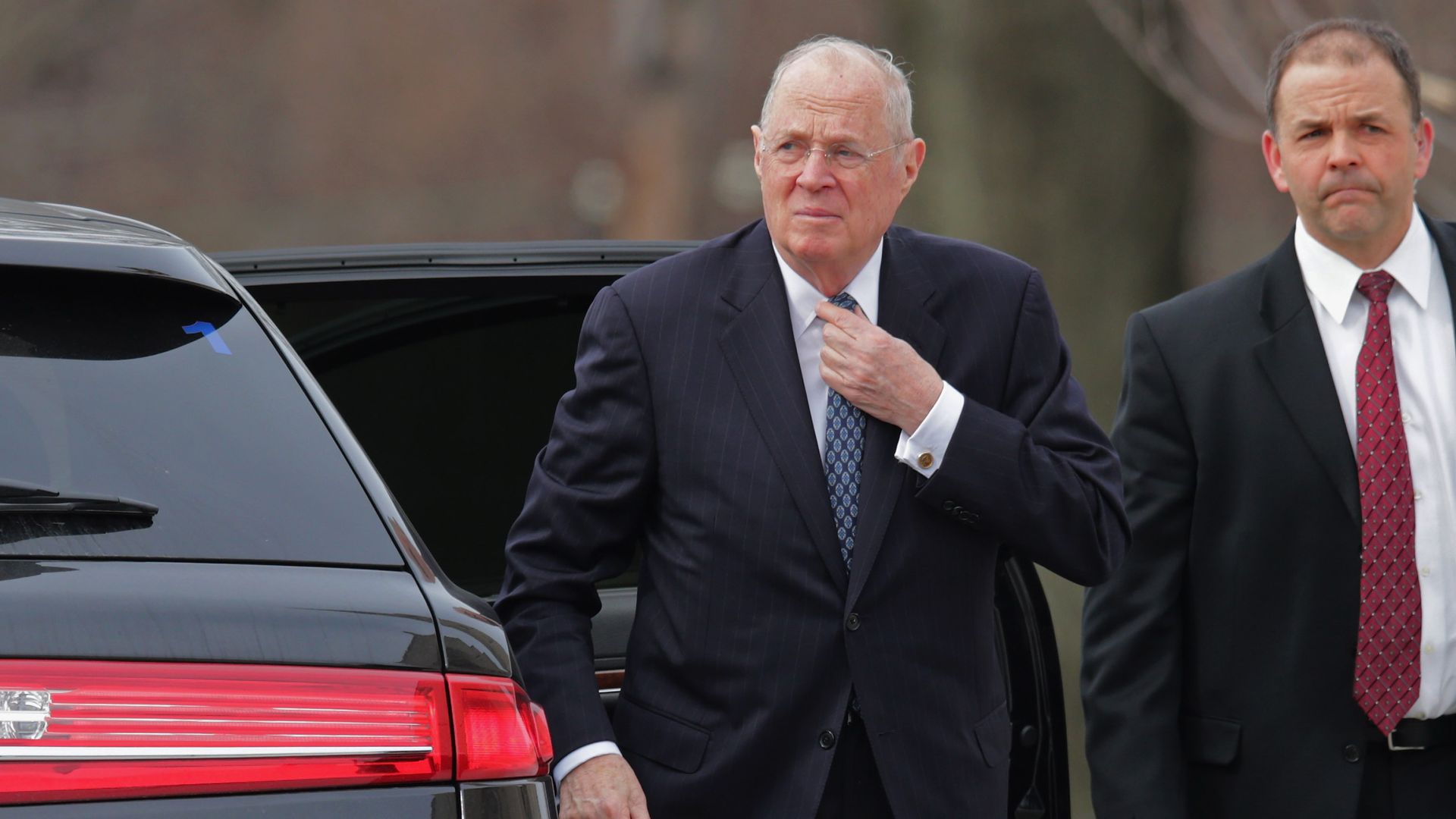 Supreme Court Justice Anthony Kennedy has arguably been the most powerful person in American politics for the past 10 years, and now it's someone else's turn.
The impact: Here's a look at the most consequential parts of Kennedy's complex legacy — and which ones a more conservative replacement is most likely to chip away at or reverse.
LGBT rights
Kennedy will always be best known for Obergefell v. Hodges, his 2015 decision establishing a nationwide constitutional right to same-sex marriage. It capped off a steady progression of Kennedy decisions, beginning in 1996, that steadily expanded same-sex couples' rights.
Be smart: A future court is unlikely to directly overturn Obergefell. But it would likely give more weight to people who still object to the same-sex marriages.
In last week's ruling concerning a Christian baker who refused to bake a cake for a same-sex wedding, Kennedy explicitly left those issues up to his successor.
Abortion
While Kennedy's defense of LGBT rights was full-throated, abortion truly captures his reputation as a moderate who straddled the court's ideological divides.
He joined with Justice Sandra Day O'Connor — who was also a swing vote — to craft the majority in Planned Parenthood v. Casey, which reaffirmed the core of Roe v. Wade but also upheld some restrictions on abortion.
Casey created a new test: whether abortion restrictions created an "undue burden" to access. Just last year, he sided with the court's liberals to rule that some of Texas' limits failed that test. But the court's other Republican appointees disagreed.
No matter who Trump appoints to replace Kennedy, Casey and Roe are likely in much more danger than Obergefell.
Criminal justice
Kennedy, again siding with the court's liberals, wrote the 5-4 decision that said it's unconstitutional to execute minors, and a few years later — again 5-4 — the court struck down the death penalty in cases of child rape.
In 2015, he suggested the court should take another look at whether solitary confinement is unconstitutional. Now, the next justice will get to decide.
The other side
Despite his famous 5-4 decisions on social issues, Kennedy was still, most of the time, a conservative justice.
He wrote Citizens United, and was in the majority in today's case rolling back public-sector unions' clout. He largely opposed affirmative action, joined the court's opinion in striking down important parts of the Voting Rights Act, and sided along with his fellow conservatives in a host of opinions curtailing workers' rights to sue their employers.
Between the lines: Kennedy's departure will also affect the court's internal dynamics, which in turn will affect the kinds of cases it hears in the first place, as well as how it decides them.
With four more ideologically committed justices on either side of him, Kennedy was the court's majority-maker. If either side wanted to win a close case, it basically had to do it Kennedy's way.
So, even on issues where the new justice and Kennedy both would have voted with the conservatives, there can still be a big difference in what the decision ultimately says and how it's framed. With a firmer and more junior majority, more of that behind-the-scenes power will rest with Chief Justice John Roberts.
Go deeper