Anthony Kennedy retires as Supreme Court justice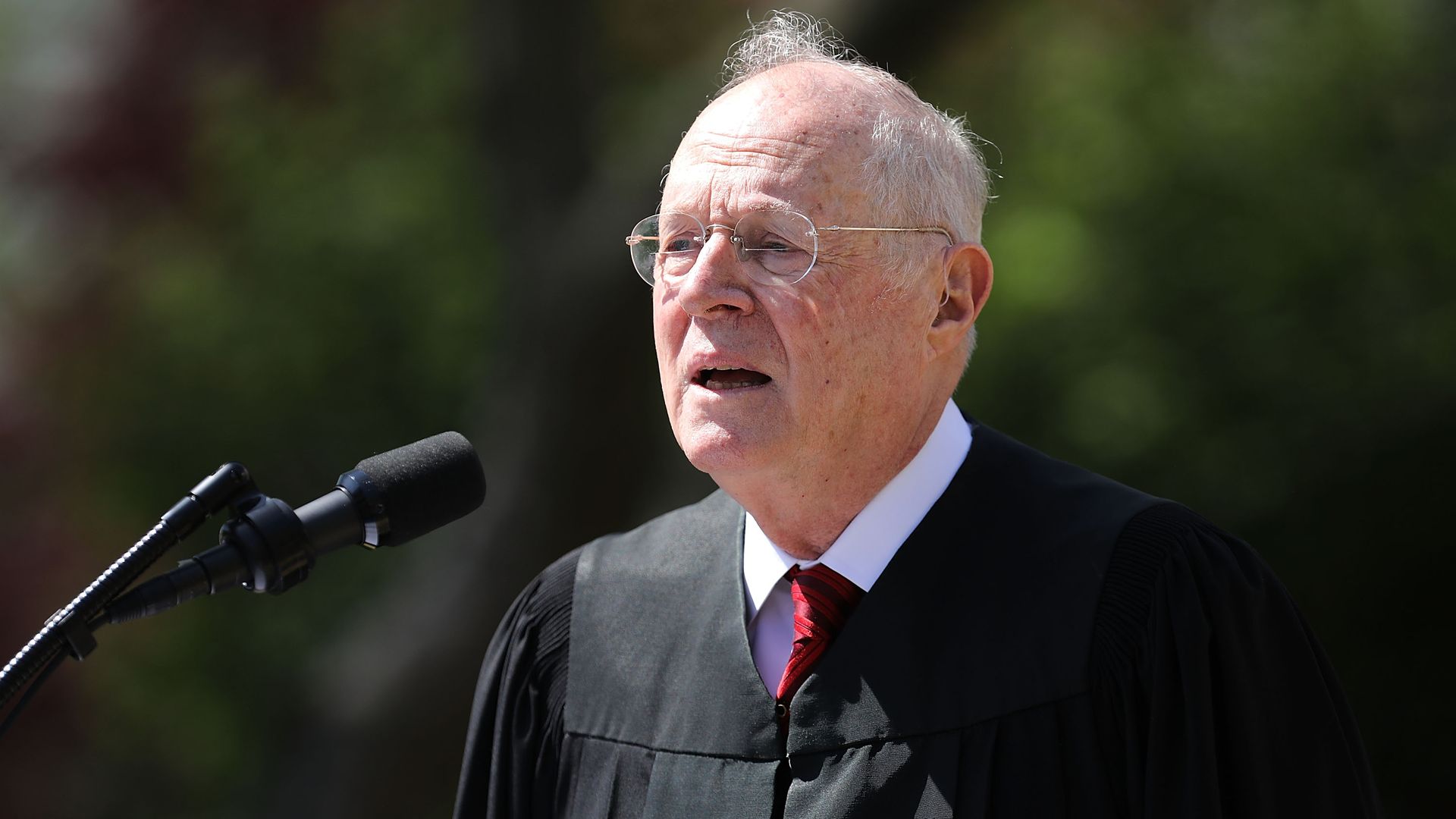 Supreme Court Justice Anthony Kennedy will retire — effective July 31 — giving President Trump a chance to pull the court significantly to the right for decades to come.
Why it matters: This is seismic — for politics as a whole, for the court and, ultimately, for the millions of Americans whose lives are shaped by its rulings. Replacing Kennedy with a more conservative justice would likely lead to new limits on abortion and LGBT rights, and could easily be the most consequential act of Trump's presidency.
What's next: Kennedy's replacement will likely come from Trump's public list of 25 potential candidates, which was assembled largely by the Federalist Society and conservative legal activists.
The confirmation battle will be intense. Republicans have just a one-seat majority in the Senate, and Democrats will be under enormous pressure from their base to try as hard as they can to block Trump's nominee.
Both sides are already prepared for a brutal fight. Liberal advocates did not wait for an actual vacancy to open up before amassing a war chest and research operations to oppose Trump's eventual pick. The conservative organizations that helped support Justice Neil Gorsuch's confirmation are similarly prepared.
The impact: Kennedy is best known for his 2015 ruling establishing a nationwide constitutional right to same-sex marriage, which capped off a string of Kennedy decisions that gradually expanded LGBT couples' rights.
Kennedy has also helped slow the conservative march to limit access to abortion, and has wielded enormous power to shape the court's rulings on a executive power, the First Amendment and a host of social issues.
These have mostly been 5-4 decisions. The court's other conservatives have already voted to uphold significant abortion restrictions and opposed same-sex marriage. If they gain a more like-minded colleague in Kennedy's absence, they'll now be in the majority more often on those issues.
Between the lines: It's been the Kennedy Court for years. His departure will profoundly alter the court's internal dynamics and bolster Chief Justice John Roberts' power.
Because Kennedy is the court's swing vote, winning him over is often the only way to build a majority. And when he sides with the court's liberals, he decides who will write the opinion, often assigning it to himself.
So, Kennedy has been more than a deciding vote — he has often dictated the legal reasoning and scope of the court's biggest decisions. When he's on the fence, both sides have had to win on his terms in order to win at all.
Roberts will now be in the majority more often, and will command a more reliable majority.
That gives him a lot more power to frame the court's biggest decisions his way — which is a lot different from Kennedy's.
(Kennedy's opinions were often somewhat vague in their specific legal reasoning and he enjoyed grand rhetorical flourished, while Roberts is an incrementalist most of the time.)
Go deeper: Conservatives win big at Supreme Court.
Get more stories like this by signing up for our daily morning newsletter, Axios AM. 
Go deeper