The big picture: The SCOTUS decision enabling voting restrictions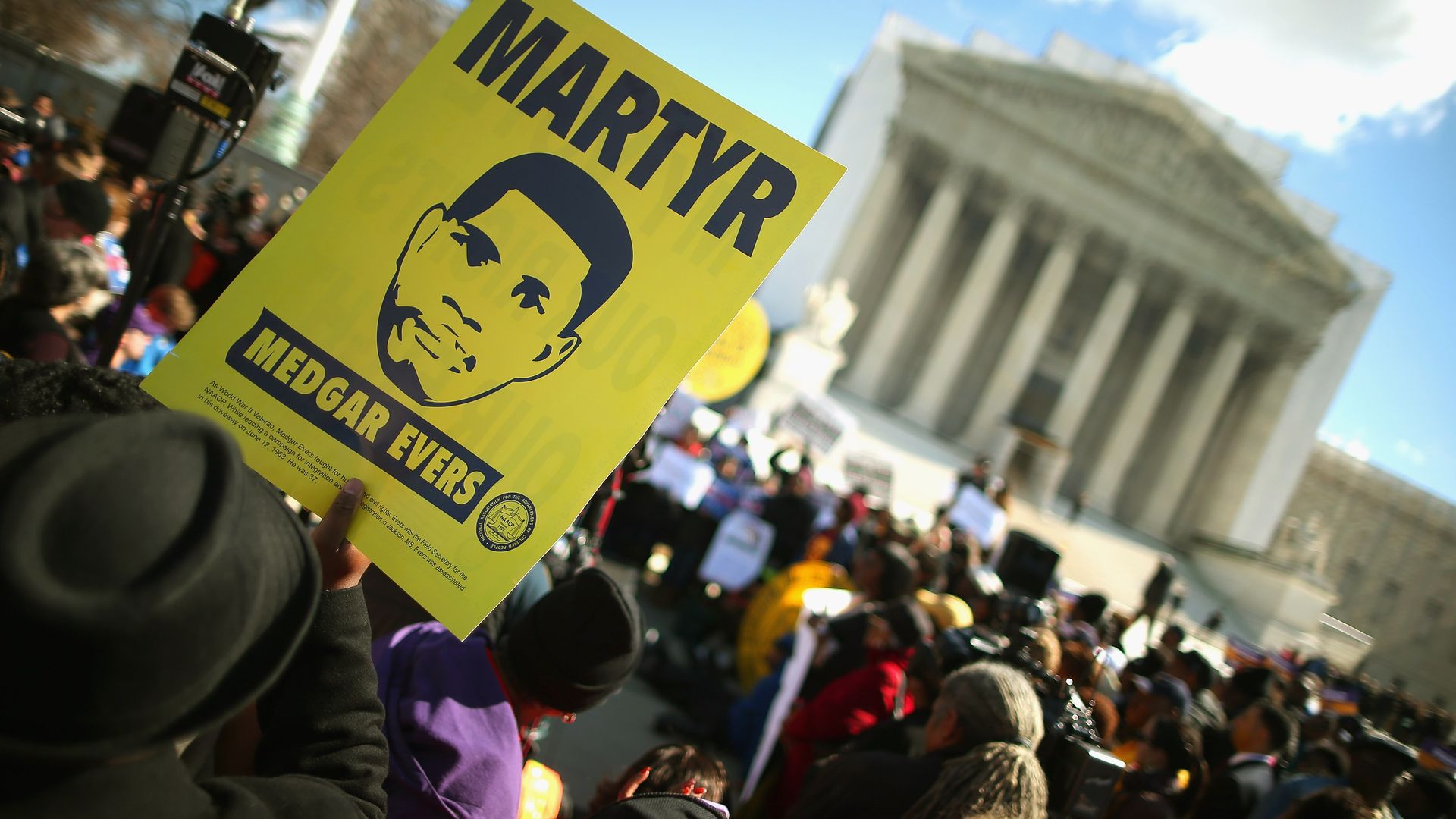 Exactly five years ago, the Supreme Court invalidated a key provision under the landmark Voting Rights Act, exempting nine states — mostly in the South with a history of racial discrimination — from seeking federal approval before changing their voting laws.
Why it matters: The 5-4 ruling in Shelby v. Holder paved the way for a deluge of restrictive voting laws that voting rights advocates say disproportionately limit racial minorities' and other marginalized communities' access to the ballot box. Meanwhile, those championing the restrictive polices, claim it help curb what they say is widespread voter fraud.
The backdrop: The 2013 ruling left minorities' voting rights in Alabama, Alaska, Arizona, Georgia, Louisiana, Mississippi, South Carolina, Texas, and Virginia — as well as counties in seven other states, vulnerable to suppression.
Chief Justice John Roberts Jr. wrote in 2013, "Our country has changed" — citing the racial progress the country had made since the Voting Rights Act was put in place in 1965 — and urged a bitterly divided Congress to come up with a new formula to determine which states need federal oversight. But five years later, there hasn't been much progress from lawmakers.
State of play:
Voter ID
Just hours after the 2013 ruling, Alabama and Texas announced plans to implement voter identification laws previously stymied under the VRA, since they no longer needed federal approval.
Today, 34 states have wide-ranging laws requesting or requiring voters to show some form of identification at the ballot box, per the National Conference of State Legislatures.
Arizona, Georgia, Mississippi, and Virginia, are among those with the country's strictest laws. A federal court ruled last year Texas' restrictions are racially discriminatory, but a federal appeals court overturned the ruling in April.
Meanwhile, in North Carolina, the GOP-controlled legislature is set to approve a voter ID ballot measure. In 2016, a federal court struck down its previous voter ID law, saying it "target[s] African-Americans with almost surgical precision."
Proof-of-citizenship
Only Arizona enforces a law requiring documentary proof of U.S. citizenship to register to vote. But the state reached an agreement earlier this month to remedy the system that disenfranchised tens of thousands of voters.
Polling closures:
A report from the Leadership Conference Education Fund found that 381 of the roughly 800 counties previously under federal oversight have closed 868 polling places between 2012 and 2016. Those closings have been attributed to budget constraints, but a Reuters investigation also found racial disparities in closures in Georgia.
Between 2013-2016, the North Carolina counties once under federal oversight closed an average of 12% of voting locations, as well as early voting hours, which a Republican election board official said would allow pollsters to "monitor voter fraud more effectively," per The News & Observer.
Voter roll purges:
States periodically update their voting rolls, but seven choose to remove voters for being deemed inactive and failing to respond to a mailed notice from state officials.
Election officials in places including New York City, Florida, and North Carolina have come under fire for illegally removing hundreds of thousands of voters. WNYC reported that Hispanic voters in Brooklyn were hit the hardest.
A 2016 Reuters analysis found that Ohio's system, the most aggressive in the nation and recently upheld by the Supreme Court, had removed tens of thousands of voters, which disproportionately affected minorities who overwhelmingly vote for Democrats. That's because Republicans are more likely to vote in both congressional elections and presidential contests, the report said.
Go deeper