One virtual thing: Try cutting methane emissions yourself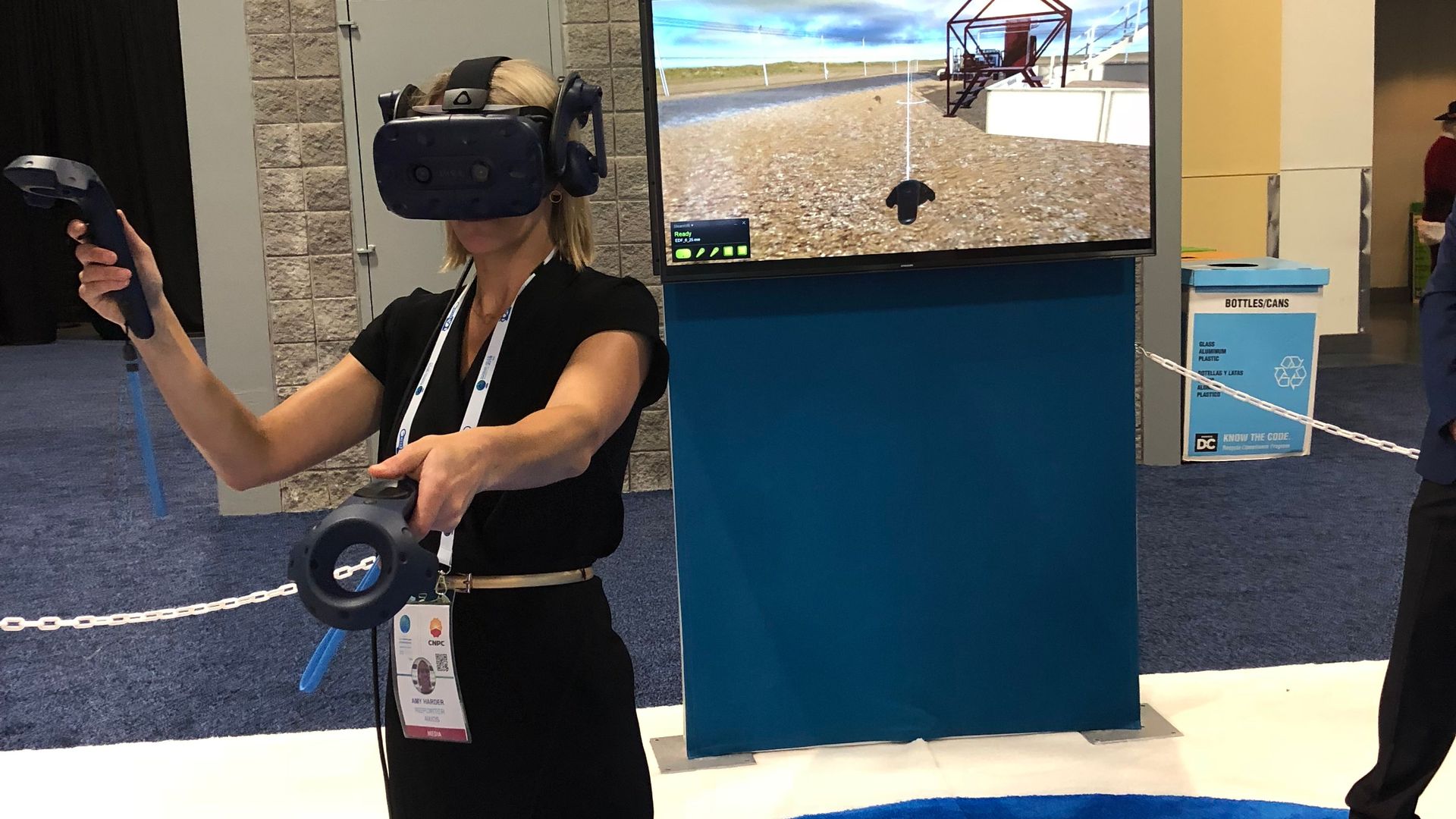 Oil and gas companies are increasingly focusing on how to cut emissions of methane, a potent greenhouse gas that's also the primary component of natural gas. At a conference underway in Washington, attendees can try for themselves with virtual reality.
Why it matters: With the world's use of natural gas growing, determining its impact on climate change is key. While many people are familiar with carbon emissions, less awareness exists around methane. A virtual reality exhibit by the Environmental Defense Fund at the World Gas Conference is aimed at making something intangible to most people seem less so — at least virtually.
The intrigue: EDF's exhibit allows people to virtually experience what it's like to be a worker at an oil and natural gas well site monitoring and stopping leaks of methane. I had a chance to experience it during the conference's first day Tuesday.
You start in a spaceship that tells you about why methane emissions are important, and then a robot named Bella shows how you can transport yourself to an oil and gas well site.
Along with goggles and headphones, you also hold what resemble video game handles, which in the experience appear as gloves and change to other gadgets as needed.
You then embark on what the group calls a "Methane Challenge," having a few minutes to try to find all the leaks on the site you can, using infrared camera that can show the leaks of methane and other technologies.
There are apparently six leaks you can find in the virtual well site; I got four. Only two people on Tuesday found all six, an EDF spokeswoman says.
Situational awareness: EDF is the only environmental group with space at the event, whose registration fee starts at $4,000. EDF is one of the only environmental groups that works closely with the industry, despite its scrutiny of the sector's role exacerbating climate change. The group co-sponsored its first-ever event with ExxonMobil on Monday (it was on methane).
Go deeper