How Segway-Ninebot is capitalizing on the scooter boom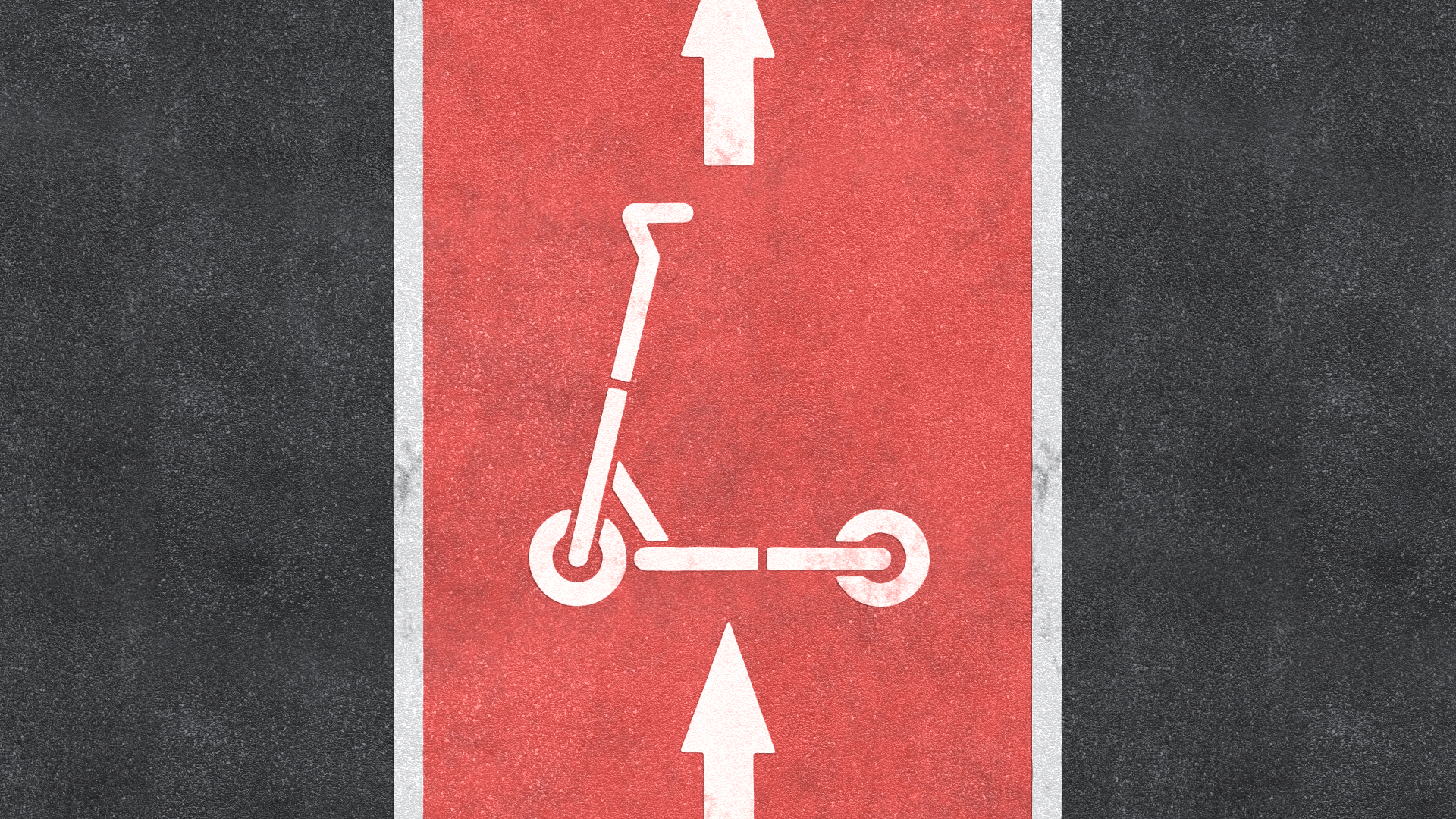 With the rise of scooter-sharing startups, China-based scooter maker Segway-Ninebot is looking to remain the manufacturer of choice by expanding into commercial-grade vehicles.
Bottom line: Setting up a scooter startup is as easy as ever, so there's an immense opportunity for manufacturers like Segway-Ninebot.
With a growing demand from scooter-sharing services, Segway-Ninebot says it's developing an "Intel Inside" approach to its business as a commercial supplier, developing a few products that can be slightly modified for customers, global sales VP Tony Ho tells Axios.
"When it comes to quality and some of the safety features, we believe that we know better than our customers," says Ho, adding that the company does work closely with its customers to understand what these scooter riders need.
And while some startups like Lime and Bird say they're using exclusive Segway-Ninebot scooter designs, Ho clarifies that these customizations are "superficials"—such as specific colors and tweaks to the brakes and lights, for example.
The company is working on its next generation of scooters specifically designed for commercial use, including better tires and lights, and a connectivity device that's more integrated into the vehicle. And while the scooter will have higher-grade batteries, Ho says that customers haven't been asking that they be detachable so they can be replaced, adding that it can make scooters a target for theft as batteries are valuable.
Segway-Ninebot is also planning to offer cloud-based software tools to make it even easier for business customers to set up and deploy scooters, he says.
The company is getting business inquiries from "all continents" and that a number of entrepreneurs are taking cues from the American scooter services and replicating them elsewhere, though Ho declined to share details about specific regions.
But Segway-Ninebot may still face some challenges, including competition from other scooter manufacturers and trade tariffs.
For example, out of the 12 companies that applied to operate a scooter-sharing service in San Francisco, some like Uber and Skip have selected vehicles from other makers like Fitrider and Minimotors. And some startups could eventually develop their own scooters instead of getting them from companies like Segway-Ninebot.
The Trump administration's proposed tariffs on Chinese imports could also hit the scooter market, as freight-forwarding startup Flexport recently noticed. "Tariffs will definitely increase U.S. consumer cost. Possibly, rates of scooter sharing companies could go up," says Ho, adding that since most scooters are made in China, tariffs would impact all suppliers equally.
Ninebot was founded in 2012 in Beijing by Wang Ye and Lufeng Gao and merged with Segway (yes, that Segway) in 2015.
Ye got the idea after noticing the popularity of electric scooters in southern Europe, according to a blog post.
Ninebot raised $80 million in 2015 from investors like Sequoia China and Xiaomi, and is reportedly gearing up to meet with U.S. investors soon as it seeks to raise $200 million in new funding at a $2 billion valuation, according to The Information. The company says it expects its revenue for 2018 to hit 3 billion yuan ($458 million).
Go deeper