Battle over North Carolina "bathroom bill" returns to federal court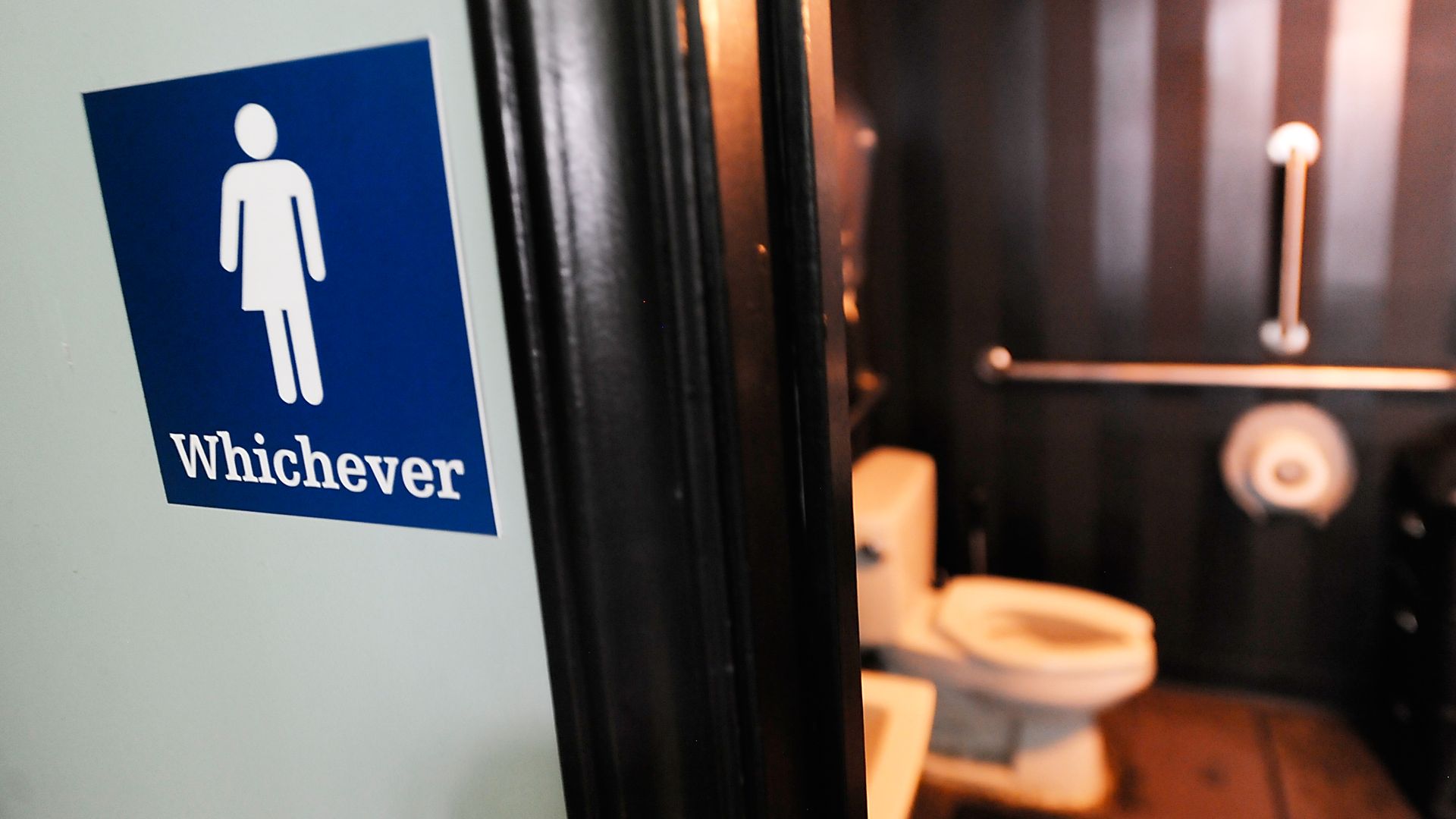 More than a year after North Carolina's Republican-controlled state legislature repealed HB2 — known as the "bathroom bill" — which required transgender people to use restrooms in many public buildings corresponding to the sex on their birth certificates, rather than their gender identity, the legal battle is still simmering.
What's happening: On Monday, a federal judge in the state is set to hear oral arguments from advocates seeking to overturn the replacement law that they say lacks protections for the LGBTQ community — as state Republicans argue for a dismissal.
How we got here: The original "bathroom bill" was passed in 2016 and immediately triggered nationwide rebuke and boycott campaigns from corporations and organizations who halted or delayed plans to do business in the state — most notably, the NBA decided to move its All-Star Game in 2017 to New Orleans.
With mounting demonstrations and economic fallout that helped oust the sitting Republican governor, newly-elected Gov. Roy Cooper, a Democrat, signed legislation last March to repeal the law after legislating Republicans approved modifications.
The revised law that's now in place, known as HB142, allows transgender people to use restrooms in schools and government buildings with the gender with which they identify.
Yes, but: It gives the state legislature the sole power to regulate access to "multiple occupancy restrooms, showers or changing facilities," and also prohibits local governments from enacting their own nondiscrimination policies through December 2020.
The plaintiffs are urging the court to consider a case involving a transgender elementary school student whose principal barred her from using the girls' bathrooms, The News and Observer reports.
What they're saying: LGBTQ and civil rights groups challenging the law, including the ACLU of North Carolina and Lambda Legal, say HB142 doesn't actually contain discrimination protections for transgender people.
Republicans defending HB142 say that the new law deals solely with state and local governments and says nothing about potential discrimination toward individuals, leading the plaintiffs in the case to have no standing. "Even if they come to pass, the time, place, factual circumstances, applicable trespass or other legal rules, and private and government actors involved — all are unknown," said Kyle Duncan, a Washington-based attorney representing North Carolina's Republican Senate leader and House speaker, to the News and Observer.
Go deeper