Go deeper: Punts on partisan gerrymandering turn attention to N.C.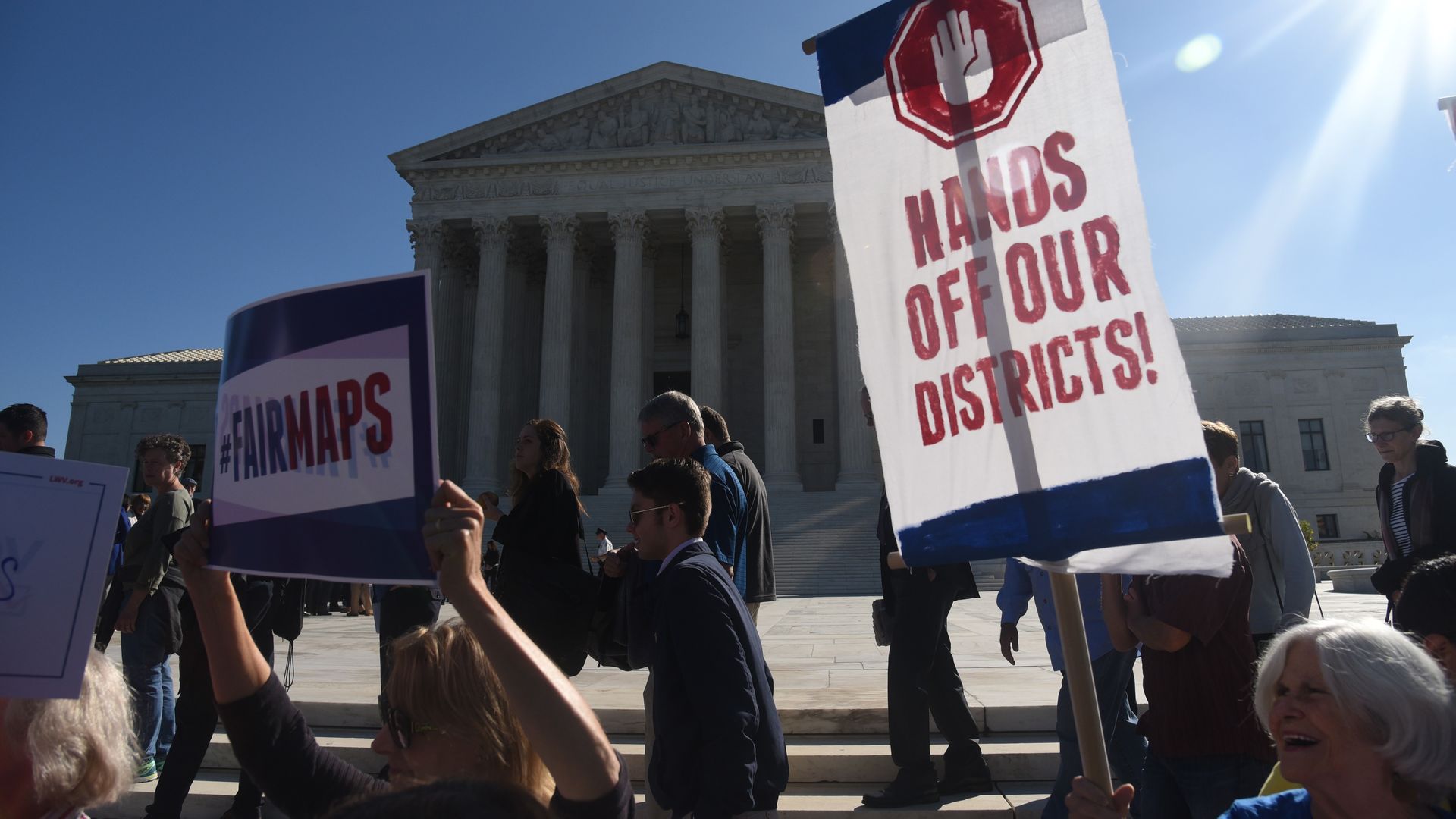 The Supreme Court's decision last week to sidestep what could have been a landmark challenge to partisan gerrymandering, citing procedural faults, has drawn attention to a case over North Carolina's GOP-gerrymandered congressional map, which legal experts believe offers clear evidence of direct injury to voting power.
The backdrop: Since its 1986 ruling that maps drawn by lawmakers can be unconstitutional when they "consistently degrade a voter's or a group of voters' influence on the political process," the high court has never struck down one on the grounds of partisan gerrymandering. Chief Justice John Roberts wrote on Monday that plaintiffs in a case from Wisconsin lacked legal standing because the statewide challenge failed to prove their voting power had been diminished.
How we got here: A lower federal court ruled North Carolina's map as unconstitutional, saying that the GOP-controlled legislature was "motivated by invidious partisan intent" when it divided the state into 13 congressional districts — 10 of which are held by Republicans. It had also ordered the redrawing of lines ahead of this year's midterms, but the Supreme Court temporarily blocked the order while an appeal is prepared and considered.
Republicans argued in filings that the Supreme Court should vacate the case, contending that the plaintiffs have no standing because the federal court that struck down the congressional map in January "based its decision entirely on statewide theories of harm."
Why this is different: Unlike the Wisconsin challenge, which argued that Republicans designed statewide legislative maps to gain electoral advantages, the North Carolina case has plaintiffs in each of the state's 13 congressional districts.
Republicans admitted to skewing districts for partisan reasons. State Rep. David Lewis, a Republican who led the redrawing process, bragged that he had proposed "we draw the maps to give a partisan advantage to 10 Republicans and three Democrats because I do not believe it's possible to draw a map with 11 Republicans and two Democrats."
Critics are also drawing attention to two Republican-leaning districts lawmakers created by splitting the heavily Democratic campus of North Carolina A&T State University — a historically black college in Greensboro.
"The record evidence of constitutional injury presented in our case is overwhelming [that] legislators intentionally cracked and packed millions of North Carolina voters to silence their political voice."
— Attorney Allison Riggs of the Southern Coalition for Social Justice, which represents plaintiffs in the North Carolina case
What's next: The Supreme Court is expected to decide as soon as Monday whether to take up the case next term, which begins in October. Doing so would revive the prospect for a landmark ruling as election reformers hope to set a legal standard ahead of the 2020 census, which state legislatures will use to draw proportional electoral lines.
Go deeper