Scoop: How Lime is pitching its scooter biz to investors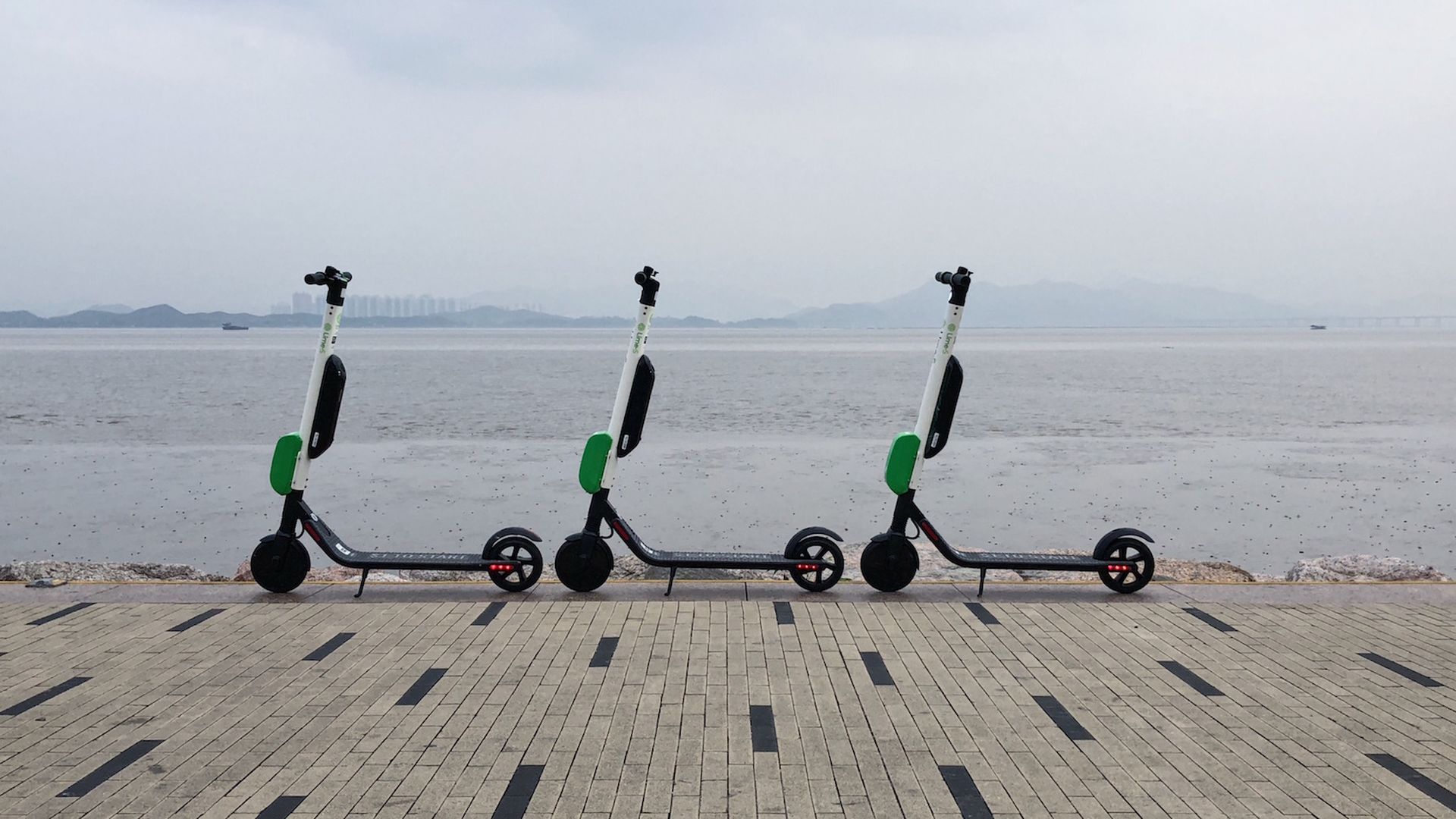 E-scooter company Lime wants to expand its business into areas like ultra-compact electric cars, local merchant promotions and delivery, according to a confidential fundraising deck obtained by Axios.
Background: Axios previously reported that GV, a venture capital affiliate of Google parent company Alphabet, is leading a $250 million equity round into Lime at around a $1 billion post-money valuation.
Here are the pitch-deck highlights:
Transit pods: Lime plans to begin testing rides in ultra-compact electric cars in Q4 of this year in one or two markets. It has identified a couple of models, including the Renault Twizy, which have a range of 60-100 miles and are weatherproof, that it predicts will cost $100-200 per month to lease.
Based on Daimler's Car2Go car rental service, Lime estimates it will charge $1 to start, plus 40 cents per minute. With an average trip length of 20 minutes (or 3.8 miles), and six trips per car, per day, it expects $54 in revenue and $37 in gross margin after costs.
Lime plans to allocate $50 million of its fundraise to this effort.
Merchant deals: Lime, which already has more than 500,000 customer credit cards on file, wants to show customers nearby deals at restaurants and other merchants via its app.
Lime often uses freelancers to charge its scooters, and could also use these workers for food or grocery deliveries.
It plans to start such experiments in the second half of 2018.
Scooters: As of late April, scooter rides made up 60% of Lime's monthly revenue. In D.C., San Francisco, and San Diego, more than 50% of scooter riders use the service at least four times a month.
In San Francisco, Lime says that it was able to deploy its scooter service after only three weeks of prep work, and it broke even in just the second week after launch.
Daily trips per vehicle hit 9.3 as of mid-April, daily revenue per scooter rose to $27.70, and daily cost per scooter was at $14.30.
Using these numbers, a $493 scooter with a daily depreciation of $4.9o, has a gross margin of about $9.10 and can pay itself off in 1.8 months. By the end of 2018, the company estimates its scooters will have a gross margin of $12.40 and with a payback period of only a month.
Across San Francisco, Austin, D.C., and San Diego, more than 60% of scooter charging is done by freelancers. The average charger makes $30-50 per day, charging seven scooters at $5-8 per scooter, amounting to $1,400 in earnings per month.
Financials: As of April, Lime says it is on track to have $25 million in annual run rate, and projecting to hit $100 million between May and July, and $500 million by December.
Go deeper