Go deeper: Trump administration expands non-ACA health plans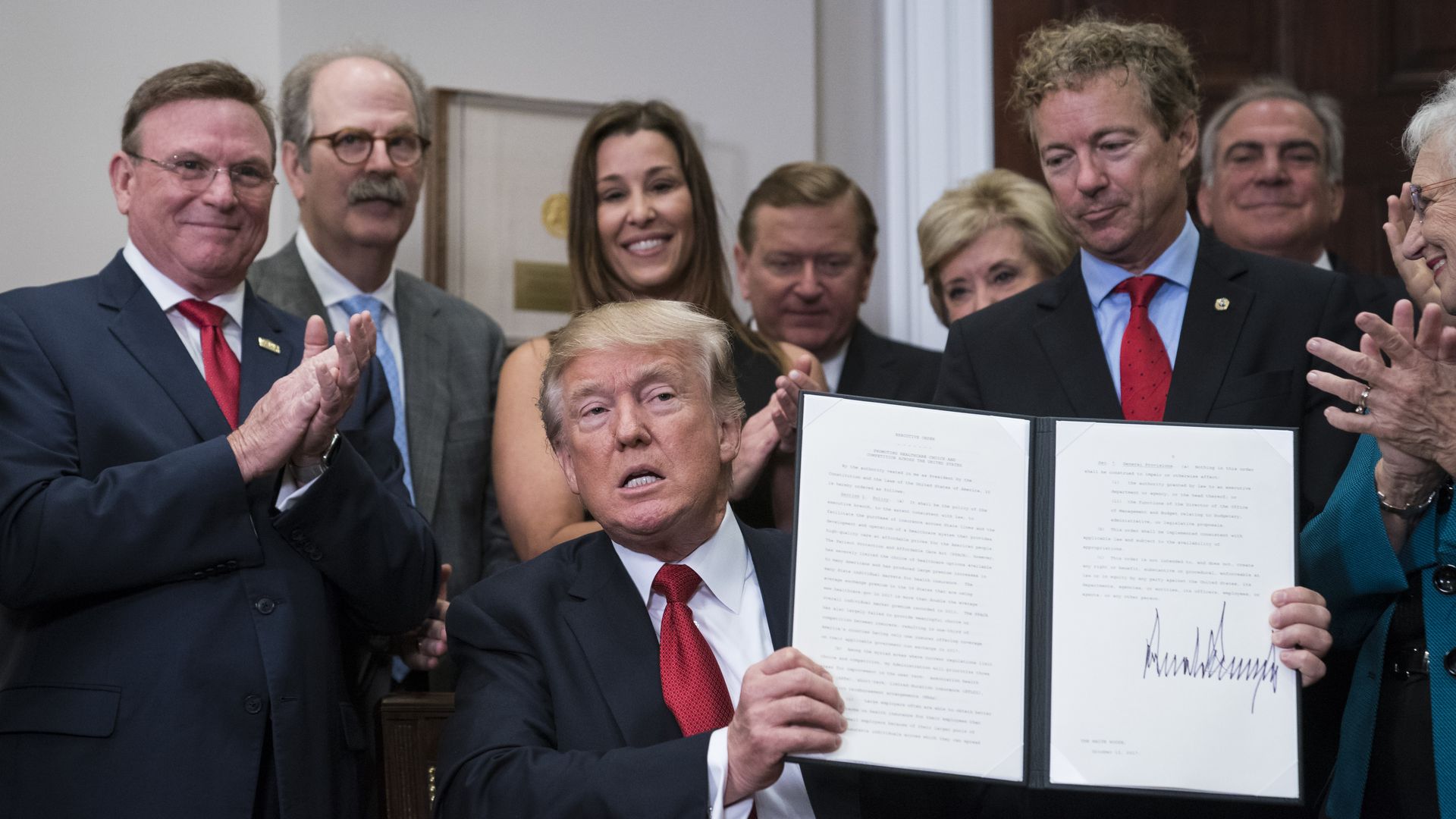 There are few surprises in the Labor Department's final rules expanding access to association health plans — the undercard in President Trump's effort to pull people out of Affordable Care Act coverage.
The big picture: Association health plans allow small businesses and similarly situated individuals to band together and buy coverage as if they worked for the same large employer.
As Trump's critics have been quick to note, these plans are not as tightly regulated as ACA coverage. They have more leeway to charge higher premiums because of age and gender, and they don't necessarily have to cover all of the ACA's essential health benefits.
But large-group plans — the way these will be categorized, legally — are by no means unregulated. They can't refuse coverage or vary their premiums due to pre-existing conditions.
"This is a fairly well regulated space," Avalere's Sean Creighton told me.
Many large employer plans end up with a higher actuarial value — that is, covering more services with less cost-sharing — than ACA coverage does, Creighton said.
The rule may not live up to Trump's expectations. For example, association plans can be sold across state lines — a priority Trump has mentioned frequently — but they still have to establish provider networks, which tend to be confined to specific metro areas.
The biggest concern I heard from insurance experts yesterday is fraud. The last time association health plans expanded, they were magnets for hucksters who would collect premiums and then vanish.
It'll be up to the states to police that now. The federal government simply doesn't have the resources to check in more than "once every couple hundred years," the Kaiser Family Foundation's Karen Pollitz said.
Again, this is the undercard. The main event from Trump's regulatory agenda — an expansion of short-term health plans — is still in the works. Those policies are far more bare-bones than association plans, and are more likely to pull healthy people out of the ACA's individual market.
Creighton notes that the ACA's market for small businesses, which would be most attracted to association plans, never really took off.
"It may be that the rules actually had been too restrictive, and this was an area where some flexibility was actually warranted," he said.
Go deeper: How AHPs could benefit those in the gig economy.
Go deeper