Go deeper: The fight to revive MLK's Poor People's Campaign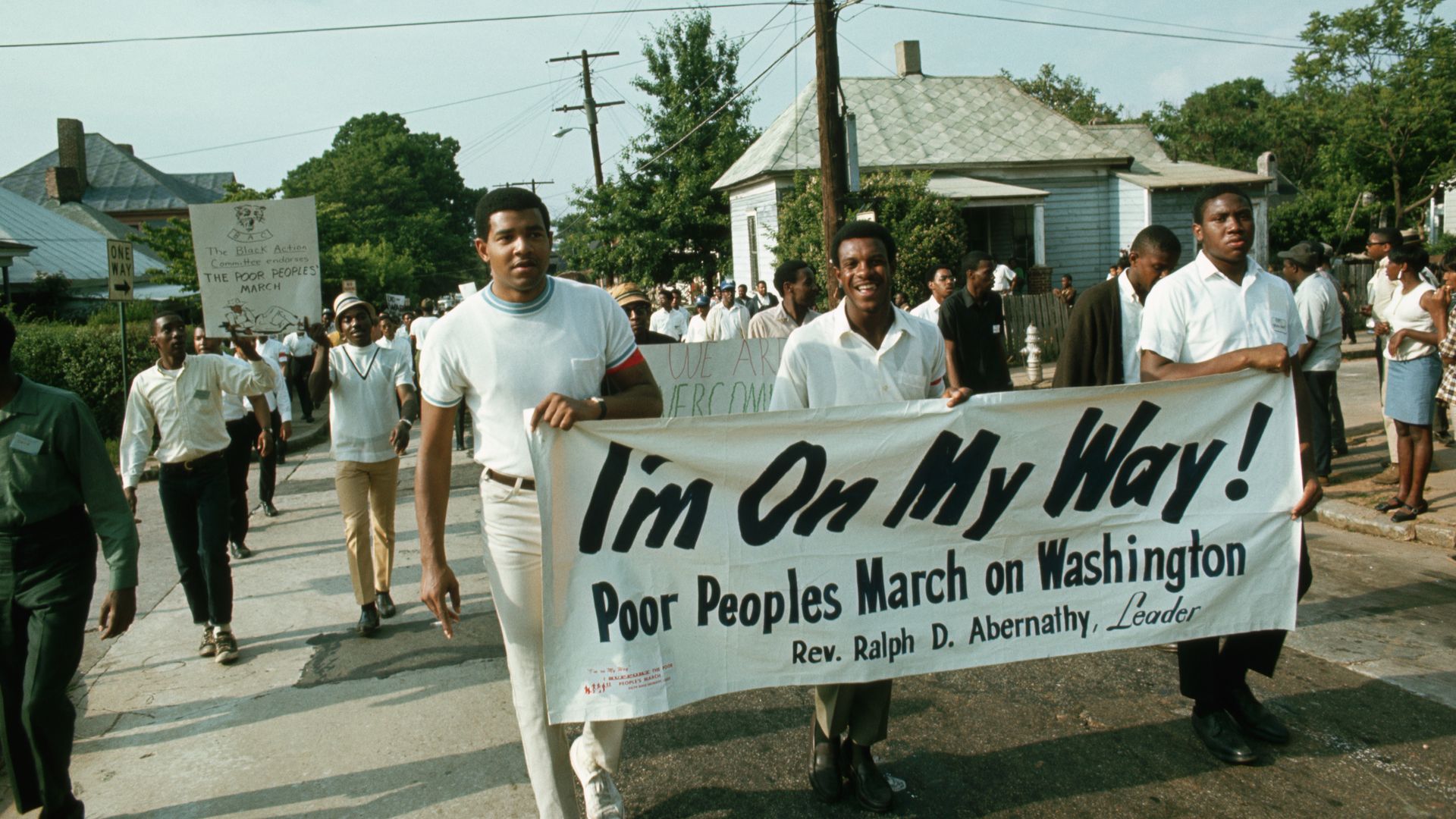 The largest civil disobedience campaign of the 21st century is happening now in 38 states across the nation.
What's new: 50 years after Martin Luther King, Jr. was assassinated, faith leaders are reviving his Poor People's Campaign (PPC). They have held protests every Monday for the past five weeks to spark a national "moral revival." Today marks the beginning of the last week of the 40 Days of Action campaign, which will culminate in a march on Washington on June 23rd.
How it happened: Organizers started the project three years ago and collected testimonials from struggling Americans to shape their demands. They came out of the project with six general themes, ranging from raising teacher salaries to voter disenfranchisement. Protestors have presented the demands at their state capitols.
Why it matters: According to the AP, 13% of Americans lived in poverty in 1968. Despite consistent economic development, wealth inequality and cost of living have grown and the poverty rate is back at 13%.
In an interview with Axios, PPC co-chair Rev. Liz Theoharis argued that politicians have forgotten the issues of America's poor.
In the 25-26 debates before the 2016 election... not one focused on the issues facing poor people.
— Rev. Liz Theoharis
Drawing attention: According to Theoharis, the PPC has trended nationally on Twitter on every one of the last five days of action, and protestors have gotten creative in expressing their demands — with many seeking arrest.
Nearly 100 protestors and faith leaders were arrested in front of the Supreme Court last week for blocking the street. Nine faith leaders were held overnight in jail.
On Tuesday, Sen. Elizabeth Warren (D-Mass.) and Rep. Elijah Cummings (D-Md.) called for a hearing on Capitol Hill to hear from protestors. Three other senators and four other representatives attended.
On June 4, protestors in Alabama acknowledged the birthday of Jefferson Davis by covering up a statue with a banner and were promptly arrested. On the same day, demonstrators in California covered a statue of Christopher Columbus inside the state capitol with a multi-colored parachute.
What's next: After the march on Washington, the campaign plans to train their attention on voter registration and for each state to continue to carry their demands forward. Sen. Warren urged that "[w]e are going to make change from this," at her congressional hearing, but concrete results remain to be seen.
Go deeper