The big picture: Women around the world are fighting for abortion rights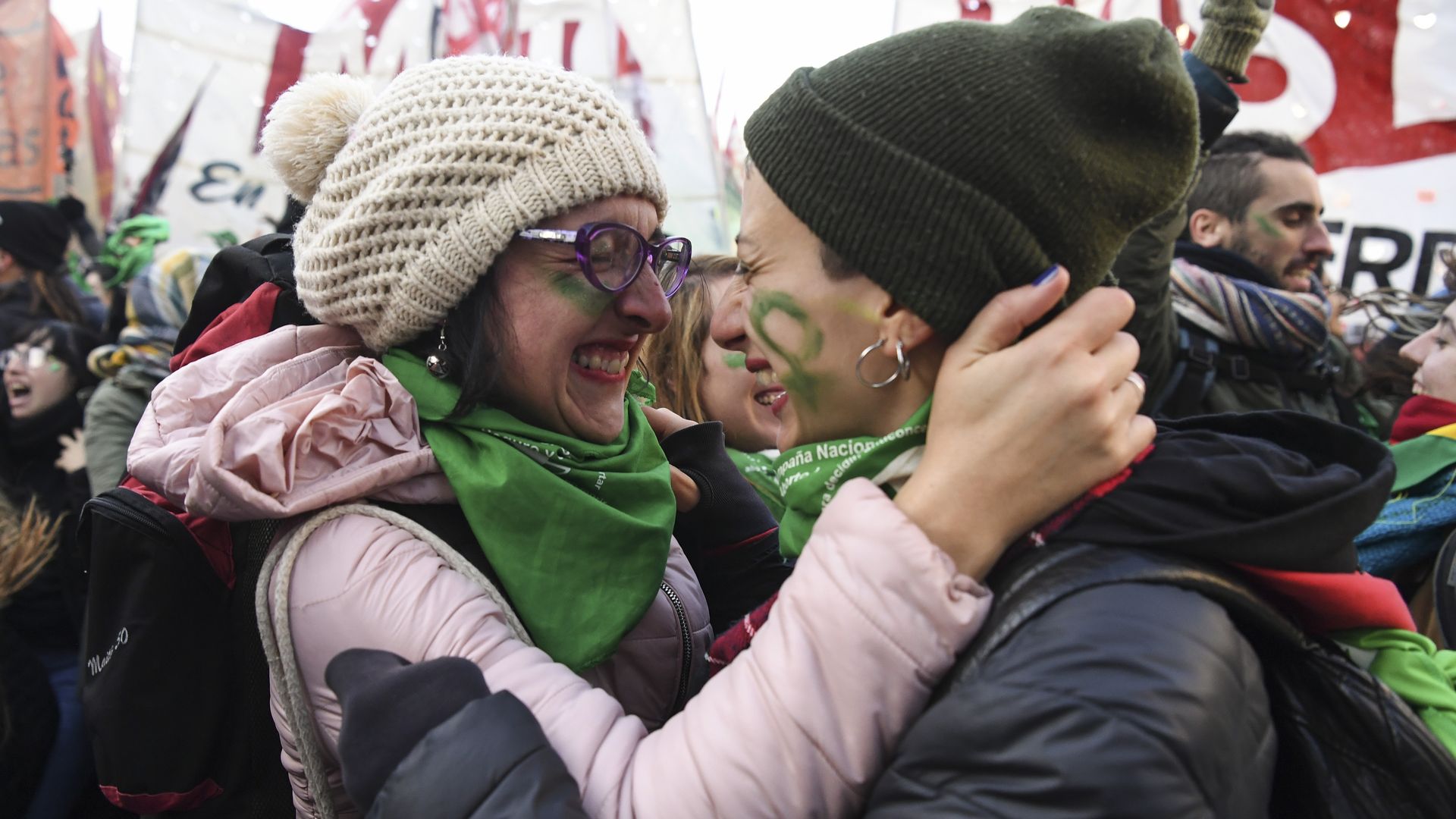 Argentina took a step towards legalizing abortions last week after the lower house of its legislature sent a bill to the Senate that would allow the procedure in the first 14 weeks of pregnancy, the BBC reports.
The big picture: Women in countries around the world are fighting for abortion rights, but the Guttmacher Institute reported that 42% of women of reproductive age worldwide still live in countries where abortion is "highly restricted," meaning it's entirely illegal or only allowed to "save a woman's life or protect her health."
What to know: Countries with the most restrictive rules towards abortions often have the least safe procedures, meaning they are not "performed using a safe method and with an appropriately trained provider," per the Guttmacher Institute.
A key part of reform to abortion laws is evidence "that unsafe abortion is a pressing public health concern and a preventable cause of ill-health and death."
6% of the world's 1.64 billion women of reproductive age live in a country where abortion is illegal, with no exceptions.
Where to watch: After Irish voters legalized abortion, which had been banned for 35 years, last month, Latin America looks to be the next battleground for the issue.
Argentina: The Senate is expected to vote on the legalization bill in September, per the BBC. Currently, abortion is illegal, with exception of rape and health risks of the woman. Women also have to request permission from a judge.
El Salvador: There was a recent push to legalize abortion in April, before a conservative majority took office in May. Abortion is illegal, with no exception, in El Salvador where women accused of having one can receive up to 50 years in jail for "aggravated homicide," per the Guardian.
Dominican Republic: Last year, the country's Congress decided against upholding the country's total ban on abortion, which could pave the way for some easing of its restrictions at in the future, per Reuters. However, it has yet to return to the politically-sensitive issue.
The state of play: Abortion remains illegal, though often with exceptions, in the vast majority of countries.
Illegal with no exceptions — 26 countries.
Illegal with varying exceptions — 112 countries.
Legal with no restriction on reasoning — 61 countries.
Go deeper here at home: The states where abortion clinics are in short supply.
Go deeper