The big picture: Uber and Lyft's scooter plans in San Francisco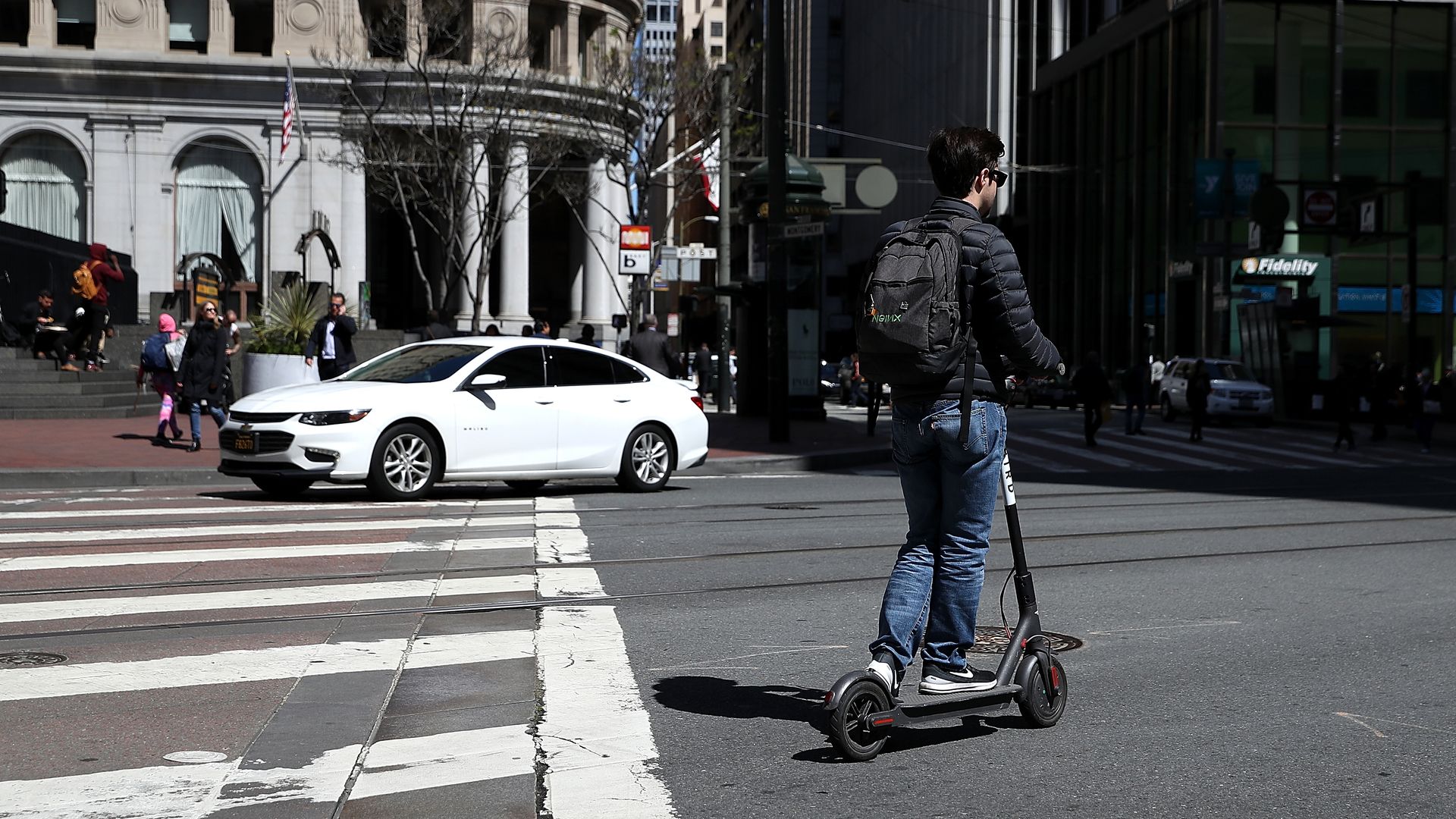 Uber and Lyft are once again in competition as they have both applied for San Francisco's limited scooter-sharing permits — and while there are overarching similarities in their plans, there are also some key differences, including picking different scooter manufacturers.
The big picture: In total, 12 companies have applied for five permits, including scooter-centric startups Bird and Lime, original scooter brand Razor, and some lesser-known newcomers in addition to the two ride-hailing giants.
Below are some highlights based on the company's permit applications, which Axios obtained:
Lyft
Scooters: The company says it plans to initially use a mix of Xiaomi m365 and Ninebot Segway ES2/ES4 scooters to test the different models, eventually planning to move to a uniform fleet.
Parking: The company says it will work with local merchants to establish scooter parking areas, and periodically prompt riders to snap and submit a photo of how they parked their scooter to help keep scooters from obstructing roads and sidewalks. It will also use sensors on the scooters and a rider strike policy to enforce good parking behavior and will consider tethering and locks if needed.
Charging: Unlike some of the initial scooter sharing startups, Lyft says that its scooter maintenance staff will be company employees, not independent contractors. Scooters will be serviced at Lyft's facilities.
Availability: 5 AM - 8 PM (October through February), 4 AM - 10 PM (March through September).
Price: $1 to unlock the scooter, then $0.15 per minute. Riders can reserve scooters for $0.15 per minute, up to 10 minutes. Lyft will also charge a $100 fee for scooters left outside its permitted zone in the city. There will also be programs for low-income and student riders.
Other: Lyft says it will donate $1 per scooter per day to help fund more bike lanes, similar to what Bird recently proposed. The company also highlighted other community investment programs it already operates.
Uber, via its Jump subsidiary
Scooters: Unlike many other companies using scooters made by Ninebot, Uber seems to have selected scooters manufactured by Fitrider, another Chinese-based supplier.
Parking: The company says it wants tap into its UberEats network of local restaurants to establish scooter parking areas and work with the city on creating designated scooter drop-off hubs and street parking. It will also periodically prompt riders to snap and submit a photo of how they parked their scooter to ensure they're not obstructing sidewalks, and it will use sensors to check that they've not been tipped over or left on their side. Its Jump bikes already have locks, and the company plans to develop similar ones for its scooters.
Charging: Uber says it's open to different models of maintenance staff, including "outside operators," though for now it appears it will use its own company staff.
Availability: 24/7
Price: $1 to unlock the scooter for 15 minutes, then about $0.07 per minute after. It will also offer price programs for low-income customers. Uber will charge a $25 fee for scooters left outside its operation zone in the city.
Other: In a nod to the scooter startups that aggressively deployed their services before the city was able to implement regulations, in its application, Uber noted that "[a]lthough eager to deploy our new product to the streets of San Francisco, we refrained from launching in the unregulated environment to respect the SFMTA's request for scooter operators to await the formal permitting process."
The bottom line: It's hard to predict who will clinch one of the five available permits, but one argument both ride-hailing companies can make is that they have years of experience working with cities and managing large-scale operations.
Go deeper: How the e-scooter economy is different from the ride-hail economy.
Go deeper