Supreme Court upholds Ohio's voter purge policy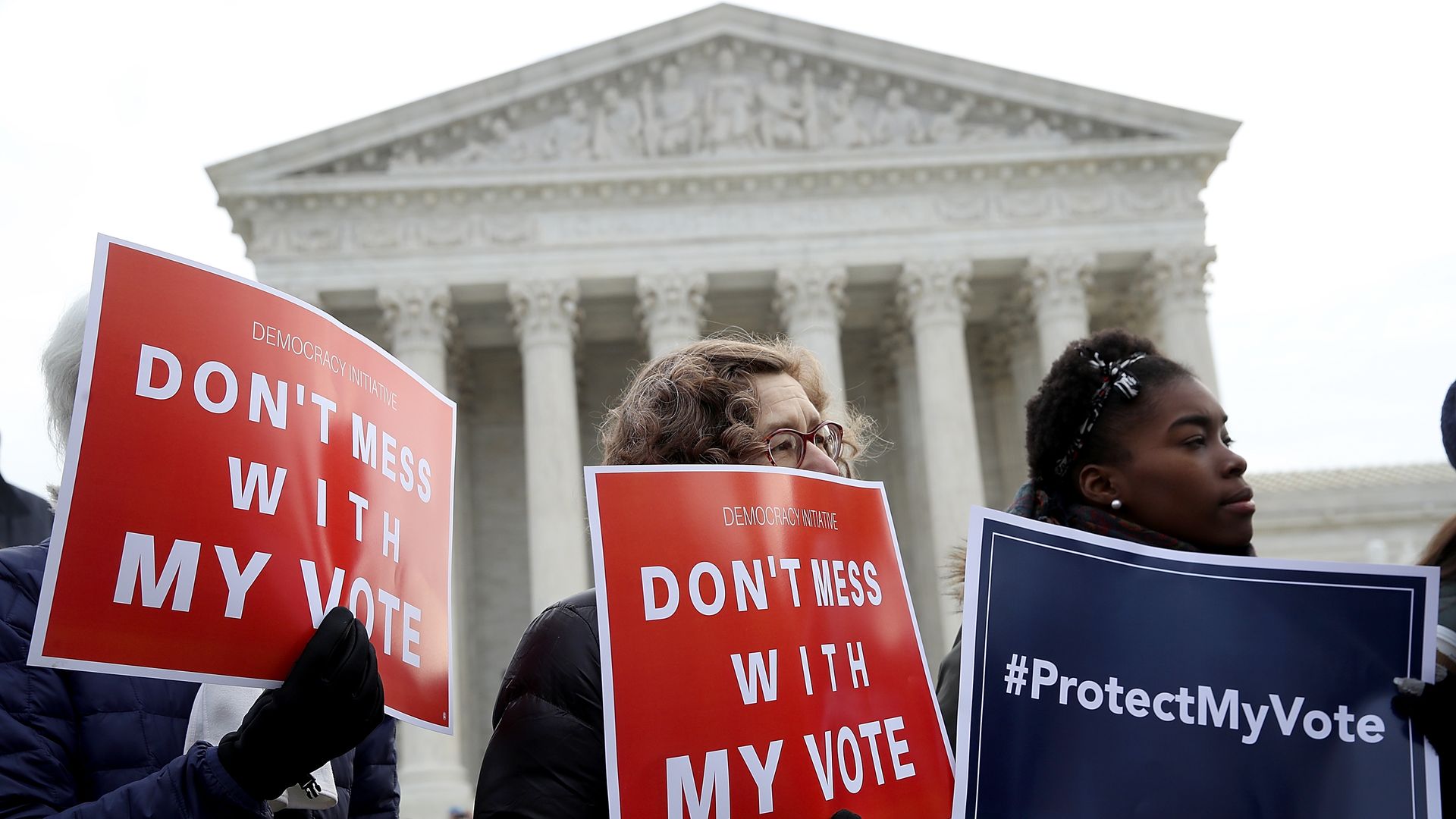 The Supreme Court on Monday ruled 5-4 in favor of Ohio's decision to kick thousands of registered voters from its rolls for not voting in recent elections and failing to respond to a notice from state officials.
The big picture: Civil rights groups argued the practice is part of a broader voter suppression effort by Republicans to diminish the political influence of minorities who overwhelmingly vote for Democrats. But Republicans have contended that they're simply promoting ballot integrity and that the process keeps the state's voter registration lists accurate and up-to-date.
This is also a victory for President Trump's Justice Department, which has sided with the administration's support for voter eligibility restrictions that it claims will crack down on alleged voter fraud.
The details: All states periodically clean up their voter rolls, but only a handful remove voters simply because they're inactive. In Ohio, a presidential swing state where the practice could have an even greater impact, the practice is said to be more aggressive than any other.
How the system works: Ohio sends notices to registered voters who fail to vote in a two-year period. If they fail to respond and do not vote in the next four years, their names are removed from the rolls.
A 2016 Reuters analysis of voter lists found that in the state's three largest counties — Cuyahoga (Cleveland), Hamilton (Cincinnati) and Franklin (Columbus) — voters have been kicked off the rolls in Democratic-leaning neighborhoods "at roughly twice the rate as in Republican neighborhoods."
That's because Republicans are more likely to vote in both congressional elections and presidential contests.
It also found that neighborhoods with a high proportion of poor, black residents are hit hardest. Both Republican and Democratic officials in Ohio have purged inactive voters over the past 20 years.
In a thundering dissent, Justice Sonia Sotomayor said the conservative majority ruling "entirely ignores the history of voter suppression against which the [National Voting Rights Act] was enacted and upholds a program that appears to further the very disenfranchisement of minority and low-income voters that Congress set out to eradicate."
Go deeper