Quick listen: Inside Starbucks' racial sensitivity training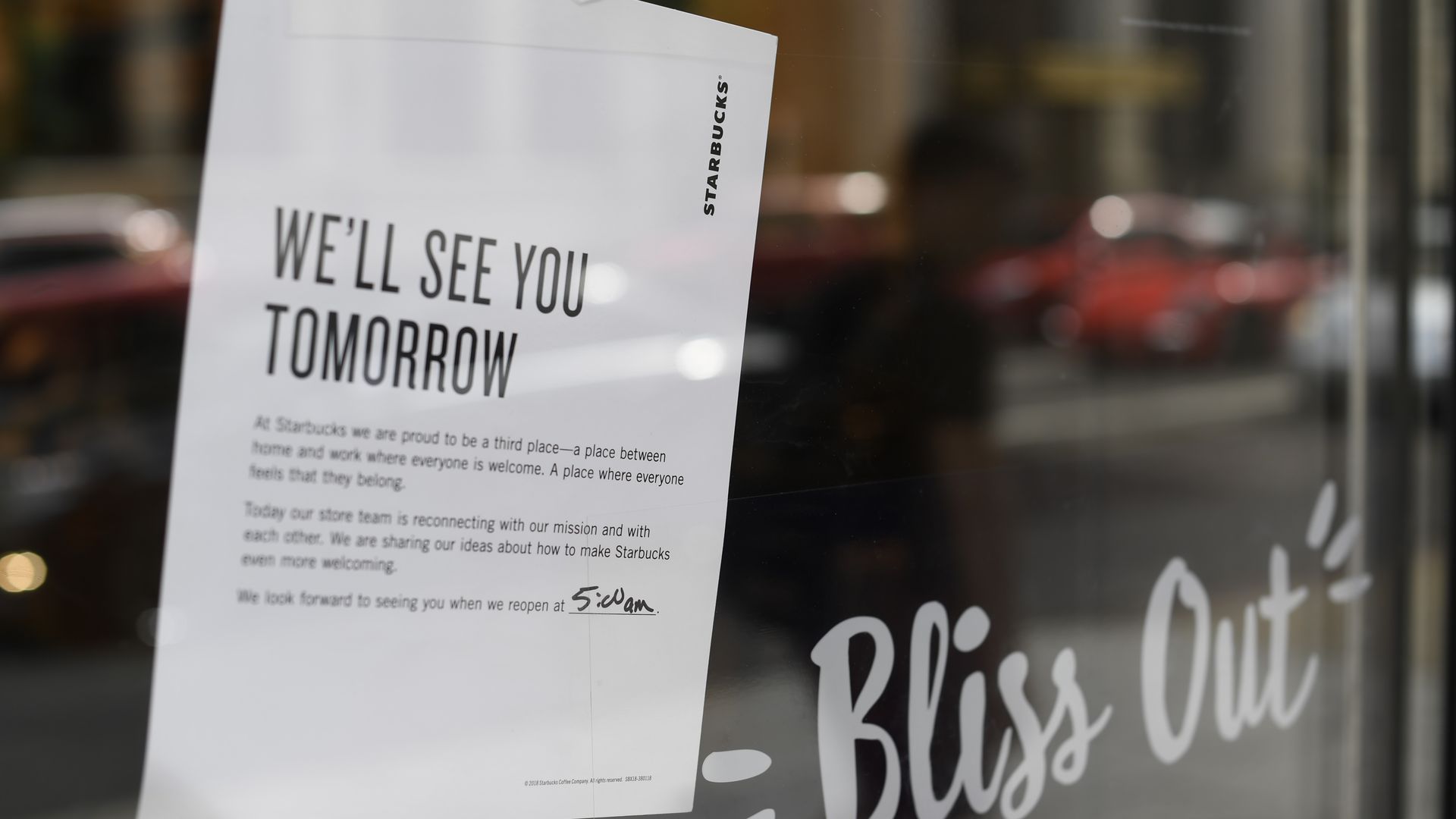 Following the national outcry in response to the arrest of two black men at a Philadelphia Starbucks in April, the company shut all of its U.S. stores on May 29 to conduct racial sensitivity training. The New Yorker's Kelefa Sanneh sat in on one of the sessions, and recorded the podcast, titled "All the Caffeine in the World Doesn't Make You Woke" on NPR's This American Life.
The big picture: Starbucks says the training day is the first step in a longer process aimed at helping customers "feel welcome" in the store. But, as Sanneh points out, the success of the company's efforts will be difficult to gauge moving forward.
The details
The trainings took place in 8,000 stores across the country and were self-directed with no official leader, Sanneh said. The sessions were broken down into three parts for employees to review:
Acknowledging the differences between people.
Recognizing racial biases, including structural biases embedded in laws and regulations as well as implicit biases created from stereotyping.
Starbucks policies and their changes.
Employees were also given a 68-page booklet with a timeline specifying how long each section should take an employee to work through. They also received a 40-page handbook where they could document their feelings and reflections when experiencing "racial anxiety."
What the company is saying
Starbucks' former executive chairman, Howard Schultz, insists that the training day was not designed as a marketing ploy, despite some public skepticism about the plan and its effectiveness.
This has nothing to do with trying to sell anything.
— Howard Schultz
The bottom line
It's unclear how successful the training was, Sanneh said, but he could tell people made an effort to have meaningful conversations about race.
"Did it help? It's hard to tell. Starbucks said it wasn't measuring outcomes. But in this one conference room in Seattle, it felt sincere. Maybe even helpful."
Listen to the 60-minute podcast here.
Go deeper