FCC nixes net neutrality rules, but advocates aren't giving up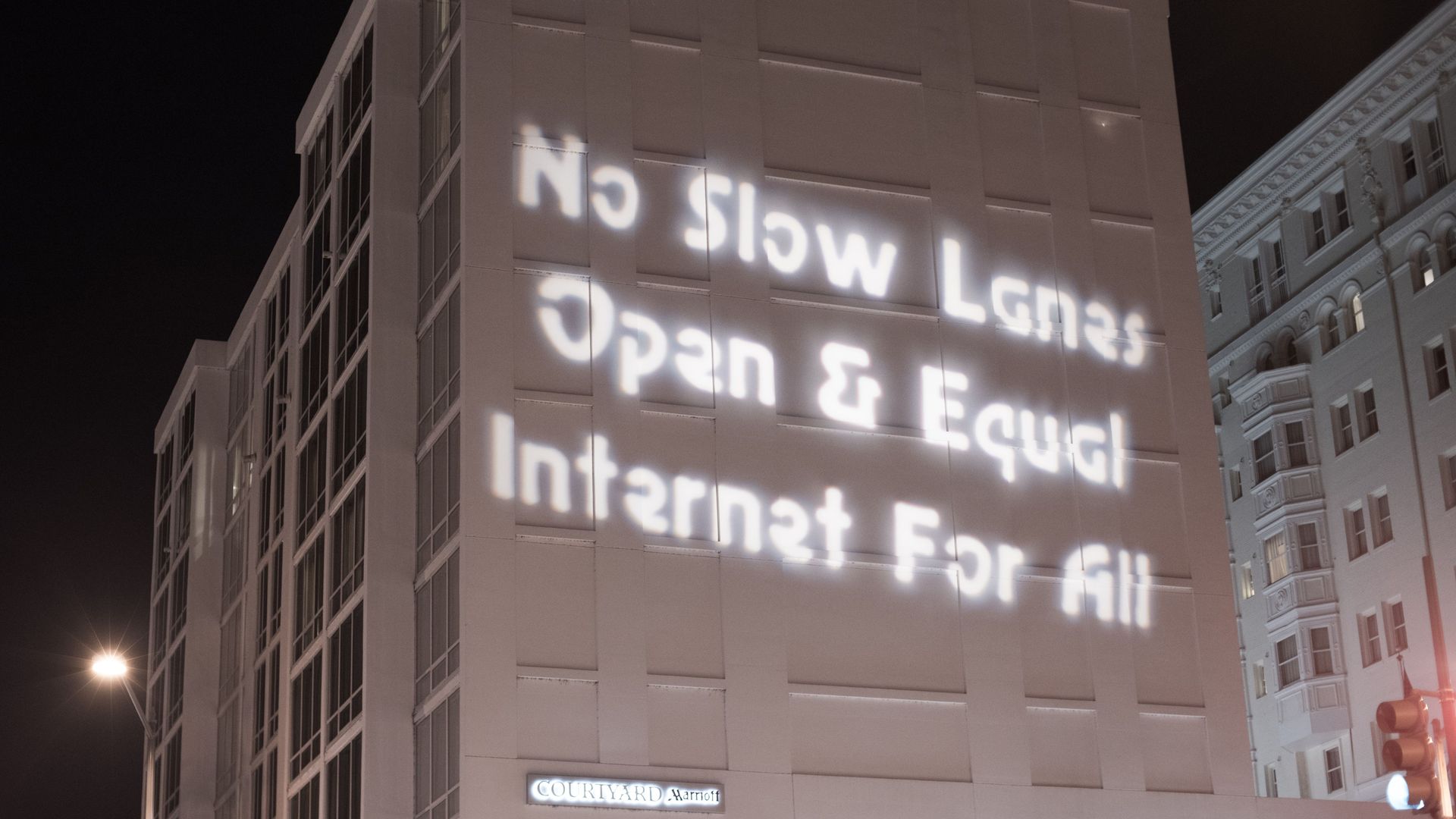 The FCC's net neutrality rules end Monday but the years-long battle over how to deal with the issue continues, as advocates fight to restore the rules.
Why it matters: With content companies and internet service providers consolidating and online platforms expanding, the government's choice of whether to police the equal treatment of web traffic has greater consequences than ever.
What's next? Net neutrality backers describe a multi-pronged strategy to restore the strong rules they prefer.
The short game: On Capitol Hill, Democrats in the House are trying to get enough Republican signatures to force a vote on a resolution that would restore the FCC's rules. The measure already passed in the Senate, but the House is more difficult. "I think it's an uphill fight," said Chris Lewis, vice president at Public Knowledge.
The long game: Public interest groups and Silicon Valley companies are among those who are suing over the repeal of the rules. Oral arguments in the case could come later this year in federal court, they say. "It's just a longer timeline," said Lewis.
What to watch: Democrats hope to make net neutrality a campaign-trail issue in the months before the midterm election, and state officials have tried to institute their own rules.
Above all, vigilance: Advocates say they fully expect internet service providers to strike deals or take action that will discriminate against certain content. "This will not happen right away, because everyone is watching, but it certainly will happen in the months and years to come," said Andrew Schwartzman of the Institute for Public Representation at Georgetown University Law Center.
What not to expect this year: Compromise legislation that sees Congress create new, permanent net neutrality rules, which Republicans have been pushing for some time. Democrats worry that effort would end up stripping the FCC of some broadband-related authorities. "The odds for other legislation in 2018 are zero," said Matt Wood, Free Press' policy director.
The bottom line: The end of the rules is far from the end of this story. Additional consolidation in the telecom space (a judge will rule Tuesday on whether AT&T's Time Warner deal can go forward) and developments over the court case will keep advocates and opponents of net neutrality regulations busy.
Go deeper: Axios' Kim Hart has more on the end of the rules and our ongoing coverage is here.
Go deeper