How Skip wants to win the scooter wars by following the rules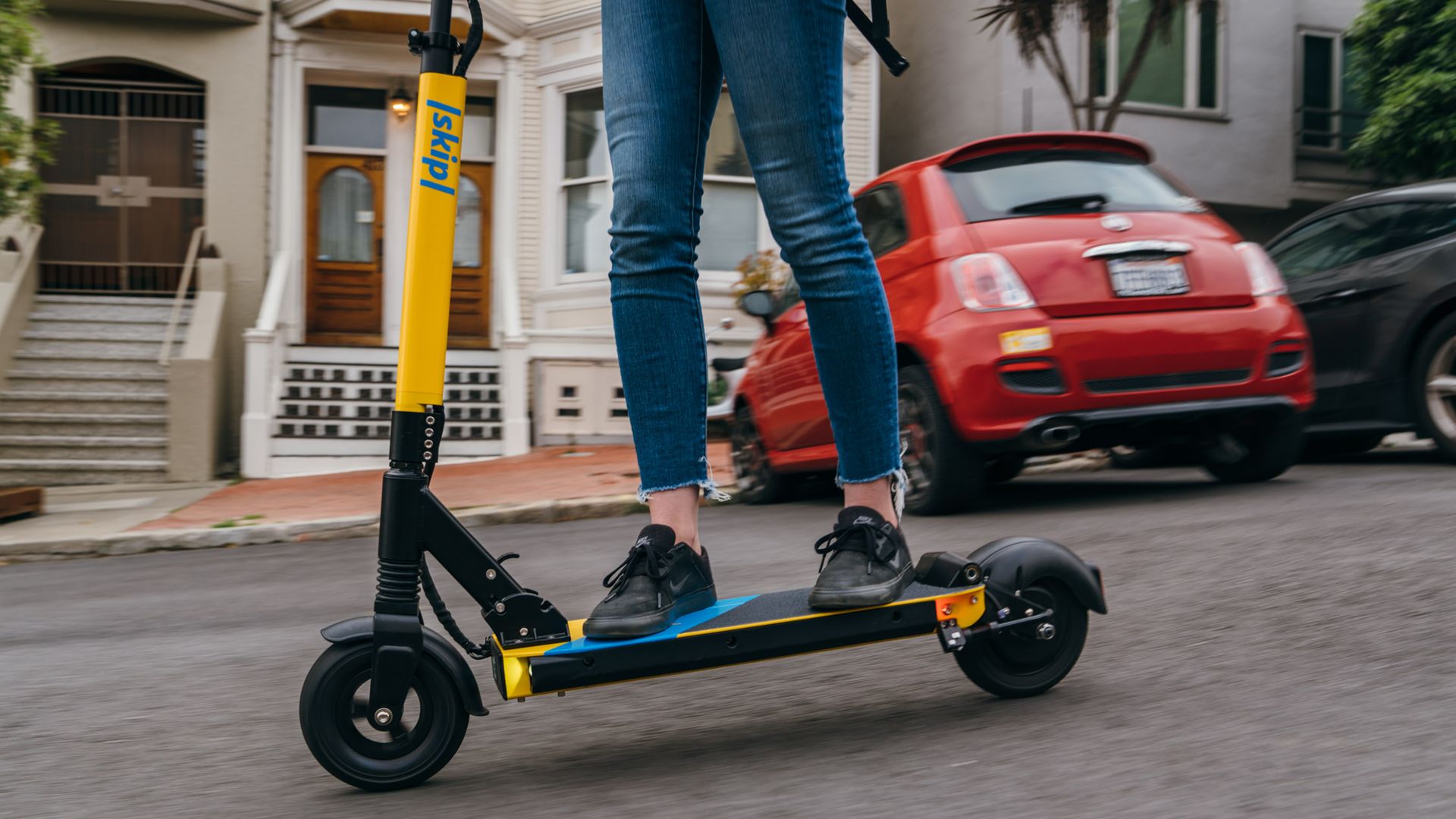 Skip hasn't yet dumped its e-scooters onto the streets of hometown San Francisco, instead quietly testing its service in Washington, D.C. while waiting for San Francisco to put a regulatory regime in place.
Bottom line: Skip is betting that its friendlier, play-by-the-rules approach will help put it ahead of competitors like Bird, Lime and Spin.
San Francisco is only giving e-scooter permits to five companies, but a dozen companies applied. Skip not only will compete against established e-scooter rivals, but also against ride-share giants Uber and Lyft.
Skip, formerly known as Waybots, tells Axios that its sales pitch is fourfold:
Safety for riders and everyone else: It will back, financially and otherwise, local organizations such as the San Francisco Bicycle Coalition focused on initiatives like adding more bike lanes. CTO Mike Wadhera says that riders usually ride (illegally) on sidewalks because they don't feel safe on the streets with cars.
The company will also spend up to $150,000 in the next 18 month on incentives like ride credits to get riders to safely park their scooters out of pedestrians' way. It's working on vehicle features that can encourage this, although Wadhera declined to share more.
Transparency and accountability: Skip is proposing that it form a community advisory council that would serve as a way for residents and city officials to regularly meet with its executives to address concerns.
Skip also would publish data about its customers, to encourage transparency and to encourage accessibility.
Employment: The startup will need people to repair and service its scooters, and wants to help create job training programs for disadvantaged groups.
Skip says these jobs will be as full company employees, not independent contractors, and that its trained mechanics would be able to work for any e-scooter company.
Experience: The executive team includes vets from companies like Uber and Airbnb, which have had their fair share of fights with San Francisco officials. They now position themselves as reformed.
"We are seeking out people who may have been part of companies that got some things wrong in the past but are eager to be in a company doing it the right way," Wadhera said.
Bottom line: Some of its rivals have already established their brands in San Francisco and raised a lot of capital. But Skip doesn't believe it will be winner-take-all race, and that unlike ride-hailing a few years ago, playing by the rules will prove a positive differentiator.
Go deeper:
Go deeper