Be smart: Why school resource officers won't solve school safety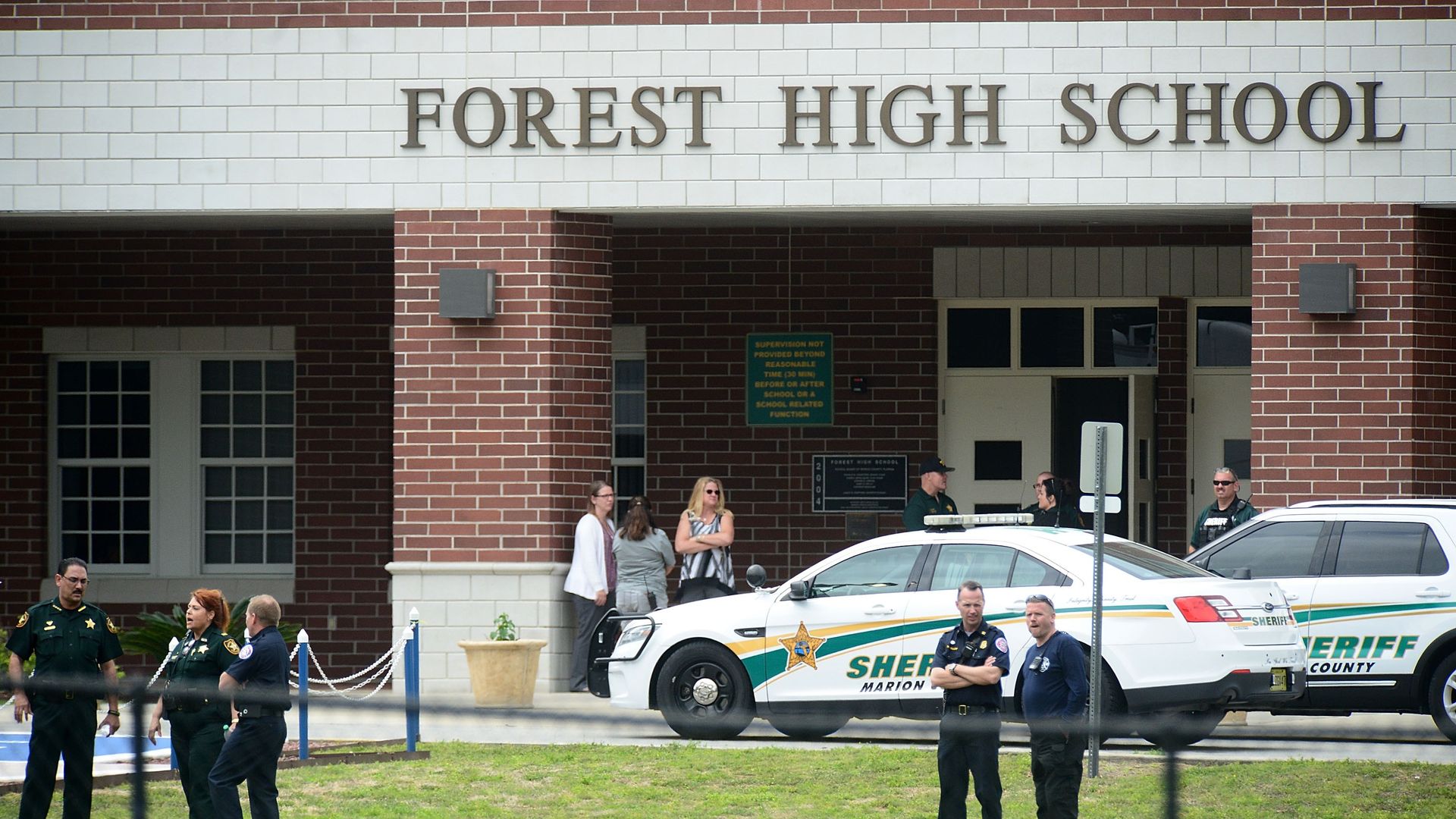 Scot Peterson, the school resource officer at Marjory Stoneman Douglas High School, has been reflecting on what more he could've done to stop the shooting that killed 17 people, per the Washington Post, after choosing to call for backup instead of running into the building.
Be smart: Student resource officers are supposed to help keep schools safer; but, like in Peterson's case, sometimes they can only do so much.
How can they say I did nothing?
—
Peterson
Peterson said he locked down the school, cleared students out to safety, and called for backup. He just didn't go in the building.
The big picture
More than 400 students have been killed in 200 school shootings since Sandy Hook in 2012, per the New York Times. Meanwhile, the answer to school shootings has traditionally been to increase police presence.
By the numbers:
In 1975, just 1% of the nation's schools had resource officers, according to a report from the ACLU.
In 2018, that number is up to 42% in high schools and 24% in middle schools.
Yes, but: Despite the higher percentages, school shootings are still taking place with frightening frequency, and school resource officers aren't always able to prevent them.
The details
The first student resource officer program dates back to 1953 in Flint, Michigan, where officers were hired to build rapports with students. But theit roles have since evolved:
Mac Hardy, the director of operations for the National Association of School Resource Officers, tells Axios that officers are typically taught to operate as law enforcement officers, educators on security, and an informal counselors to students, parents and teachers — all at once.
Part of the solution is to be preventative, Hardy said, and be proactive in finding the students that could pose as a danger to the rest of their classmates.
For that to happen, says Hardy, students and the community must trust their resource officers — but that's not always the case due to disproportionate discipline.
The bottom line: School resource officers help maintain law and order in schools, but they aren't the solution to the nation's mass shooting epidemic.
Go deeper