Big Oil teeters between enemy and ally in climate fight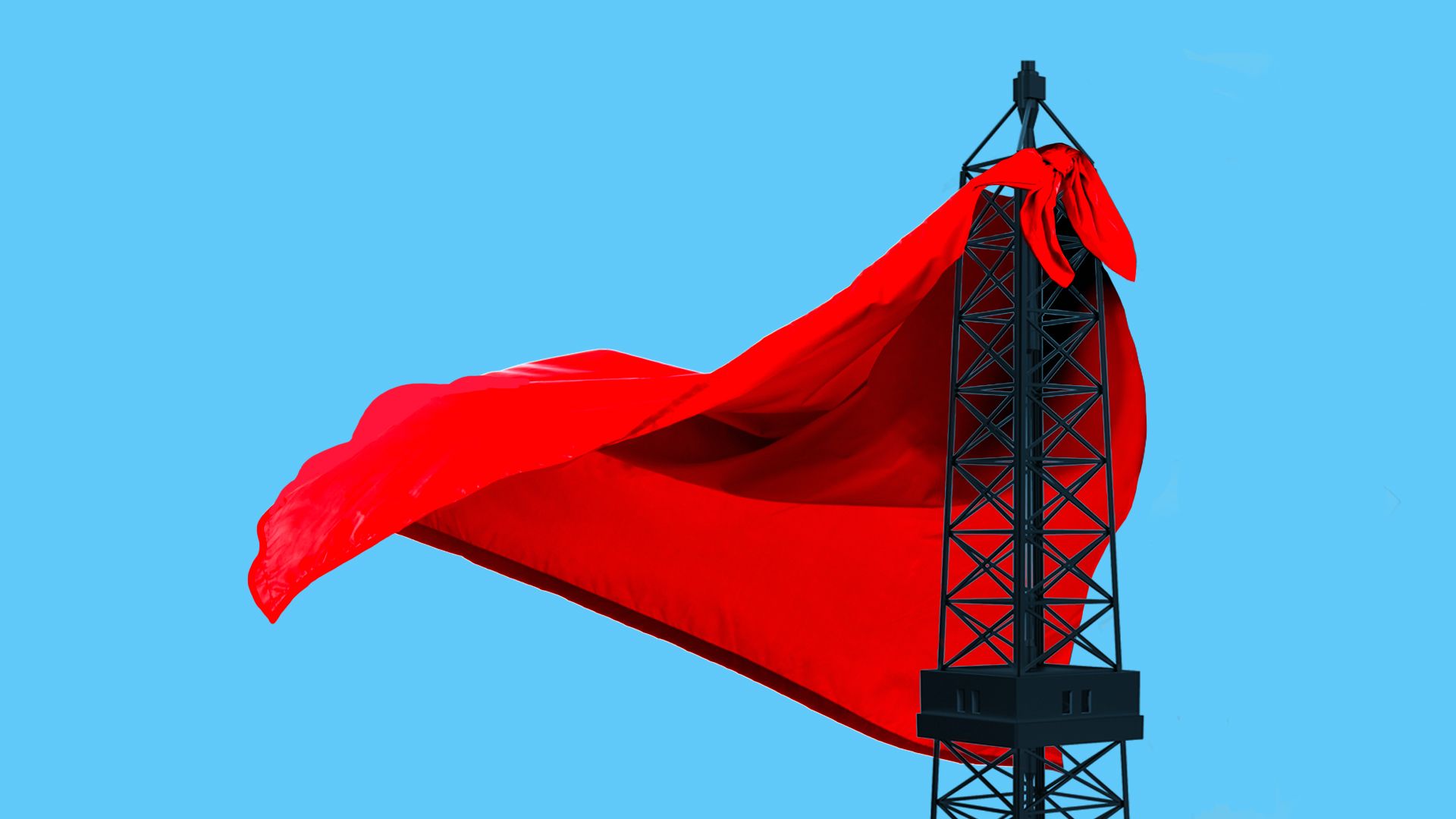 The new flashpoint in the climate change debate is over the role of oil companies — whether they're culprits, allies, or something of a frenemy.
Why it matters: The burning of fossil fuels these companies produce is a big reason Earth's temperature is rising, yet their products are also foundations of the global economy. Whether you love or hate them, what role these companies play is inherent to addressing climate change, particularly in the absence of presidential leadership on the issue.
Driving the news: Pope Francis is hosting a gathering later this week at the Vatican with executives of major oil producers and investment firms to talk about how the companies can address climate change, we reported exclusively Friday. It's a significant and unusual meeting of a relatively progressive Pope with oil companies under pressure in two ways:
Investors: Publicly traded oil and gas companies are facing growing pressure from shareholders to be more transparent about how policies cutting carbon emissions will impact their bottom lines.
Lawsuits: The world's five biggest publicly traded oil companies — ExxonMobil, Chevron, BP, Shell and ConocoPhillips — are defendants in several lawsuits filed around the country by cities and states run by liberal politicians. The lawsuits allege the producers are liable for billions of dollars of damage caused by climate change.
Royal Dutch Shell CEO Ben van Beurden told me recently he's hoping for a truce, but doesn't see it happening soon.
"What I find really problematic and disappointing in this point of time is we want to spent the entire bandwidth that we have in society on disagreeing, whereas we should spend that bandwidth on actually working together ... The burning planet will be so visible and so hot that people will say, 'let's get on with stuff.' But I think we are a ways off from that, I'm afraid."
— Shell CEO Ben van Beurden
Driven by several factors, some global oil companies are taking increasing steps toward investing in greener technologies and resources. Those efforts are doing little to influence many environmentalists, including Carroll Muffett, president of the Center for International Environmental Law in Washington, D.C., who says the moves are too little, too late and not a substitute for previous actions.
"The relevant question isn't whether oil companies are dabbling in renewables again —but whether those investments reflect a fundamental shift in their business strategy. We see little sign of such a shift," Muffett said. "Regardless, no amount of investment in renewables today will excuse the companies from responsibility for their past conduct and the climate crisis they helped create."
As for the Pope's gathering, Muffett said he was reserving judgment.
Another point made by critics: oil executives say they support putting a price on carbon emissions, but they're not actively lobbying Congress for it.
Democratic Sen. Sheldon Whitehouse of Rhode Island, who has sponsored one of the only bills in the last few years putting a price on carbon, says oil companies aren't being honest and are continuing to support trade associations that have traditionally opposed such policies.
"If all you're getting is smoke and mirrors and phony baloney, then you're not working with them, they're not working with you. It's a sham, you shouldn't participate in it, which means you got to go the other way, which is to get them into a courtroom where they got to start telling the truth."
— Whitehouse
Those positions aren't shared by others also working toward addressing climate change. Jason Grumet, president of the Bipartisan Policy Center, which gets funding both from oil companies including ExxonMobil and liberal foundations supporting the lawsuits, said ultimately what matters most is collaborating where possible.
"The challenge is the scope and scale of the necessary low carbon energy transition," Grumet said. "While it is uncomfortable for many environmental advocates to accept, solving the problem with ExxonMobil is going to work much better than trying to do something to ExxonMobil."
What to watch: Exxon, Shell and BP are among corporations backing an effort led by leaders of earlier Republican administrations to get Washington to back a plan pricing carbon emissions. The companies announced their support almost a year ago. The group, the Climate Leadership Council, hasn't made any big public moves since then.
Greg Bertelsen, a senior vice president with the group, said the companies, along with other founding members, meet quarterly. He signaled that some lawmakers could support the carbon policy, at least privately.
"We've been encouraged by the reception that we and our founding member companies and other organizations have received on the Hill from both sides of the aisle," Bertelsen said.
Get more stories like this by signing up for our daily energy newsletter, Generate. 
Go deeper