Deadly suspense in the Congo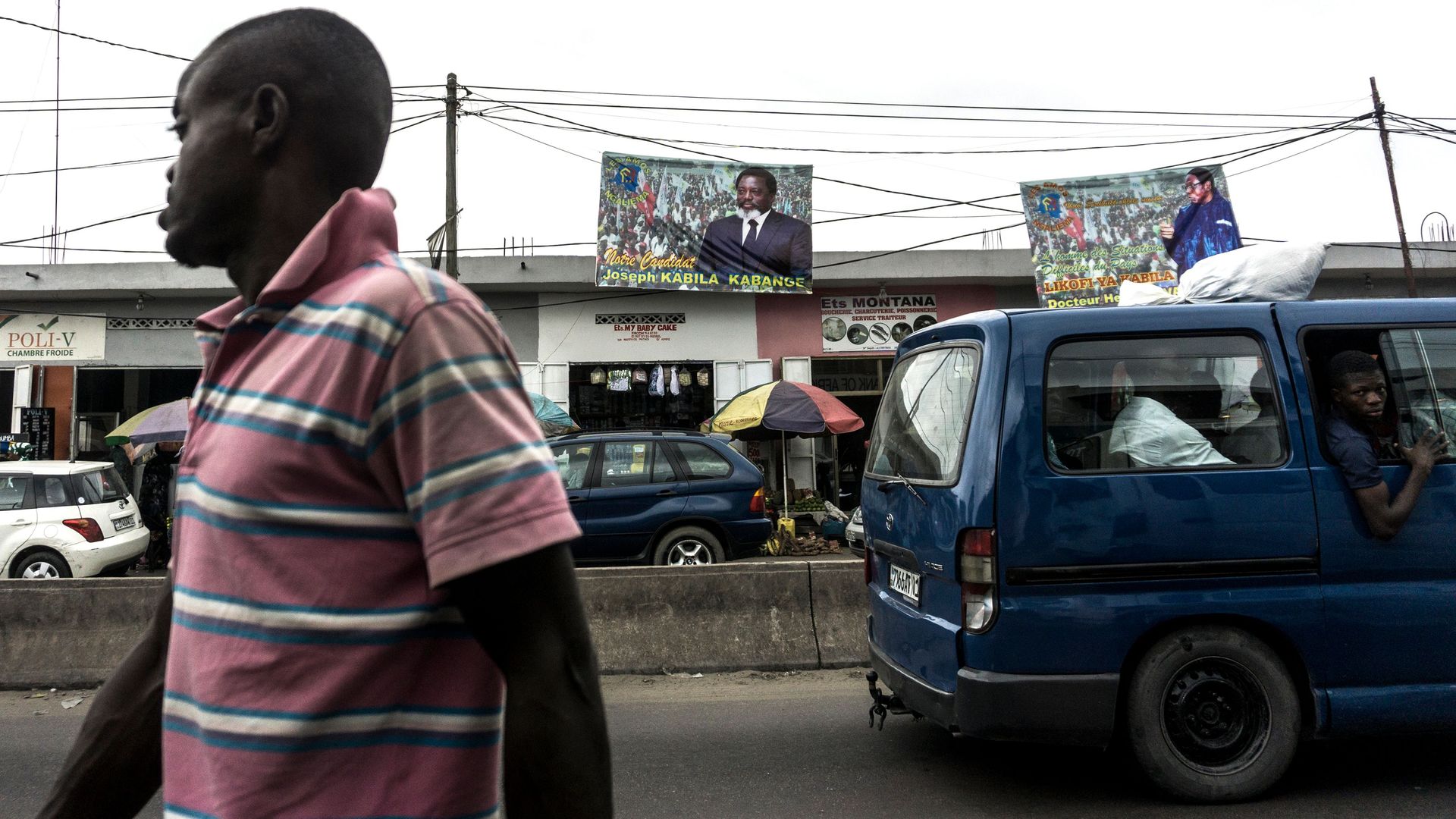 I spoke today with Raymond Tshibanda, special envoy to the U.S. for the Democratic Republic of the Congo, about long-delayed elections now slated for December.
The big picture: The DRC is Africa's second-largest country by area, and fourth-largest by population. Joseph Kabila, 46, has been president since his father Laurent was assassinated in 2001, winning disputed elections in 2006 and 2011. The constitution limits Kabila to two terms, but he is now seven years into a five-year term and has kept the world in suspense by refusing to say he'll step aside.
In a back-and-forth that felt like a scene from Catch-22, Tshibanda told me the constitution is "quite clear" about the term limit, there is no time for a referendum to change it and Kabila has pledged to respect it — thus, the situation is entirely straightforward.
So he's not running then? Tshibanda wouldn't say.
"There is no reason for him to say that ... most sitting presidents around the world withhold the announcement of their decision in clear terms," he told me, adding "they have good reasons for not wanting to speak too early."
Some reasons he offered:
"There might be people who will be afraid to hear tomorrow that Kabila will not be president anymore."
"Becoming a lame duck in the U.S. is different than becoming a lame duck in the DRC."
"If chaos were to start in the country today, can you guarantee that we will have elections in December? The country is still quite fragile."
"The timeline between June [when the list of candidates becomes official] and the elections is shorter. If there is any chaos, it can be contained."
Worth noting: Tshibanda said he met with U.S. National Security Council officials while in D.C., and they agreed that elections were on track for December but raised concerns about the use of voting machines — which the opposition says could be manipulated and Tshibanda said are needed to solve the "logistical nightmare."
The bottom line: "Very soon it will be time to speak loud and clear and the president will speak loud and clear," Tshibanda told me. The stakes are high when, as Tshibanda noted, every election carries the risk of war. We'll soon hear what Kabila has to say.
Go deeper