Trump, FBI feud escalates as he meets with Rosenstein, Wray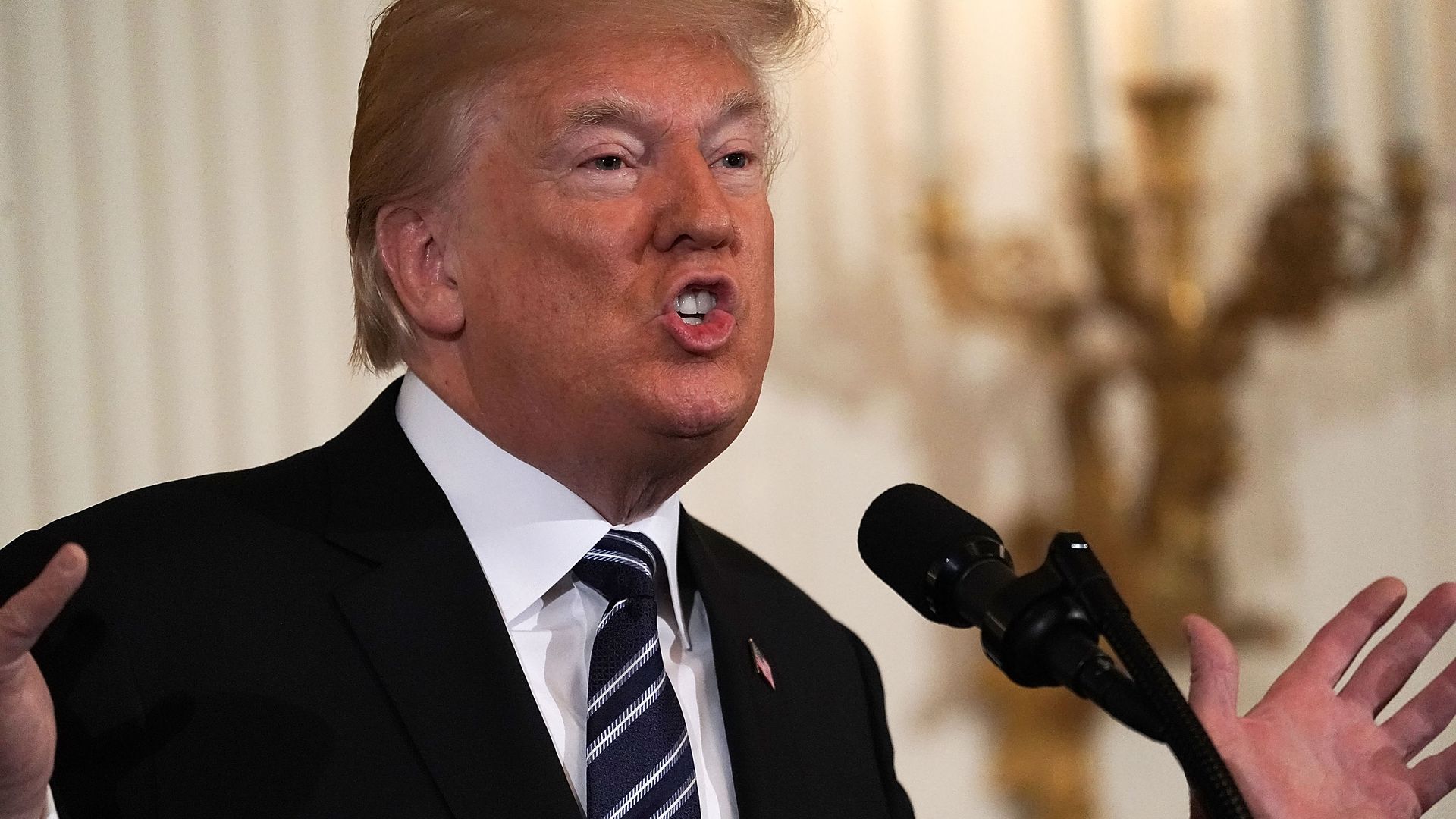 President Trump will meet with Deputy Attorney General Rod Rosenstein and FBI Director Christopher Wray today at 3 p.m. with his tweeted demand that the Department of Justice investigate whether the FBI and DOJ "infiltrated or surveilled" the Trump campaign as "a topic of discussion," ABC's Jon Karl scoops. Director of National Intelligence Dan Coats will also attend, per The Washington Post.
The big picture: As Axios' Jonathan Swan reported yesterday, Trump's tweet effectively rolled a grenade into the Department of Justice, ordering the agency to conduct a politically-motivated investigation of itself. This meeting could pull the pin — or maintain the status quo.
The backdrop: Last week, in response to opinion pieces in both the WSJ and National Review, Trump tweeted, "Wow, word seems to be coming out that the Obama FBI 'SPIED ON THE TRUMP CAMPAIGN WITH AN EMBEDDED INFORMANT.' Andrew McCarthy says, 'There's probably no doubt that they had at least one confidential informant in the campaign.' If so, this is bigger than Watergate!"
As Axios' David Nather reported last week, there's no evidence that these agencies placed a "spy" inside the Trump campaign.
But, per the Washington Post, the FBI did utilize an informant — named by NBC News as American academic Stefan Halper — to attempt to solicit information from Trump campaign associates Carter Page, George Papadopoulos, and Sam Clovis for the Russia investigation.
And last night, Rosenstein seemingly attempted to avert a political crisis in response to Trump's tweet, directing the DOJ's Inspector General to "expand the ongoing review of the FISA application process to include determining whether there was any impropriety or political motivation in how the FBI conducted its counterintelligence investigation of persons suspected of involvement with the Russian agents who interfered in the 2016 presidential election."
From Rosenstein himself: "If anyone did infiltrate or surveil participants in a presidential campaign for inappropriate purposes, we need to know about it and take appropriate action."
Between the lines: Today's meeting could see Trump placated by Rosenstein's decision — or decide to push harder.
Swan reported last night that Trump would be happy if Attorney General Jeff Sessions or Rosenstein resigned, according to multiple sources who've discussed both men with the President.
Swan's take: "I don't know whether Trump will feel mollified by Rosenstein's statement and his decision to kick the expanded investigation over to the Inspector General. If he backs off, and doesn't order Rosenstein to go even further and release documents and reveal sources, then it might be crisis averted."
Go deeper