Sham elections in crisis-stricken Venezuela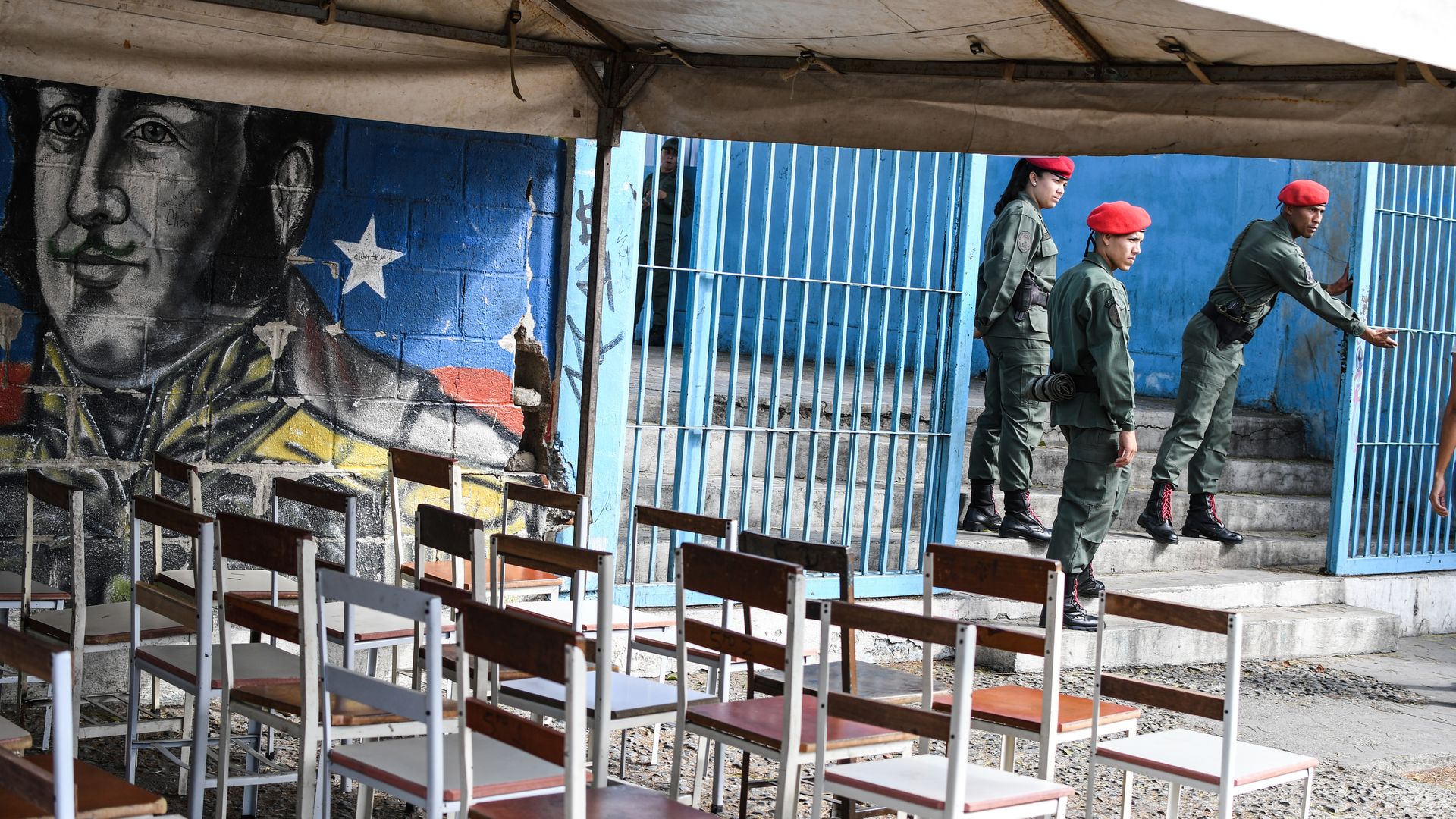 Venezuelan president Nicolas Maduro is declaring victory in Sunday's sham election — and the U.S. is responding with new sanctions.
Between the lines: Turnout plummeted to 46% from about 80% in previous elections despite the fact that Maduro offered cash and boxes of food to those who cast ballots. That's remarkable in a country struggling through one of the world's worst economic crises. Dwindling support, a collapse in oil production and signs of dissent within the military mean Maduro could struggle to see out his new six-year term.
Five years after the death of Hugo Chavez, both the Socialist Party and the weakened opposition are struggling to mobilize supporters. A viral video of Maduro waving enthusiastically to an empty square underscores the fact that the emperor is increasingly short on clothes.
Harold Trinkunas, a Latin America expert at Stanford and Brookings, notes that the armed forces were tasked with election security, and ultimately "sat there looking at empty polling places all day." The rate of soldiers detained for disloyalty already has already spiked this year, Trinkunas says.
Military support is crucial, as Eurasia Group's GZERO Media noted in the most recent Signal newsletter:
"Elections aren't really what keeps a fellow like Maduro in power. What keeps him in power — as in other failing, deeply corrupted, or profoundly undemocratic systems — is the loyalty of economic and military elites."
"If the Venezuelan elections don't matter, what happens afterwards most certainly does. The critical question is: Can Maduro hold together a collapsing country while keeping the carousel of money and privilege turning for the shrinking elite core of the Chavista regime?"
But, but, but: The Venezuelan opposition remains hopelessly fractured, and didn't even seem sufficiently organized to capitalize on the low turnout, Trinkunas says.
What to watch:
For the time being, Maduro seems well insulated from internal challenges, Trinkunas says, but oil production has fallen off a cliff and Venezuela's creditors like ConocoPhillips are being increasingly assertive.
One remaining lifeline is Russia, which as Reuters reports, is offering "the cash and credit the regime needs to survive" in exchange for valuable Venezuelan assets.
The U.S. is intent on ratcheting up the pressure on Maduro's regime, announcing new sanctions today banning Americans from buying Venezuelan debt and making it harder for Venezuelan officials to "sell off public assets in return for kickbacks."
The bigger picture: Faced with hyperinflation, crippling food and medicine shortages, limited electricity and an oppressive dictatorship, around 5,000 Venezuelans a day are fleeing to surrounding countries. Upwards of 1.5 million left between 2014 and 2017.
Go deeper: The new global migrant crisis is in the Americas.
Go deeper