Rolling back emissions standards, EPA threatens state leadership on climate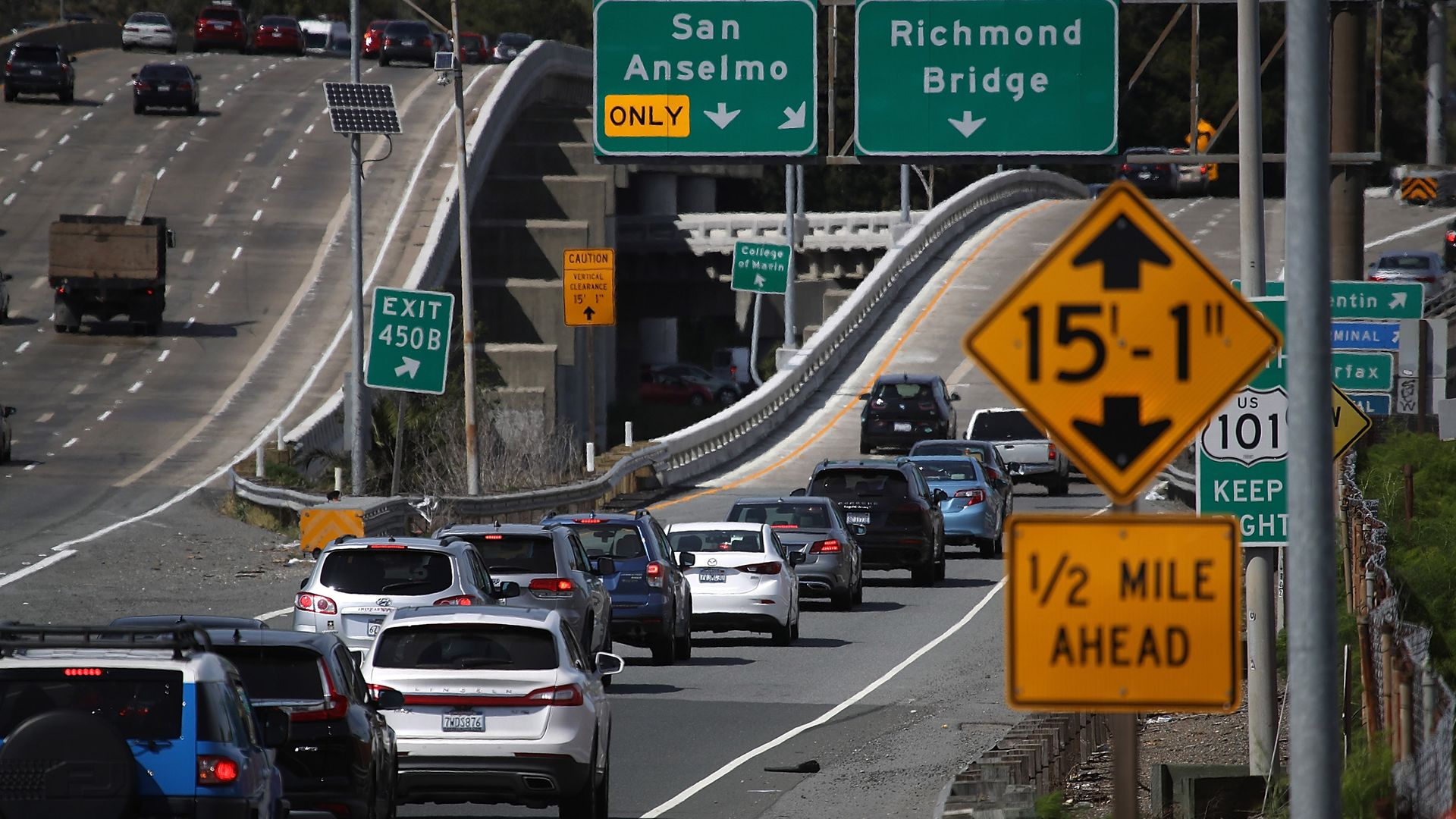 On April 2, the EPA issued its final determination to roll back the federal greenhouse gas (GHG) vehicle emissions standards, one of the most effective policies for reducing carbon pollution. The Obama administration enacted the policy with auto industry support in 2009, but the EPA has now called the standards for model years 2022–2025 "not appropriate."
Why it matters: The Trump administration may freeze air pollution standards at 2020 levels and limit states' authority to enforce more stringent ones, sparking a familiar legal battle with leading states and making it more difficult for them to meet pollution reduction goals.
California has led on vehicle emissions standards since 1966, before the first federal air pollution statutes were enacted. Since then, California has been allowed to set more stringent standards that other states may follow: 12 states plus D.C. have adopted California's greenhouse gas standards, which were harmonized with the federal standards under Obama.
But the Trump administration reportedly intends to challenge California's authority to set such standards, arguing that the Energy Policy and Conservation Act, which establishes federal fuel-economy standards, pre-empts states from regulating fuel economy. Similar arguments were made shortly after California first adopted GHG emissions standards in 2005, but federal courts in California and Vermont ruled in the states' favor. Their successful defense was based on Massachusetts v. EPA, a 2007 Supreme Court decision that held that federal fuel-economy and air pollution statutes do not conflict and that the EPA has authority to curb GHGs. That decision is unlikely to be reversed.
This latest challenge to states' authority would come at a moment when many states are taking actions to limit emissions across the transportation sector. For example, 7 Northeastern states and D.C. are engaging communities and stakeholders around policies to bring about a future of low-carbon transportation.
The bottom line: Should the Trump administration succeed in shooting down California's vehicle standards, the damage will extend far beyond the state's borders, harming the nation's air quality, public health and climate.
Vicki Arroyo is executive director of the Georgetown Climate Center and a professor at Georgetown University Law Center.
Go deeper