U.S. efforts are flailing on girls' equality in Afghanistan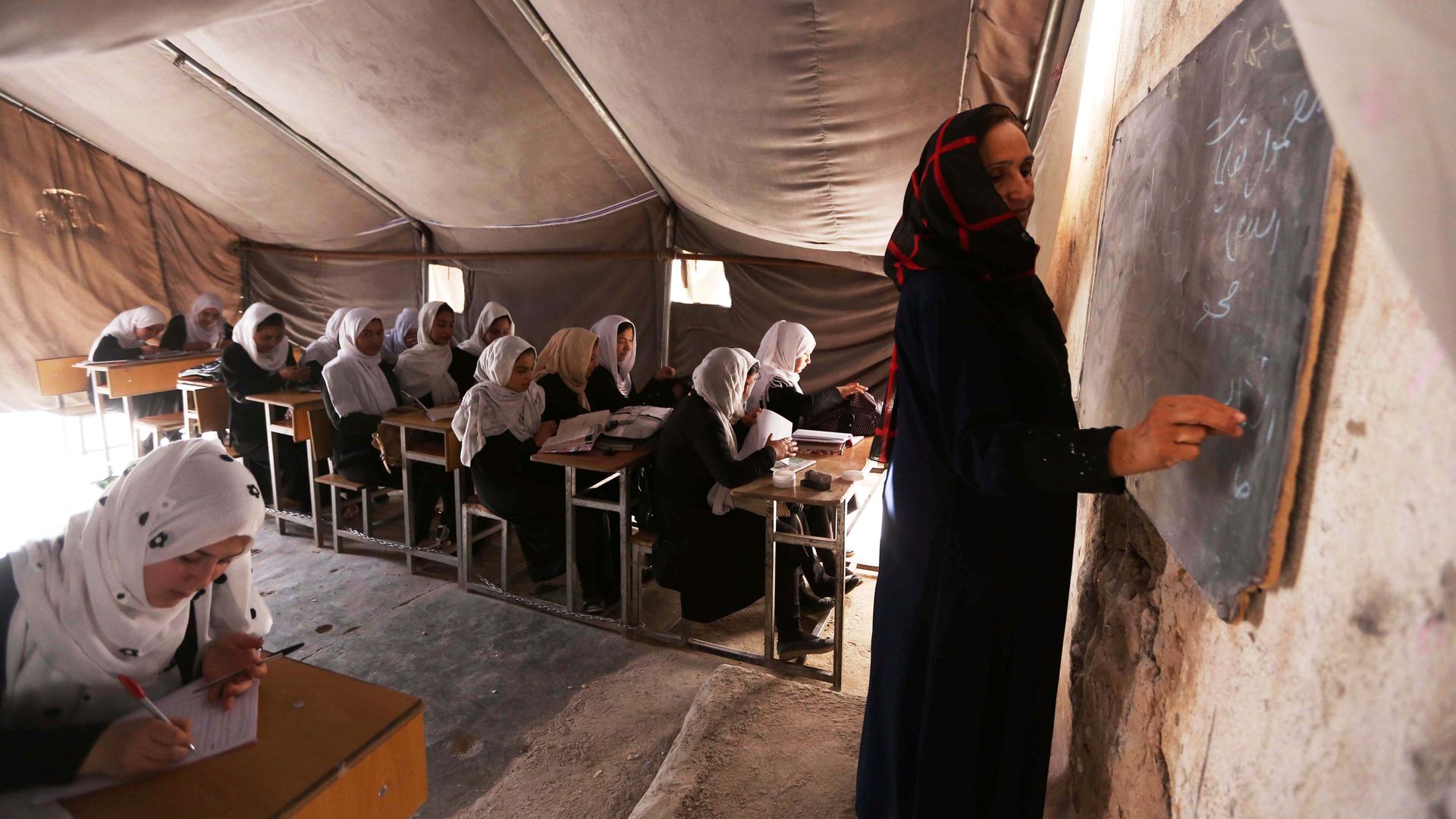 Despite the U.S. spending nearly a billion dollars to better education in Afghanistan, girls are still falling behind.
The big picture: The newly released quarterly report from the Special Inspector General for Afghanistan Reconstruction (SIGAR) reports that the USAID had "disbursed approximately $979 million for education programs in Afghanistan" as of April 18. But per SIGAR, the World Bank said "progress towards increasing equitable access to education, particularly for girls, was only 'moderately satisfactory.'"
How girls are faring
The Human Rights Watch reported in October that "the proportion of Afghan girls who are in school has never gone much above" 50%, despite the 2001 invasion being "partly framed" around helping Afghan women.
Per HRW: Only 37% of female youths are literate compared to 66% of their male counterparts, and 19% of adult women are literate compared to 49% of adult men.
The United Nations Educational, Scientific and Cultural Organization (UNESCO) reported a significant gap in 2017 between girls and boys in primary and secondary education.
Heather Barr, senior researcher at Human Rights Watch told Axios that when you look at the Afghan government, you see that the commitment to educating girls "has never been that deep."
U.S. Spending
There are 12 active education programs being paid for by the U.S. Agency for International Development, including some targeted specifically for girls, as well as workforce development programs and more. The cost of these programs total nearly $500 million.
A USAID official told Axios: "USAID's education budget in Afghanistan was roughly $100 million in FY16 and also roughly $100 million in FY17."
The bottom line:
"Make no mistake: Education in Afghanistan is much more equitable today than it was during the Taliban era, when girls were barred from going to school... Unfortunately, you still have a number of societal constraints, rooted more in the dominance of patriarchal views than in the decisions of the Taliban, that keep a number of girls from having access to education."
— Michael Kugelman, Deputy Director of the Wilson Center's Asia program
Go deeper