McCain doesn't want Trump at his funeral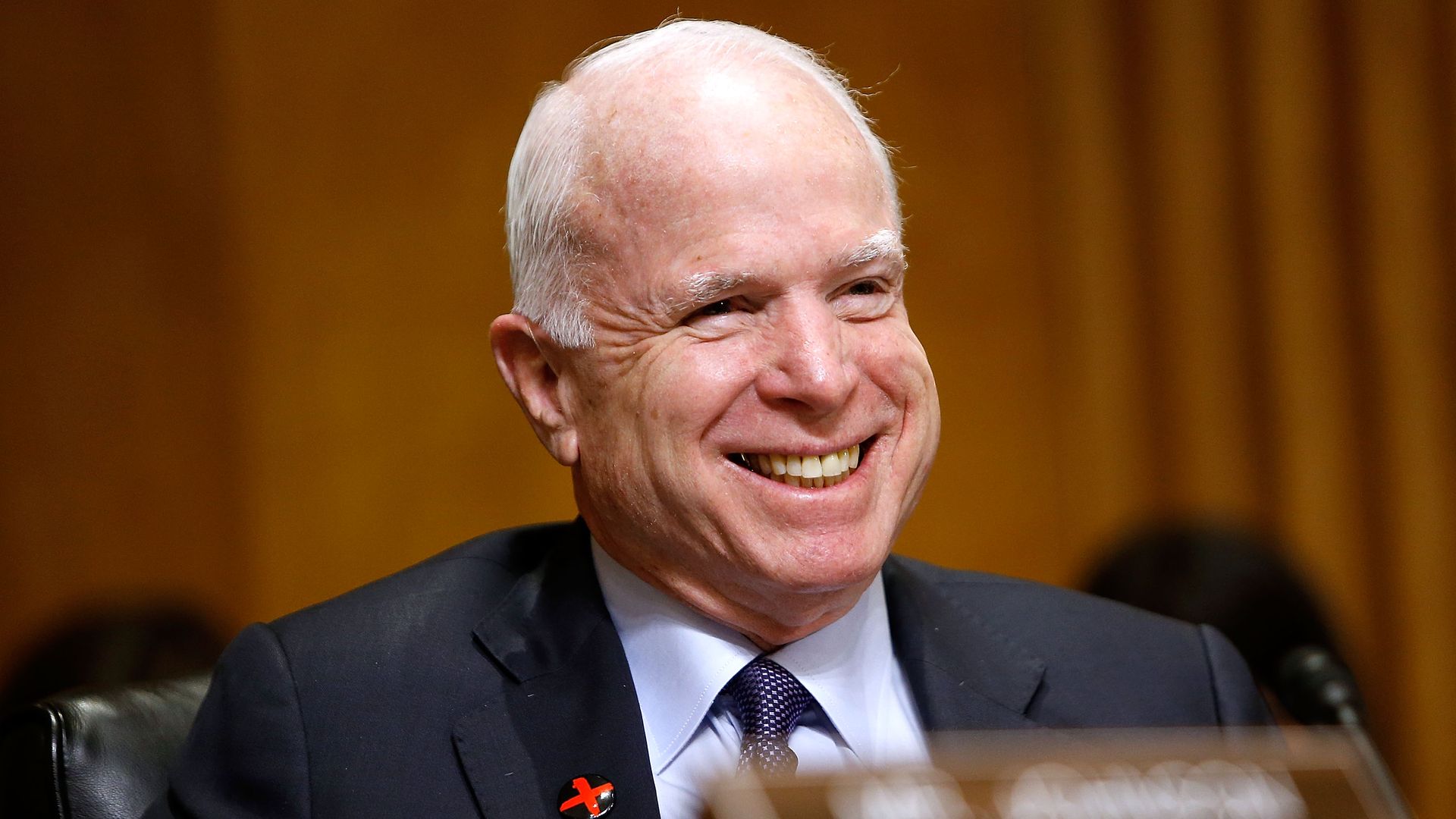 Senator John McCain regrets having not choosing Sen. Joseph Lieberman as his 2008 running mate, and has made arrangements for Vice President Mike Pence to attend his funeral — but not President Trump, according to the New York Times' Jonathan Martin, citing their rocky relationship.
The backdrop: McCain was diagnosed with an aggressive form of brain cancer last year, and Martin stopped in his Arizona ranch to see how he's faring, and who's been visiting as he undergoes treatment.
Highlights from Martin's visit:
"And some of his associates, though not his family, have started to quietly put out word that they want a 'McCain person' eventually appointed to fill his Senate seat, a roster that includes his wife, Cindy."
"Mr. McCain is using a new book and documentary to reveal his regret about not selecting former Senator Joseph I. Lieberman as his running mate in 2008."
"Having spent over two years in solitary confinement while he was imprisoned in Vietnam, Mr. McCain has no use for being alone, whether it is in the intensive care unit or at his ranch. And his deck is where he receives a constant flow of friends — with visits that often end with Mr. McCain saying, 'I love you.'"
"Another McCain protégée, Senator Amy Klobuchar of Minnesota, a Democrat, said she treasured how Mr. McCain treated her when they went on the congressional delegation trips he loves and foreign leaders would attempt to recognize the male lawmakers before her."
"'They'd always look to Lindsey next,' Ms. Klobuchar said of the heads of state, referring to Mr. Graham, a frequent travel companion of Mr. McCain. 'But he'd always say, 'Senator Klobuchar is the Democratic lead and she'll be going next.'"
Biden visited McCain as well: "'I wanted to let him know how much I love him and how much he matters to me and how much I admire his integrity and his courage,' Mr. Biden said. Then he became more succinct. 'I wanted to see my friend,' he said."
Go deeper