Transport-heavy gas and oil production is destroying Texas roads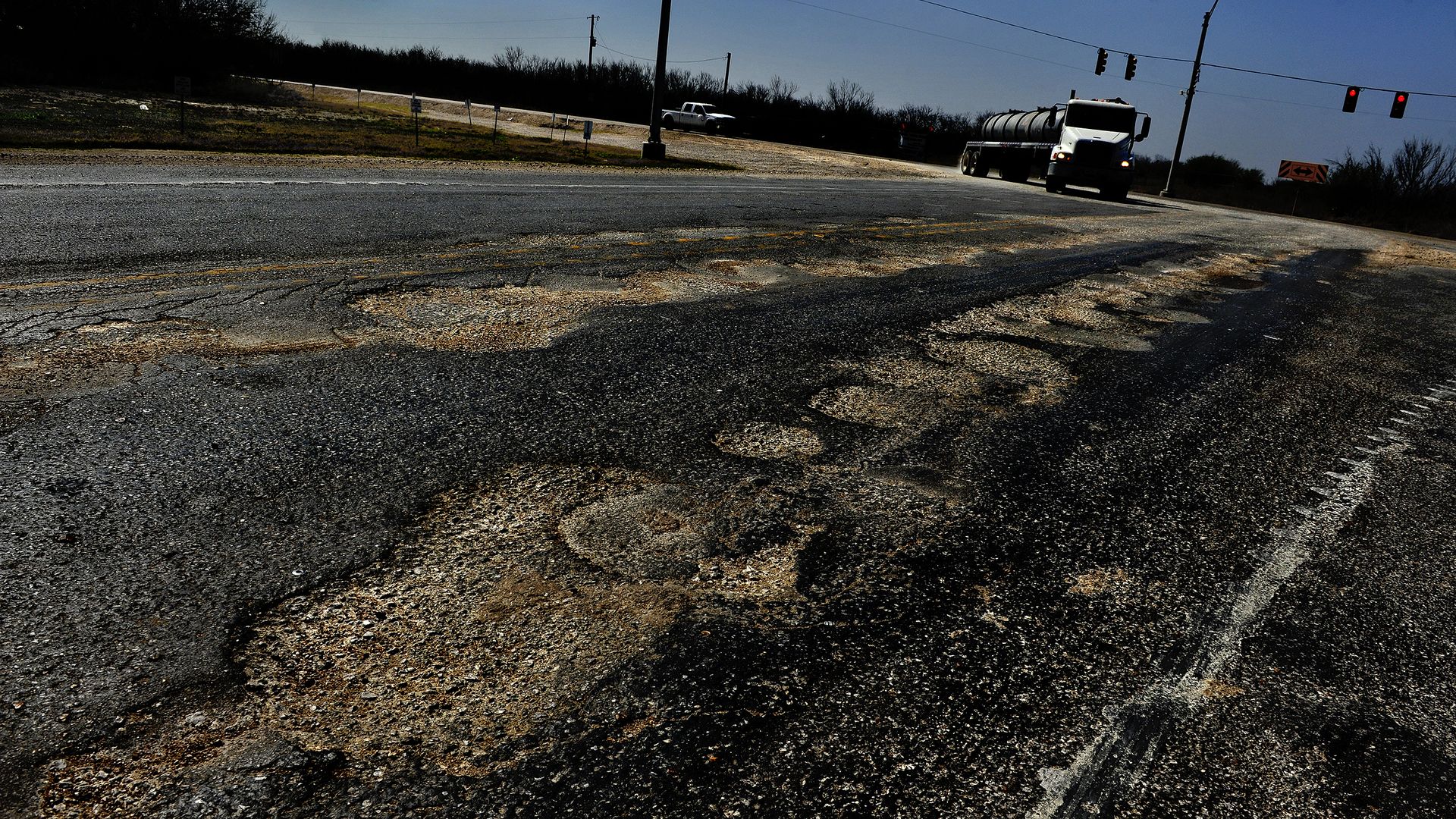 Every month in the West Texas Permian Basin, energy producers drill hundreds of new long-lateral oil and gas wells, an increasing number of which reach 20,000 feet in length and require the transportation of pipe, sand, water and oil weighing more than the Empire State Building.
Why it matters: Unconventional oil and gas development employing horizontal drilling and fracking, like the kind occurring in Texas, is dramatically more transportation-intensive than traditional models. The movement of such huge quantities of construction materials via truck has had a destructive effect on local roads.
Drilling a single long-lateral well can now require more than 500 tons of steel pipe, a 14-football-fields-long string of sand-carrying railcars and enough water to fill more than 35 Olympic-size swimming pools. The cumulative stress of moving so much mass over a concentrated set of asphalt roads in 50,000-pound (or heavier) truckloads causes enormous wear and tear that many rural counties cannot afford to repair.
Heavy truck traffic poses other dangers as well: In the core Permian Basin counties, the 2016 death rate on rural roads was nearly 25% higher than it was in 2010, before the recent production boom kicked off. The local crash death rate is approximately twice the national average and on par with that of Russia — a notoriously dangerous place to drive. Similar problems exist, albeit at smaller scale, in nearly every U.S. shale play.
The bottom line: At the least, energy producers should move as much water and oil as possible by pipeline to alleviate the strain that intensifying oilfield activity is putting on roads. Targeted taxes, fees and investment incentives may be required to discourage trucking and fund road repairs.
Gabriel Collins is the Baker Botts Fellow in Energy & Environmental Regulatory Affairs at the Baker Institute Center for Energy Studies.
Go deeper