Macron says he wants a "new agreement" on Iran nuclear deal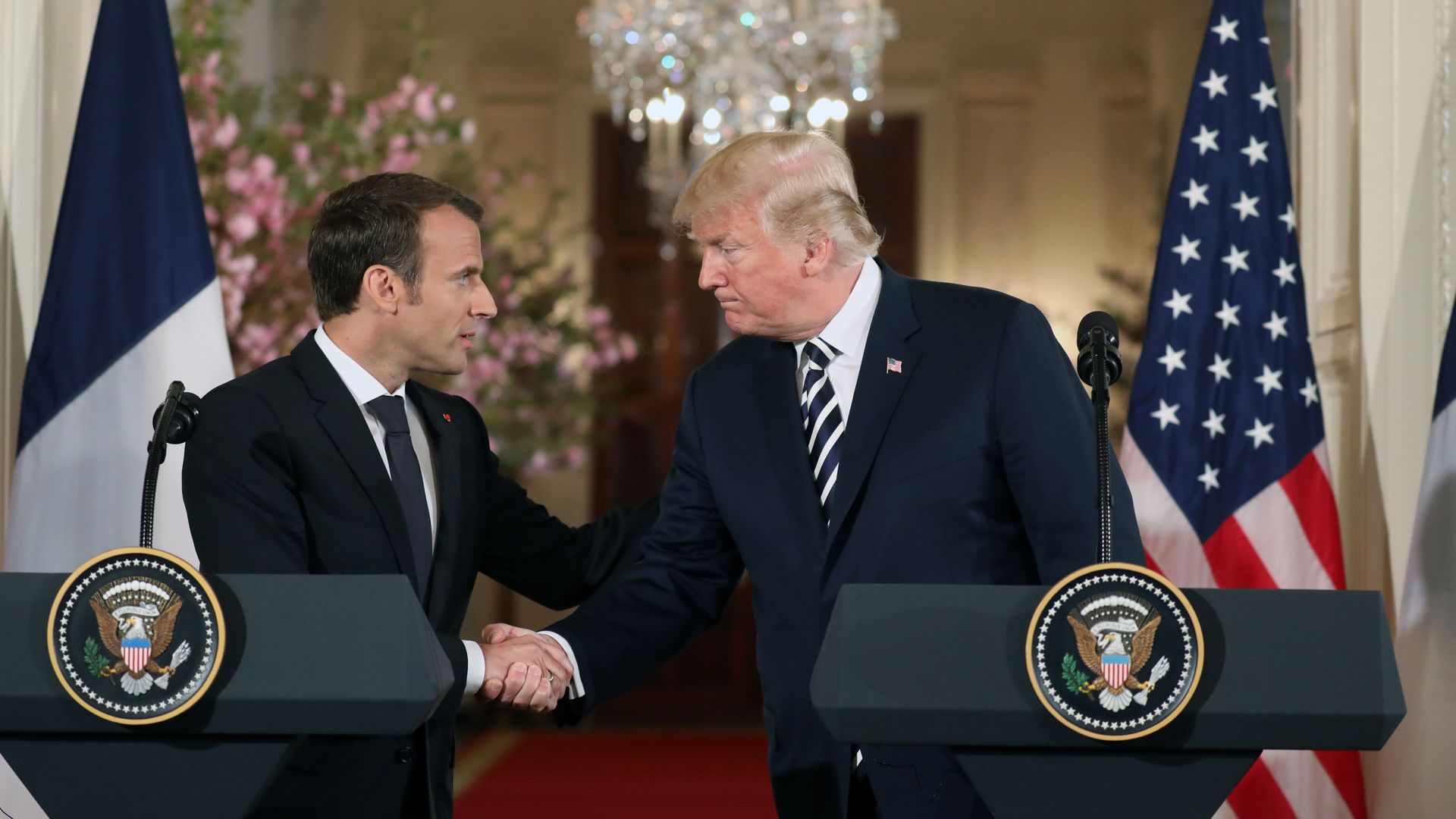 French President Emmanuel Macron said Tuesday that he wants a "new agreement" on the 2015 Iran nuclear deal during a joint press conference with President Trump at the White House.
Why it matters: The unanswered question is whether Macron has convinced Trump to remain in the Iran deal while a broader agreement is negotiated, rather than pulling the U.S. out of the current deal on May 12th as he is widely expected to do. Trump said, "nobody knows what I'm going to do on the 12th, although Mr. President you have a pretty good idea."
"We want sustainable stability and I believe the discussions we've had together make it possible to open the way, to pave the way for a new agreement."
— French President Emmanuel Macron
What Macron is looking to change with regards to the Iran nuclear deal: Containing Iran's regional influence, blocking Iran's nuclear activity until 2025, and putting an end to the country's ballistic missile tests.
Highlights:
North Korea: Trump says the purpose of his summit with Kim Jong-un is the denuclearization of North Korea, meaning "they get rid of their nukes."
Syria strikes: Trump thanked Macron for his "leadership" on launching strikes in Syria following the chemical weapons attack, and touted the coordinated effort from the U.S., U.K., and France.
Pulling U.S. troops from Syria: Trump said he still wants U.S. troops "to come home" but "I want [them] to come home with having accomplished what we have to accomplish." Note: Macron has previously tried to convince Trump to keep the U.S. military presence in Syria for a longer period of time.
Ronny Jackson's confirmation hearing: Trump acknowledged that there's an "experience problem" with Jackson, and said it'll be up to Jackson on whether he removes himself from consideration as VA Secretary.
Go deeper: What Macron gains from this visit.
Go deeper