Supreme Court wrestles with Texas gerrymandering case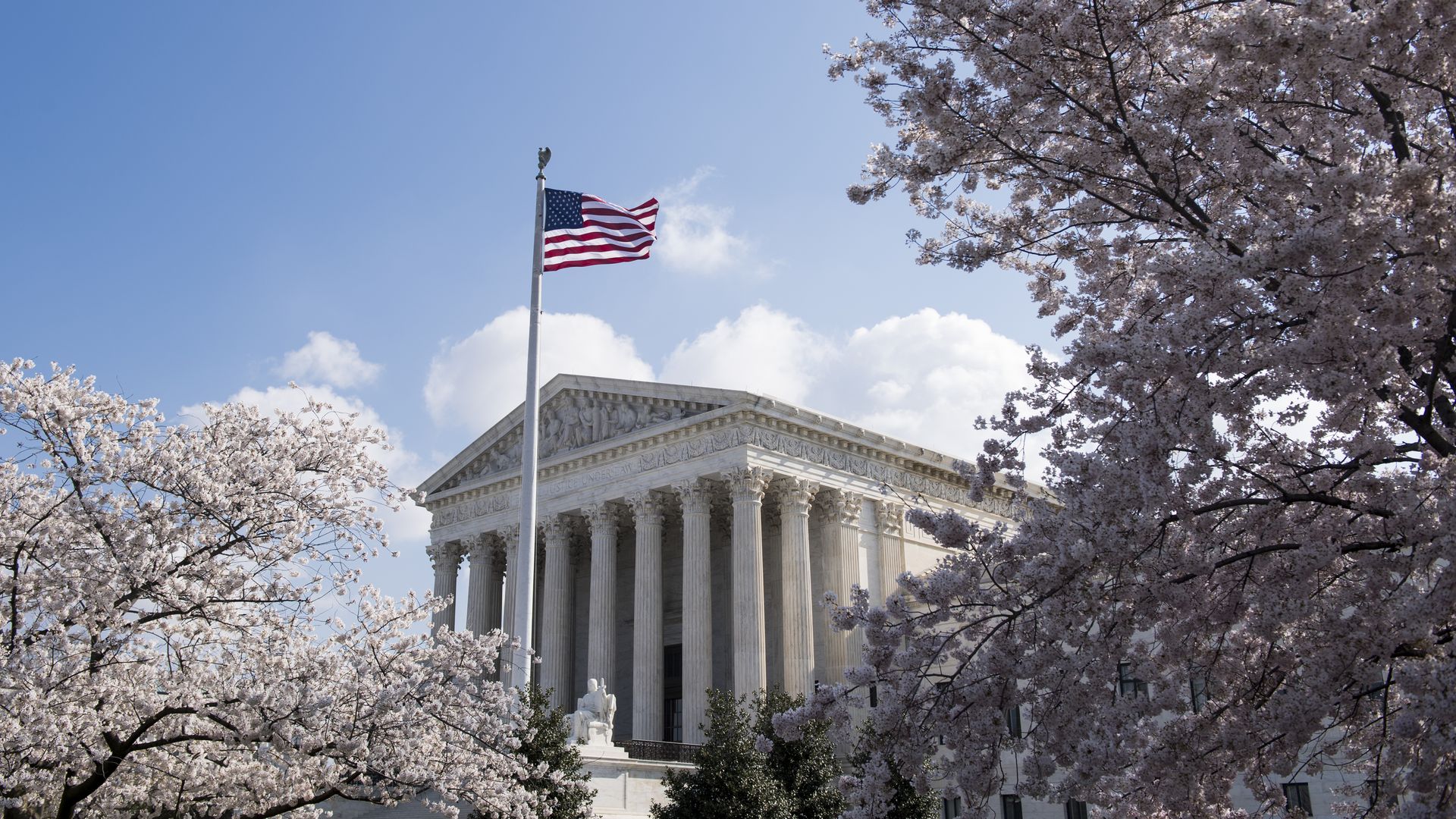 The Supreme Court heard a challenge on Tuesday over whether Texas lawmakers drew electoral maps that reduced black and Hispanic voters' political clout, but the justices seemed ideologically divided and hesitant over whether they have the jurisdiction to issue a ruling.
Why it matters: A decision, expected by June, could force a redrawing of the boundaries of two congressional districts and nine state legislative districts before Texas' state legislature is required to do another round of redistricting after the 2020 census.
How we got here: In 2011, a federal court struck down the maps drawn by Texas' GOP-controlled legislature as unconstitutional — and quickly approved temporary ones amid impending primary election deadlines in 2012. Though the federal court warned the interim maps were subject to further legal review, Texas lawmakers officially adopted them in 2013 until a new round of redistricting takes place after the 2020 census.
A panel of three federal judges struck down the maps last summer, calling them racially gerrymandered, but weeks later, the Supreme Court weeks later kept the challenged maps in place, citing Texas' appeal.
The big picture: In the spirited 70-minute hearing, the liberal justices sided with civil rights groups and minority voters that Texas' GOP-controlled legislature intentionally drew districts designed to pack minorities in some and, in others, splinter them to dilute their vote. But the conservative-leaning justices seemed to assume lawmakers acted in good faith.
A focal point: The liberal-leaning justices argued that the high court currently has no jurisdiction because the panel of federal judges that invalidated the current maps last year didn't issue a final judgement before Texas appealed.
Chief Justice John Roberts stated that Texas acted in "good faith" because the maps the state legislature adopted in 2013 were based on the temporary ones issued by a federal court.
What's at stake: Should the justices side with Texas, Justices Sonia Sotomayor and Elena Kagan are worried that it would open a door to a flood of appeals. They also echoed concerns voiced during the similar pending Wisconsin and Maryland gerrymandering cases that the Supreme Court is worried about tarnishing its credibility if it wades too much into partisan squabbles.
Justice Anthony Kennedy, the high court's frequent swing vote, also agreed there's no jurisdiction.
What's next: If the Supreme Court sides with the black and Hispanic voters, the case would be sent back to the lower court to remedy the alleged infractions — and redraw the districts — before 2020's round of redistricting. A victory for Texas would maintain the current maps until the planned 2020 redistricting.
Go deeper