Emmanuel Macron's master class in soothing Trump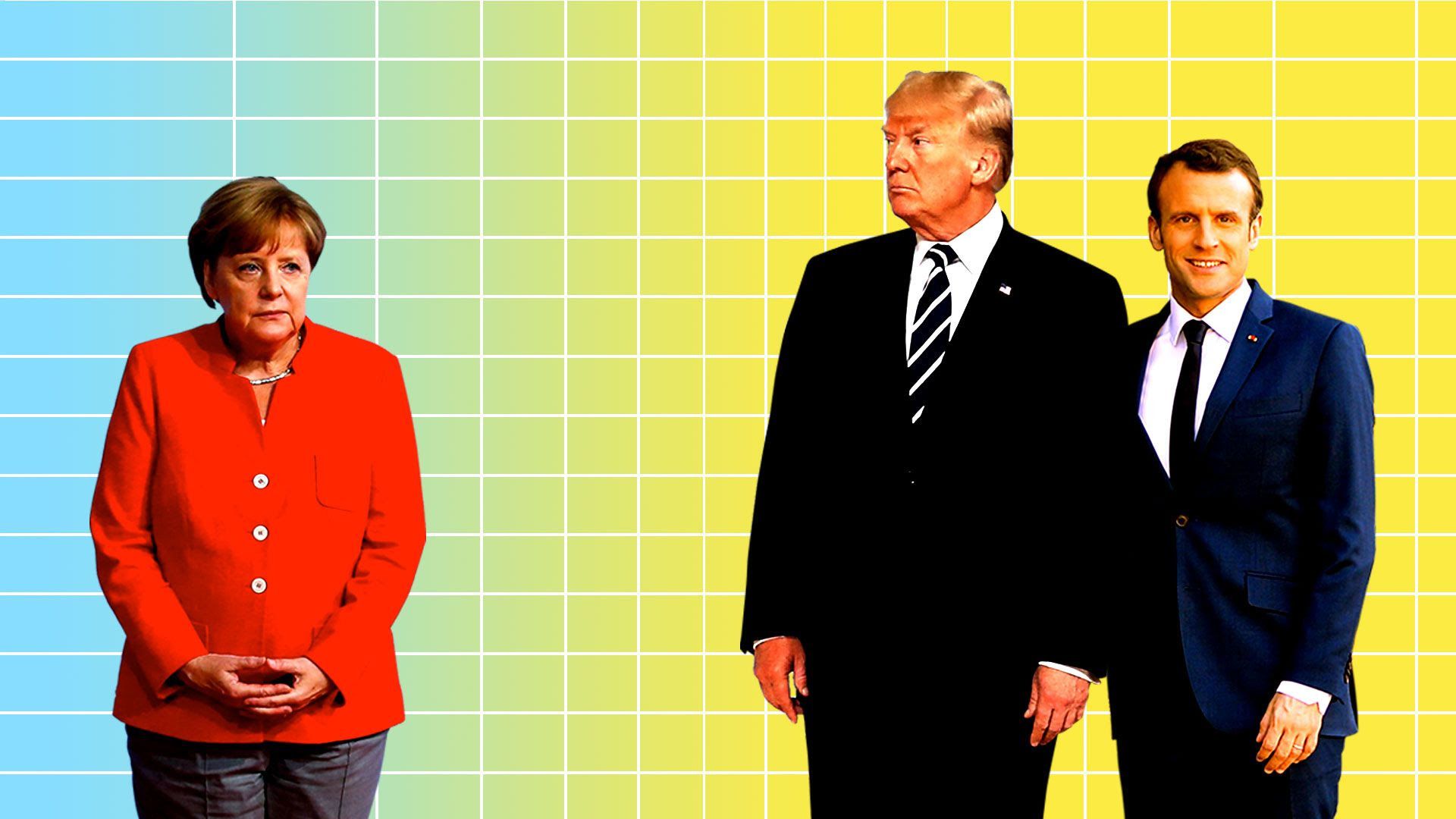 As French President Emmanuel Macron today begins his State Visit with President Trump, a source who has watched the two men in action says that Macron, a former investment banker, treats Trump like a "prized client" — with a combination of flattery, attentiveness and wariness. Macron "has run a master-class on the care and feeding of POTUS," the source says.
The big picture: Trump this week is Continental Man, hosting a private dinner with Macron at Mount Vernon tonight; a press conference with the French leader tomorrow, followed by the first State Dinner of the 15-month-old administration; and then on Friday, a White House meeting with German Chancellor Angela Merkel.
Why this matters: Trump's relationships with these two leaders — genuinely warm and close with Macron, somewhat distant and occasionally tense with Merkel — illuminate Trump's theory of foreign relations:
According to more than half a dozen sources who've been in the room with Trump for his interactions with foreign leaders, the president views international relations as chemistry between individuals.
Trump's foreign policy depends almost entirely on his personal rapport with world leaders.
Trump's interactions with foreign leaders — often improvised, often hot and cold — disregard diplomatic conventions and briefing materials. Instead, he freelances, kibitzing with foreign leaders like he does with old real estate pals.
🇫🇷 Soon after President Trump announced last June that the U.S. was withdrawing from the Paris climate accord, he began telling foreign leaders he wanted to re-negotiate America's re-entry into the deal:
In one phone call with Macron, shortly after Trump's dramatic Rose Garden announcement ("I was elected to represent the citizens of Pittsburgh, not Paris"), Trump told Macron that "maybe we'll get back in," two sources said.
Macron replied, in one source's recollection: "No, no, no. It doesn't work like that."
A source briefed on the conversation said Macron meant the deal wasn't constructed that way — for the U.S. to unilaterally leave the global deal, then negotiate its way back in on better terms.
The withdrawal process was more complicated than that. Trump replied, again in that source's recollection: "OK, I guess we'll never get back in."
Macron, befuddled by this unusual interaction with such an important ally, ended up leaving the door open and telling Trump they could keep talking.
The Trump-Macron relationship has since blossomed.
A former White House official pointed out: "Macron ran on everything diametrically opposed to 'Trumpism.' He has replaced Merkel as the voice of the 'globalist' — and has the strongest relationship of any world leader — as shown by the honor of the first State Dinner."
🇩🇪 Germany's Angela Merkel is, by disposition and culture, not as warm as Macron:
"It comes off not as harshness or coldness ... but just more distance in personal meetings and over the phone," said a source familiar with their interactions. 
The source added that there's less personal antipathy between Trump and Merkel than is sometimes reported.
But Trump finds the Germans frustrating: He thinks they're ripping off America on trade and blames them for many of NATO's problems, saying they're a rich country but not spending close to enough on defense to meet NATO commitments.
Added to all that, he has no chemistry with Merkel. When she visited last year, Trump thought she would respond well to his joke about how she and he had something in common with Obama surveilling them.
Trump "thought it was funny ... She was stone-faced, stone cold. It irked him. Trump said privately to staff afterwards: 'She didn't even respond! She could've at least smiled! That was the best line of the day!'" the source recalled.
At lunch with Merkel last year when she visited Washington, Trump took her to task over the gusher of German car imports, when not enough American cars were selling in Germany.
According to a source at the lunch, Trump told her: "You guys are flooding our streets with German cars. I can't go anywhere without seeing one. They're flying up and down the streets here ... Do you have Fords and Chevrolets flying up and down streets in Germany too?"
Merkel said something to the effect of: "We take great pride in German manufacturing." Trump replied: "We do, too."
Go deeper