Trump's electricity solution in search of a problem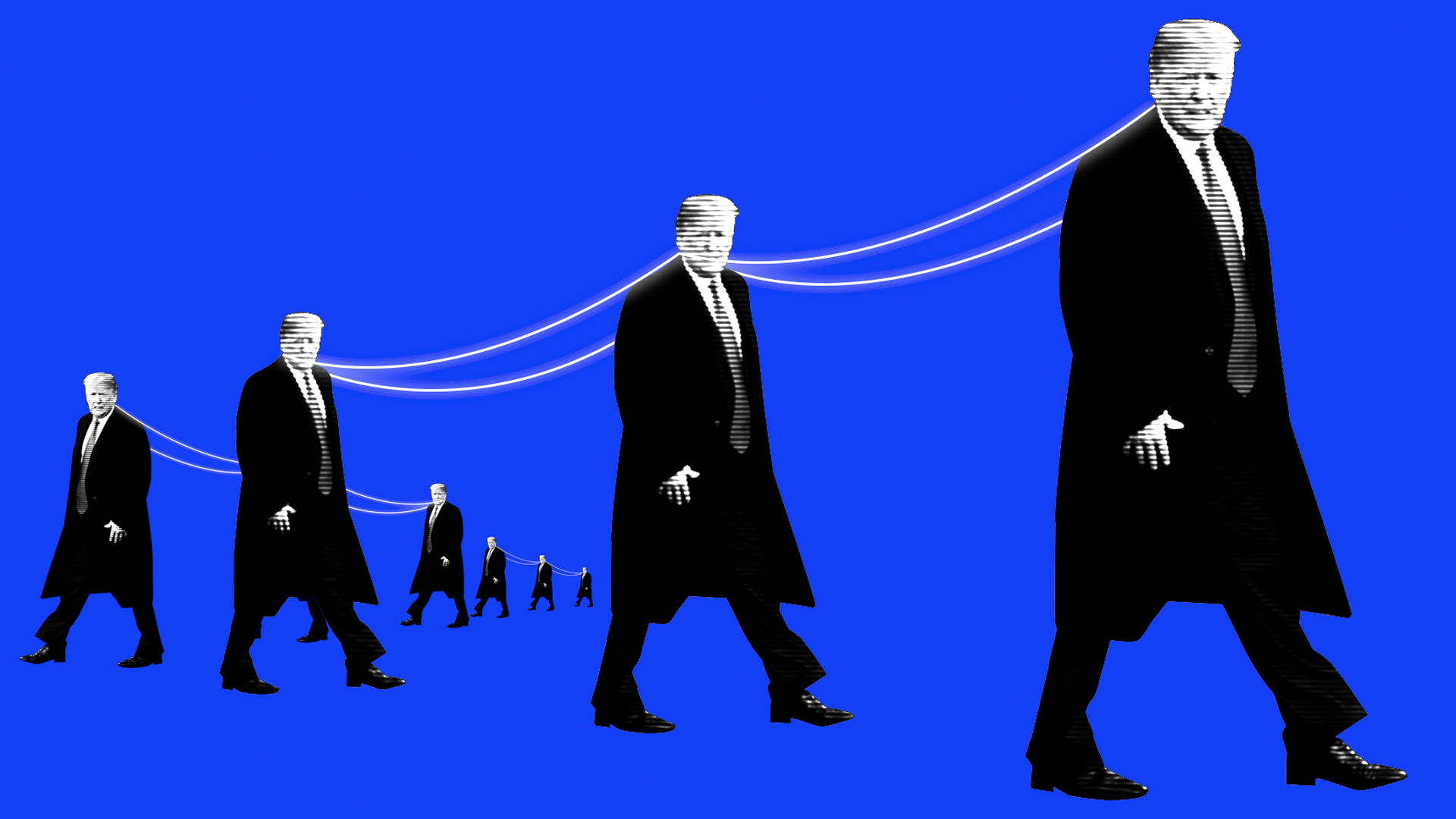 President Trump is directing his administration to prop up financially struggling coal and nuclear power plants to ensure the electricity grid is resilient and reliable, but government data and most objective experts say there is no such problem.
Why it matters: America's electricity fuel mix is undergoing significant change, which does present challenges. But Trump's laser focus on coal and nuclear power — and companies seizing on that — distracts the debate from more substantive issues.
"There's a lot going on in this space right now, and I think it's unfortunate that it's being drilled down into a political back and forth about propping up certain plants for certain companies. There are really complicated issues that have been under the surface for a while that are now getting serious attention."
— Neil Chatterjee, Republican commissioner, Federal Energy Regulatory Commission
Driving the news: Trump repeatedly asks his advisers about how to revive the economically struggling coal and nuclear industries, according to officials following the deliberations. These kinds of power plants are facing competition from cheap natural gas, among other factors.
The issue is how to guarantee "resilience" in the power grid, which generally means being able to reliably keep the lights on during extreme weather and as variable wind and solar become more common in the electricity mix.
The government has limited policy levers:
The Energy Department is considering a request from bankrupt FirstEnergy Solutions to keep open certain coal and nuclear plants to prevent the power grid from becoming unreliable in an emergency. The department rejected a similar request from coal production company Murray Energy last year.
It's unlikely FirstEnergy will succeed where that company, whose CEO Robert Murray is close to Trump, failed. Murray conceded to me earlier this month that "the options are getting fewer."
The administration is also considering invoking a 1950 law used in war time to nationalize industries in the name of national security, according to multiple officials familiar with the deliberations.
FERC, which oversees U.S. power markets, rejected an Energy Department proposal last year imposing market rules boosting revenues of struggling coal and nuclear plants. The department argued they can provide fuel on site in ways other resources can't — a characteristic that helps make the grid more resilient, in the view of Energy Secretary Rick Perry.
Data and independent experts say there is little to no evidence of any resilience problem, particularly as it relates to coal and nuclear power plants:
The Energy Department's own data shows that power outages are due mostly to storms and downed power lines, not resource shortages, according to a report by research firm Rhodium Group.
The PJM Interconnection, a company serving as the power market operator for numerous Mid-Atlantic and Midwestern states, says in response to FirstEnergy that there is no emergency in the resilience of the power supply.
"There is no data that backs up the bogus resiliency argument, so it looks like this is about bailing out specific coal and nuclear plants rather than saving the grid in an emergency or preserving two generation technologies for the long term."
— Alison Silverstein, independent consultant who worked with the Energy Department last year
Silverstein, who led the Energy Department's grid reliability study last spring, said the administration's rhetoric makes it seem like all coal and nuclear power plants are shutting down, which isn't the case.
"The ones shutting down now are more expensive and inefficient and under-utilized than other plants," Silverstein said. "And markets are supposed to weed out weak competitors and assets."
Perry, Chatterjee and others in the administration say that just because a problem doesn't currently exist, doesn't mean one won't in the future, so action should be taken now. Chatterjee had supported a temporary lifeline to coal and nuclear plants, but he's backed down on that more recently. Perry continues to push for such a policy.
"Critics are quick to declare that the grid is reliable, but when it comes to resilience, most people agree that the question is not if we have a problem, it is when," said department spokeswoman Shaylyn Hynes.
She went on to say that President Obama's Energy Department also examined the issue. "This significant issue has been reviewed for years, it is time to take action," she said.
FirstEnergy spokesman Thomas Mulligan cited a recent Energy Department report that concluded reliability issues could arise if coal and nuclear plants close, but that such a hypothetical needs more study.
Chatterjee pointed to sky-high electricity bills in New England during a cold snap earlier this year as an example of what may happen elsewhere if policy isn't implemented to ensure electricity can reach consumers in an emergency. In that case, the main problem was lack of pipeline infrastructure to move gas, not lack of coal or nuclear plants.
What's next: FERC is studying the issue of grid resilience and may issue proposals in the coming the months. "Maybe we'll end up issuing something that's very applicable, but not tied specifically to coal and nuclear," Chatterjee said.
FERC is facing plenty of other challenges, ranging from cybersecurity threats to integrating variable resources, like wind and solar, into the power grid.
Go deeper