The states where abortion clinics are in short supply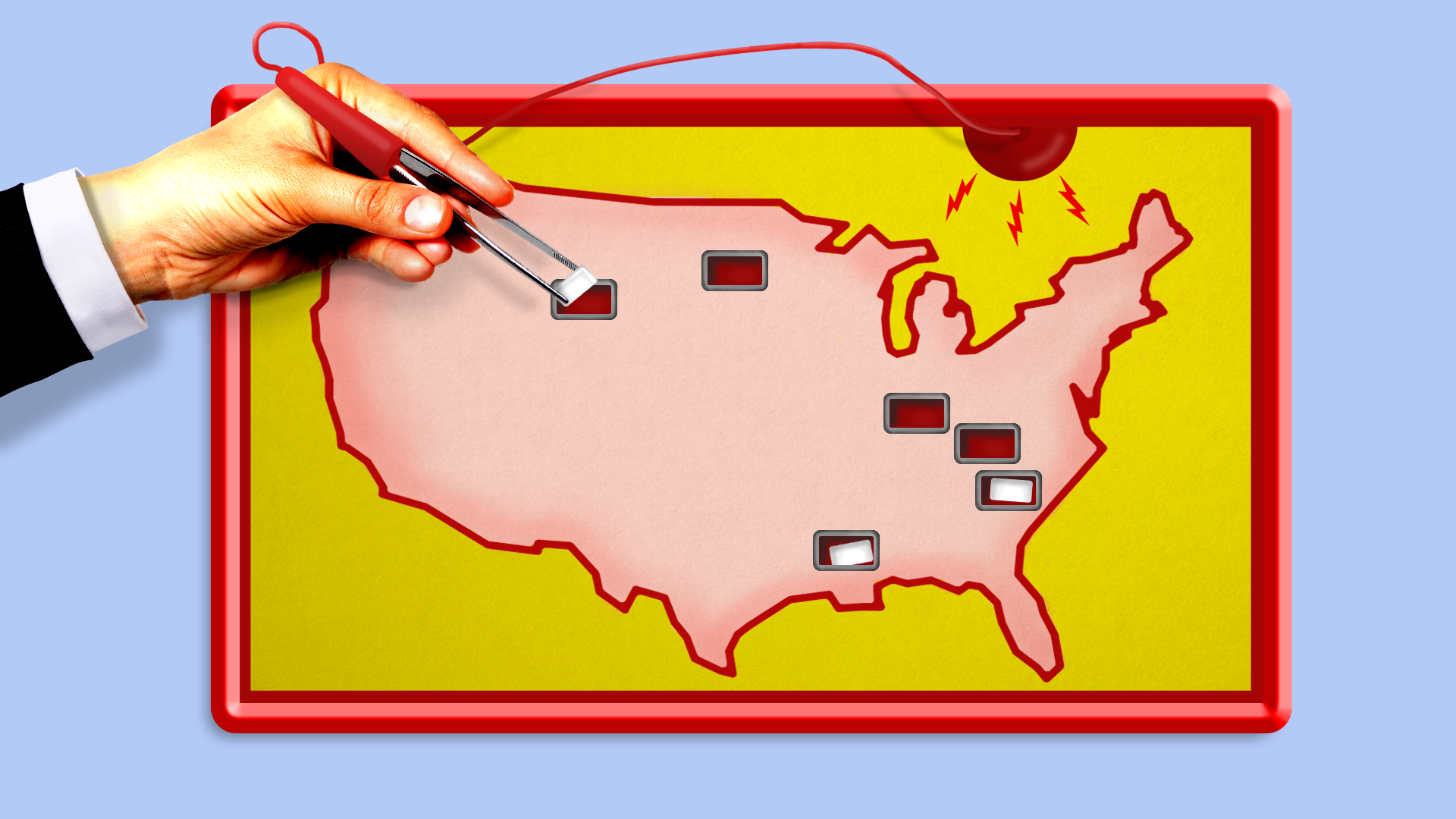 West Virginia voters will decide in November's general election whether to add an amendment to their constitution that would remove abortions as a constitutional right.
The big picture: West Virginia is one of six states with only one abortion clinic, joining Kentucky, North and South Dakota, Mississippi and Wyoming.
What they're saying: Andrew Beck, senior staff attorney for the ACLU Reproductive Freedom Project, told Axios that lawmakers "are doing everything in their power" to close clinics down. He said there are "extreme politicians" in states that are beginning to feel emboldened in their fight against abortion because "they think it's in their political interest."
The other side: Steven Aden, Chief Legal Officer and General Counsel at Americans United for Life, told Axios that the "assertion that in some states only a single abortion provider remains because of onerous government regulation is completely false." Aden said clinics are closing for two reasons:
"Shoddy substandard providers that cannot comply with reasonable health and safety regulations."
"Market forces. Abortion facilities are closing all over America as a result of the dramatic drop in demand for abortions."
What's happening:
Kentucky
Kentucky banned a common abortion procedure, known as "dilation and evacuation," NBC reported.
The ACLU argues that this "would result in 'extinguished access' to abortions,'" NBC reports.
Beck said the proposed law joins other efforts to restrict the clinic: one law required an ultrasound before having an abortion, and Kentucky Gov. Matt Bevin said in 2017 that the clinic had an insufficient transfer agreement with local hospitals. Per NPR, the clinic "came within days of closing."
Per NBC, "a hearing on the ACLU's preliminary injunction request was set for June 5."
West Virginia
Voters will be deciding whether or not to add to their constitution: "Nothing in this Constitution secures or protects a right to abortion or requires the funding of abortion," per the Charleston Gazette-Mail.
Beck said it's "an effort by politicians to strip away legal protections and set the stage for attacking the clinic with future legislation."
Mississippi
In March, Mississippi's House and Senate passed through a bill that bans abortion after "15 weeks after their last menstrual cycle," the L.A. Times reported. Governor Phil Bryant signed it into law, and it was immediately contested by the state's last clinic.
Beck said this joins other efforts by the state "to close down the clinic and eliminate abortion access."
Flashback: Governor Phil Bryan signed a bill into law in 2012 that, per PBS, "would have required abortion clinic doctors to secure special privileges to admit patients into local hospitals." A federal court ruled against that in 2017, PBS reported.
North Dakota, South Dakota, and Wyoming
These three states also have just one clinic.
Beck told Axios these are the tip of the iceberg: While there isn't on-going litigation in these states "to try and close down the last clinic," lawmakers are "trying to attack abortion in other ways."
Go deeper