Government grills AT&T CEO about $85 billion merger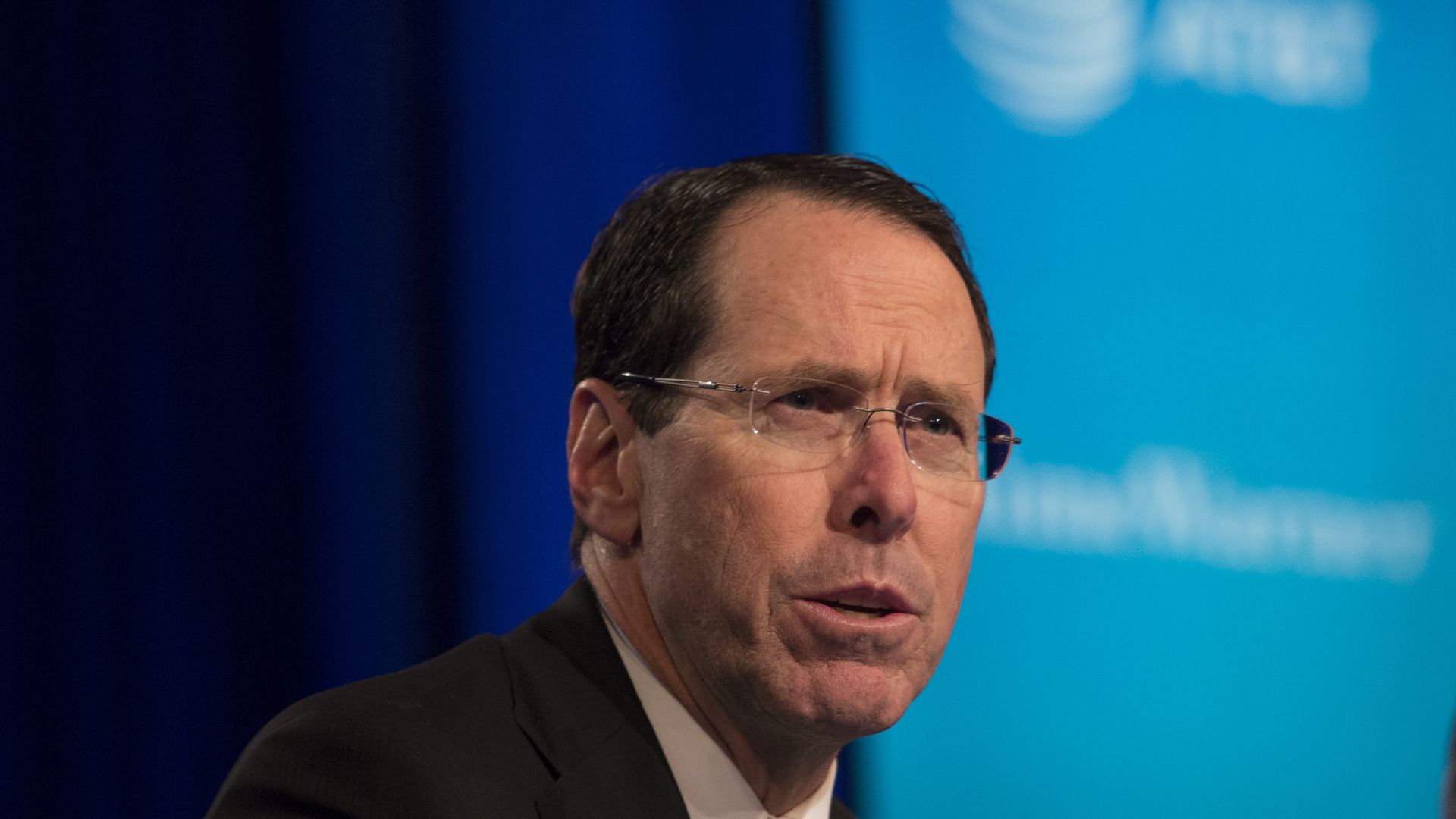 AT&T CEO Randall Stephenson, under tough questioning from a Justice Department lawyer Thursday afternoon, insisted he needs to complete his proposed $85 billion purchase of content creator Time Warner to compete with Silicon Valley.
Why it matters: The trial over the Justice Department's challenge to the merger boils down to whether you believe Stephenson, who claims that AT&T just wants to compete with Silicon Valley, or the government, which says he wants to use Time Warner as a weapon against AT&T's current competitors.
What he said: Stephenson said under questioning from AT&T and Time Warner's lawyer that the deal would help the telecom giant compete in the age of Facebook, Apple, Amazon, Netflix and Google (FAANG).
"The FAANG, if you will, are all focused on premium video," he said. "All of them are vertically integrated."
AT&T is particularly keen to crack the digital ad market dominated by Facebook and Google. Stephenson said one advantage would be the ad space that Time Warner gets through networks like CNN.
The other side: The Justice Department used Stephenson's past statements — and AT&T's actions — to undermine the chief executive's claims.
Lead government litigator Craig Conrath described an exchange between Stephenson and Facebook CEO Mark Zuckerberg discussing, among other topics, AT&T's use of the Facebook ad platform.

Between the lines: Conrath was suggesting AT&T is closer to Silicon Valley than it's been letting on. Stephenson said it's complicated — Facebook is sometimes a partner, sometimes a competitor — and said the email came after a very casual conversation at the Allen & Company conference in Sun Valley, Idaho. "This was a passing kind of exchange," Stephenson said of the email.

Conrath also mentioned an August, 2016 email summary of a conversation between Stephenson and Time Warner CEO Jeff Bewkes before the merger, in which Bewkes had told the AT&T exec Time Warner was investing in Hulu as the streaming service was starting its own live video service. The Hulu service includes Time Warner content. In the summary to colleagues, Stephenson indicates this changes the relationship between AT&T and Time Warner.

Between the lines: The Justice Department is arguing that AT&T has worried before about content being withheld from its own services, as the government alleges it would do to its competitors. Stephenson said he was just "trying to make sure we had the same access as others."
Stephenson pushed back on DOJ's broader argument as Daniel Petrocelli, the lead lawyer for AT&T and Time Warner, questioned him. "The $160 billion company buys the $30 billion company with the expectation that it can drive value into the $30 billion company," he said, not the other way around.
The bottom line: Judge Richard J. Leon hasn't given much of an indication of how he might rule. On Thursday, he asked Stephenson to more closely explain premium video content and where the overall content business would be in seven years — roughly the amount of time since Leon signed off on a settlement to approve the merger of Comcast and NBCUniversal.
What's next: The Justice Department has moved on to its rebuttal witnesses as the end of the trial draws closer.
Go deeper