Loretta Lynch: Comey never raised concerns to me about Clinton emails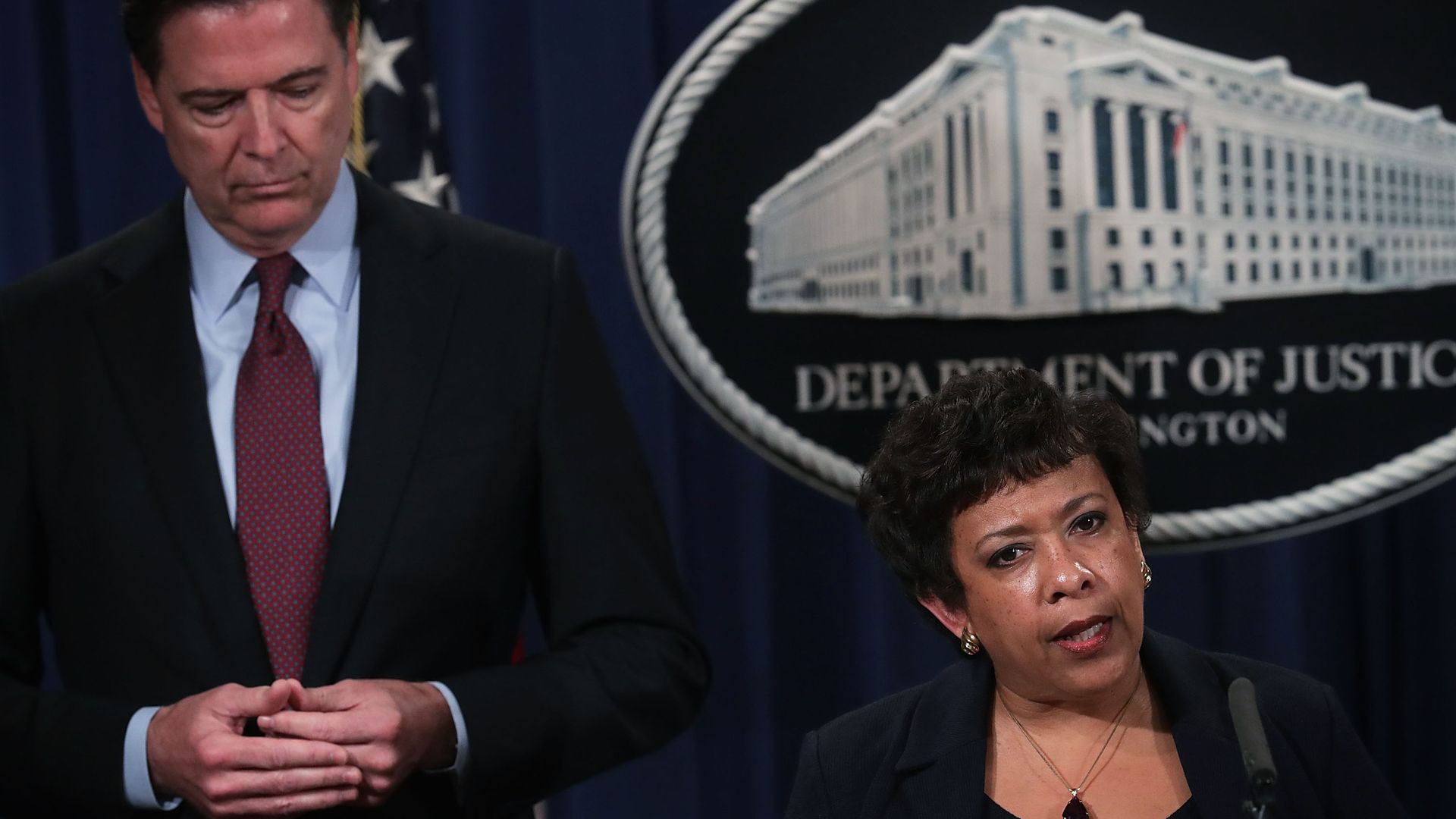 Former Attorney General Loretta Lynch released a statement on Sunday, saying that she and former FBI Director James Comey have known each other almost 30 years, and "he had ample opportunities to raise" any concerns he had over the Department of Justice's investigation of Hillary Clinton's emails, but "[h]e never did."
The backdrop: Per CNN, Comey says in his forthcoming book that he found evidence that "would undoubtedly have been used by political opponents to cast serious doubt on the attorney general's independence in connection with the Clinton investigation." He also takes issue with Lynch's decision to refer to the Clinton email investigation as a "matter." Lynch's statement comes just before Comey's interview with ABC's George Stephanopoulos airs — and days before his book release.
Lynch's statement in full:
"Over almost two decades as a federal prosecutor I have aggressively prosecuted drug dealers, violent gangs, mobsters, and money launderers, upheld the civil rights of all Americans, and fought corruption all types — whether by elected officials from both sides of the aisle or within organizations like FIFA. Through it all I have never hesitated to make the hard decisions, guided by the Department of Justice's core principles of integrity, independence and above all, always doing the right thing.
The Justice Department's handling of the Clinton email investigation under my leadership was no exception. It was led by a team of non-partisan career prosecutors whose integrity cannot be overstated and whom I trusted to assess the facts and make a recommendation — one that I ultimately accepted because I thought the evidence and law warranted it.
Everyone who works for the Department of Justice has an obligation to protect the confidentiality and integrity of the work of the Department. That is why, at the critical early stages of this case, I followed the Department's long-standing policy of neither confirming nor denying the fact of an ongoing investigation. This policy both predates my tenure in the Department and will live on long after the current debate is over. It neither misleads nor misinforms, but instead both protects investigations and guarantees equal treatment of those under scrutiny, whether well-known or unknown. Any suggestion that I invoked this bedrock policy for any other reason is simply false.
Throughout the process I did what I always do: rise above politics and uphold the law. At no time did I ever discuss any aspect of the investigation with anyone from the Clinton campaign or the DNC.
I have known James Comey almost 30 years. Throughout his time as Director we spoke regularly about some of the most sensitive issues in law enforcement and national security. If he had any concerns regarding the email investigation, classified or not, he had ample opportunities to raise them with me both privately and in meetings. He never did."
Go deeper