Trump's French flip on Syria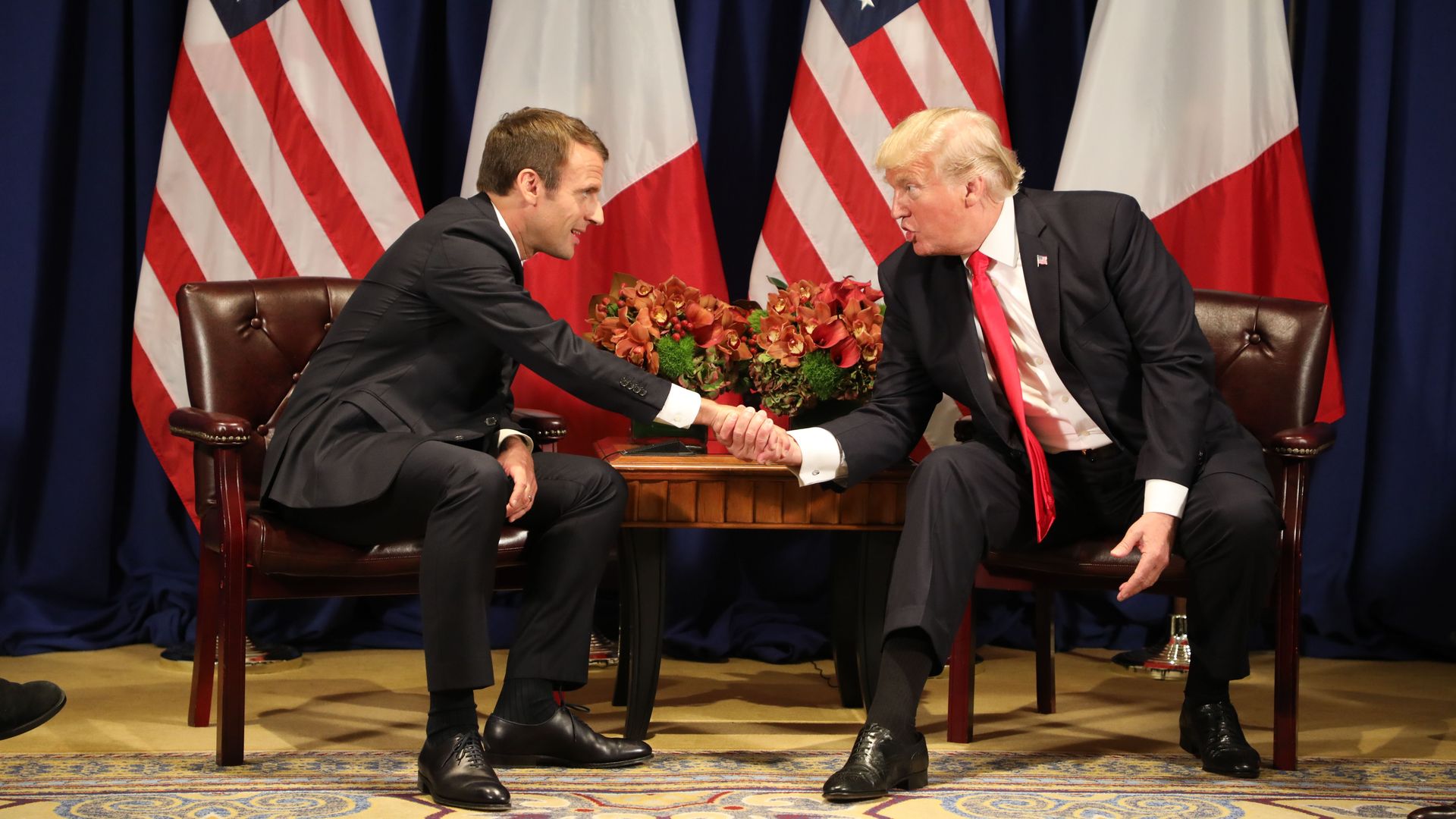 French President Emmanuel Macron claimed in a television interview that France has convinced President Trump that it is "necessary" to remain in Syria "long-term," according to the AFP.
Why this matters: If Trump follows through on this alleged commitment to Macron, it would be one of the biggest and most abrupt foreign policy reversals in his presidency. Trump has demanded for months — over the objections of his national security team — that his administration withdraw U.S. troops from Syria.
"Ten days ago, President Trump was saying the United States of America had a duty to disengage from Syria," said Macron, according to Agence France-Presse White House correspondent Jérôme Cartillier.
"We convinced him it was necessary to stay. I assure you, we have convinced him that it is necessary to stay for the long-term."
Trump thinks Syria is a "dump" that probably can't be fixed — though he'd be happy to let Russia try. He thinks it's a waste of lives and money and that the U.S. gets "nothing" for its involvement in Syria, according to multiple sources familiar with his thinking.
However, when Trump sees the images of gassed children, he flips in the other direction and issues missiles to Syria — as he did on Friday and last year when news reports and allied intelligence indicated Assad had used chemical weapons to murder Syrian civilians.
But, but, but: Trump's apparent reversal on Syria wouldn't be the first time he's backflipped on the foreign policy instincts he trumpeted during the campaign. Last year, Trump told his aides over and over that he wanted to get out of Afghanistan — citing the same arguments he used for Syria and previously to argue that the Iraq War was a waste of lives and money. But his national security team, led by Defense Secretary James Mattis, ultimately persuaded Trump to keep America in Afghanistan.
WH response: I've asked the White House whether it's true that Macron persuaded Trump to stay the course in Syria. We will update you when we hear back. (Though we suspect Trump may tweet before that happens!)
Go deeper