Trump's next move: 3 options for striking in Syria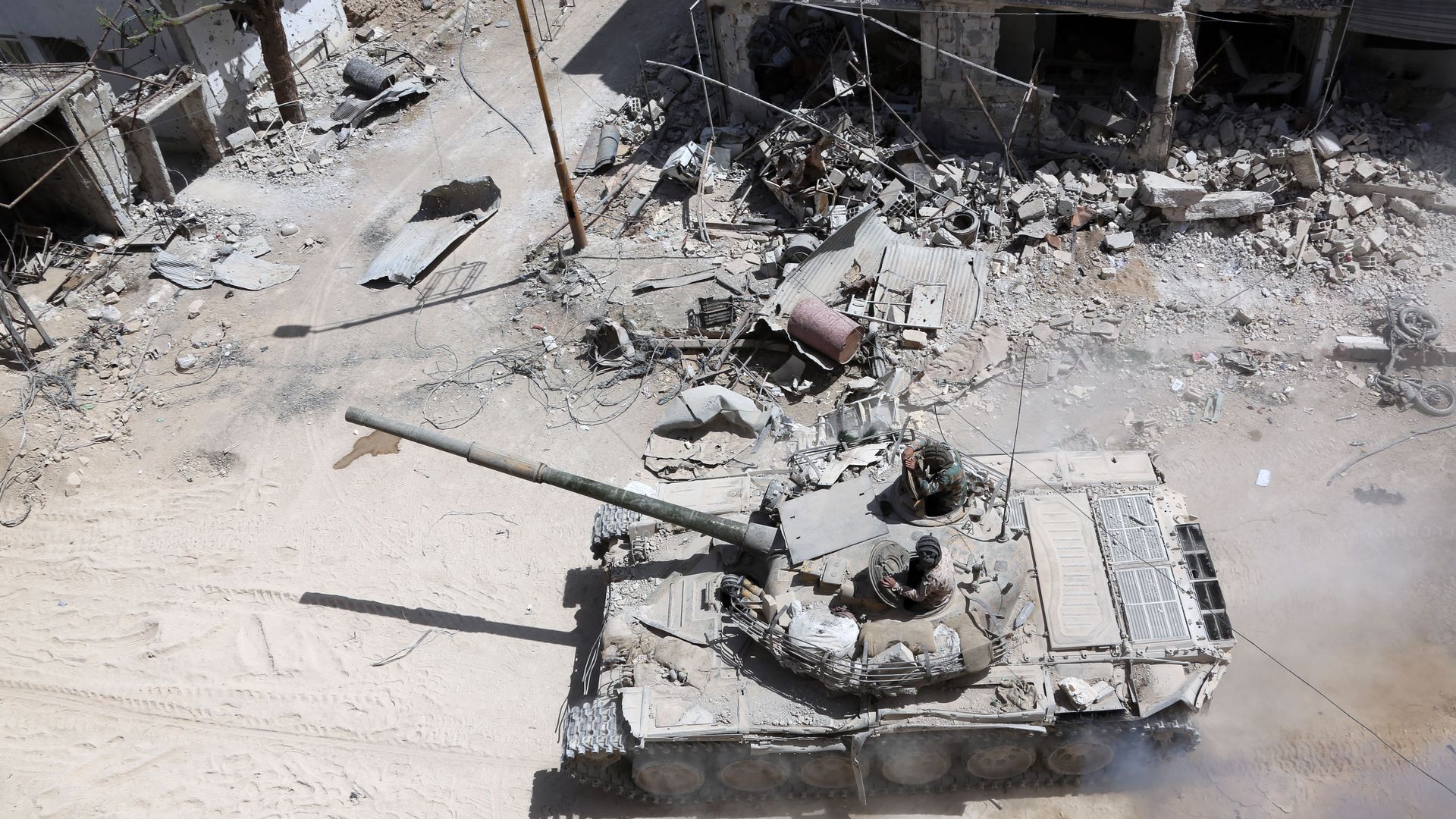 The world is waiting to see whether President Trump takes military action in response to a chemical attack that killed dozens of civilians in Syria, now that he's said he'll decide in the next 24 to 48 hours.
"If it's Russia, if it's Syria, if it's Iran, if it's all of them together, we'll figure it out and we'll know the answers quite soon," he told reporters before a cabinet meeting. "So we're looking at that very strongly and very seriously."
Between the lines: Trump's next move could be a preview of things to come now that National Security Adviser John Bolton has taken the reins from H.R. McMaster. Bolton has written thousands of words of op-eds, but it's unclear what course he might advise in this specific situation.
Axios' Jonathan Swan emails, "While Bolton is an interventionist hawk, he doesn't favor interventions on humanitarian grounds. He regards his foreign policy views as 'pro-American' and says he views intervention entirely through that lens."
Bolton opposed strikes in 2013, when Barack Obama was deciding whether to enforce his "red line" in Syria, but praised the "very precise nature"of Trump's strikes last year, per the NY Times. 
Trump's range of options, according to Jennifer Cafarella of the Institute for the Study of War...
Pinprick strikes on the Assad regime, like those he ordered last April after a previous chemical attack. The downside: Those strikes failed to deter Assad.
More damaging strikes targeted at the Assad regime, for example striking "numerous regime airfields and military bases, and warning the Russians in advance," Cafarella says. The downside: "It will not harm Assad's backers and therefore is unlikely to weaken his resolve."
Strikes that would affect all three actors Trump named, hitting targets like joint Russian-Iranian bases or command and control centers. The downside: Russia has said it will retaliate to strikes that endanger Russian troops.
The bottom line: Cafarella says if Trump chooses option number 3, Russia, Iran, and Assad might limit their response to attempting to shoot down the U.S. missiles or aircraft. More dangerous is the possibility of a counter attack, perhaps on a U.S. warship in the Mediterranean. 
The big question: Will Trump shift from his goal of getting out of Syria ASAP to a broader policy of constraining Iran, Russia and Assad?
Go deeper