Hungary's Viktor Orbán sails to victory, tightening his grip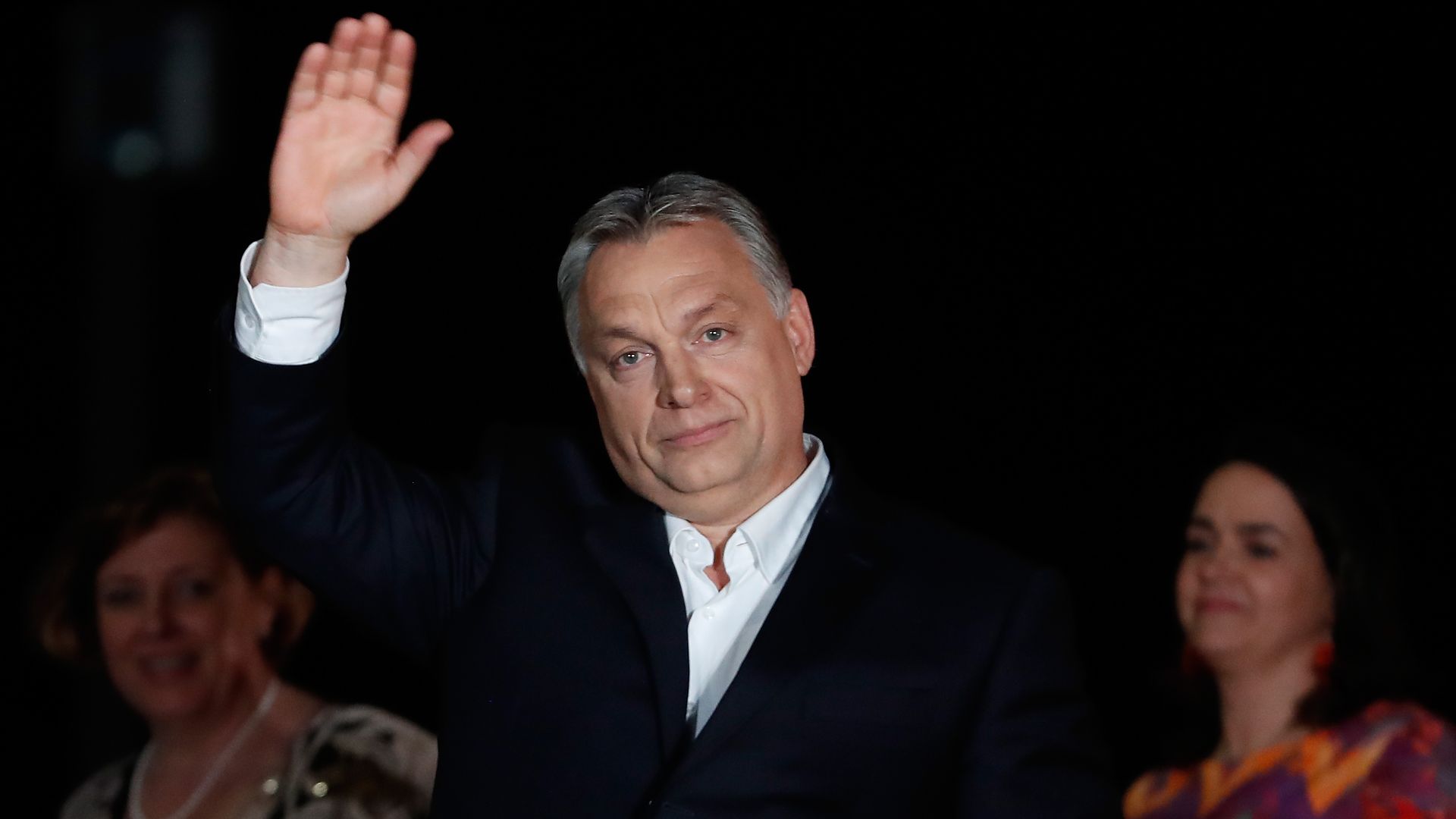 Prime Minister Viktor Orbán's Fidesz party scored a resounding victory in yesterday's parliamentary elections, unexpectedly securing a two-thirds mandate for the third time in a row.
Why it matters: Since Orbán came to power in 2010, Hungary has moved progressively toward authoritarian rule. The high turnout (70%) and decisive victory will embolden his party to commandeer the remaining independent branches of government — the judiciary and local municipalities — and to further suppress civic opposition.
After its large electoral margin, Fidesz faces no major obstacles in remolding Hungary into a society ruled by clientelism, deference and fear. On the night of the election, governmental spokesperson Zoltán Kovács told reporters that legislation to allow the secret services to spy on critics will move forward and confirmed the government's intention to close down NGOs that meddle in domestic politics.
Fidesz's victory will also energize authoritarian and nationalist politicians across Europe, further threatening the preservation of democracy on the continent. Politicians in Poland will be particularly pleased to have Orbán on their side amid an ongoing battle with the European Commission over fundamental rights.
What's next: Hungary's political opposition is in tatters. Its leading figures have been weakened by the electoral fiasco in which the main opposition parties — the far-right Jobbik, the Socialist Party, the Democratic Coalition and the green Politics Can Be Different Party — received 250,000 fewer combined votes than Fidesz alone (2.34 million vs. 2.6 million). In parliament, these forces will be powerless in the face of the Fidesz supermajority, while Fidesz's grip on the media limits the opposition's visibility, especially in the rural provinces where elections are won and lost.
Kristóf Szombati is the Istvan Deak Visiting Professor of Political Science at Columbia University.
Go deeper