The grand irrelevance of Scott Pruitt's antics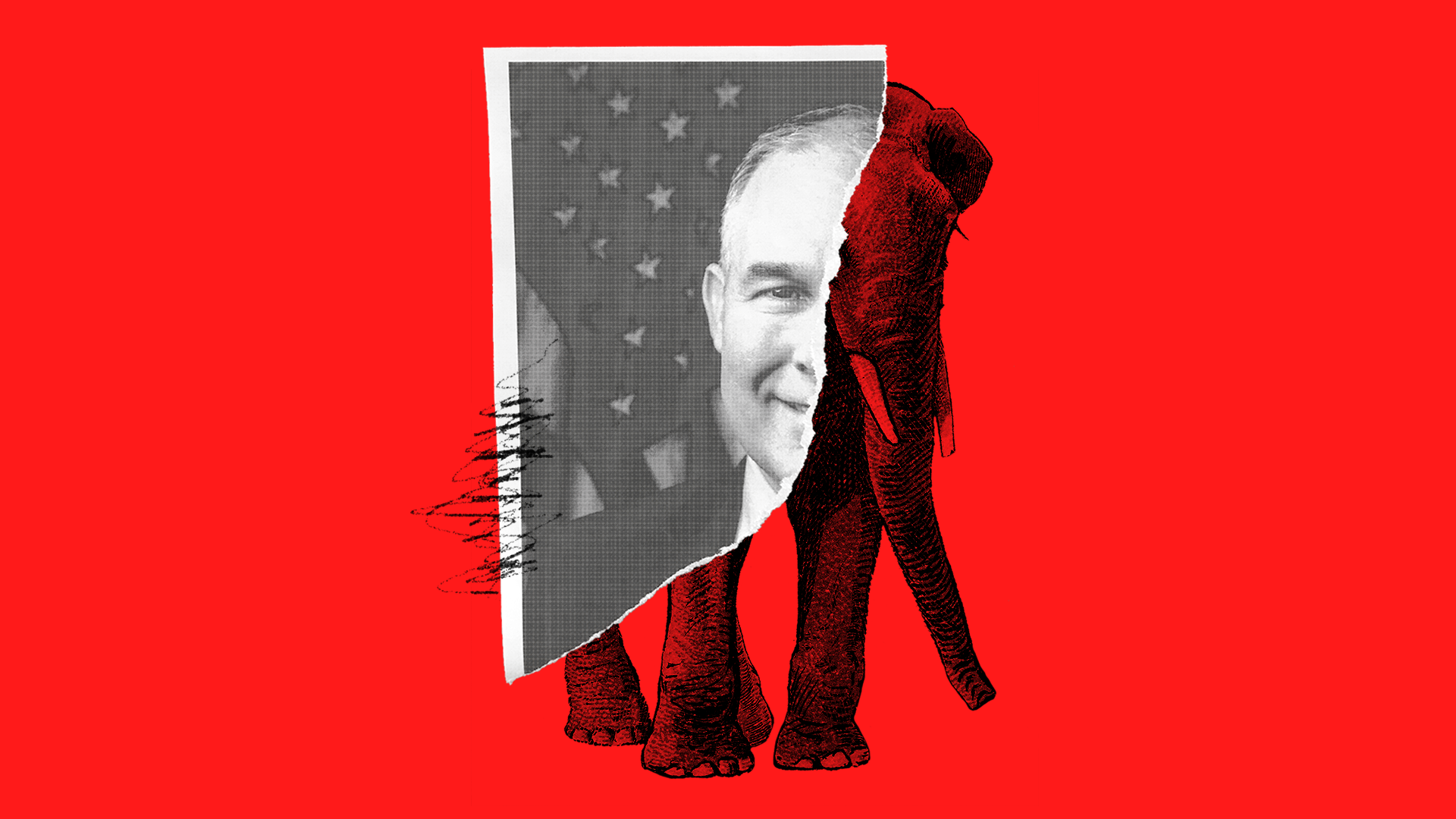 Scott Pruitt is lodging, spending, flying and staffing his way into a hot political mess that could end his career — antics that are both ridiculous and irrelevant in the grand scheme of America's environmental policy.
Bottom line: People who think Pruitt's policies would end if he leaves need a reality check. Everyone working under Pruitt, and anyone that would replace Pruitt as chief of the EPA, would embody similar policies. The dismantling of the last administration's environmental agenda would continue as long as Republicans control the White House.
The big picture: Pruitt's environmental views are actually in line with most conservative elected officials since Ronald Reagan was elected president in 1980. What's changed is how empowered Pruitt is under President Trump, along with most GOP lawmakers' dismissive view of climate change and the prior administration's expansion of regulation. None of this changes when and if Pruitt resigns.
The politically appointed officials surrounding Pruitt all support similar policies as Pruitt, and any potential replacement would likely hold similar values.
Bill Wehrum, assistant administrator for air issues, is leading the rollback of former President Obama's carbon rules for power plants.
Wehrum is also working on eventually proposing a much scaled-back version of those rules, given current law compels it.
Andrew Wheeler, Trump's nominee to be EPA's No. 2, could win Senate confirmation as soon as next week.
Wheeler has lobbied for coal producer Murray Energy, whose CEO Bob Murray is close to Trump, since 2009, according to federal lobbying disclosures.
Jeff Holmstead, a lawyer at the firm Bracewell, was in the running for the top EPA job. He supports Pruitt's agenda, including both the regulatory rollback and other overhaul efforts within the agency.
What we're hearing:
If Pruitt resigned, "I think it would slow down the implementation, but I don't think it would cause the course to change," said Myron Ebell, a senior fellow at the conservative Competitive Enterprise Institute who worked on Trump's transition team at EPA.
A Pruitt replacement could be more moderate on the rollback of some of Obama's rules, according to a research note published Friday by independent research firm ClearView Energy Partners.
There is good reason why Pruitt's antics have blown up into a bigger issue than his policies. Most people relate more to a juicy story about someone's character and ethics than they do to the policy that ultimately makes the biggest difference.
"Whether any given policy proposal is advantageous or disadvantageous is a complicated problem. Indeed, it often leads to intense debate. But information suggesting corruption and exploitation of power is easy to understand and clearly signals low trustworthiness."
— Christopher Johnston, political psychology professor, Duke University
One conservative industry official said Pruitt comes off as a "prima donna." For Pruitt, these controversies could raise questions about his future political aspirations. For Trump, the storyline provides yet another Cabinet member behaving badly.
But Pruitt's antics are a distraction from what really matters: The midterm elections later this year could shake things up. If Democrats gain control of one or both chambers of Congress, GOP efforts to roll back Obama's regulations would be more difficult with increased congressional oversight.
Go deeper