Investors stunned over oil producer's climate-change exemption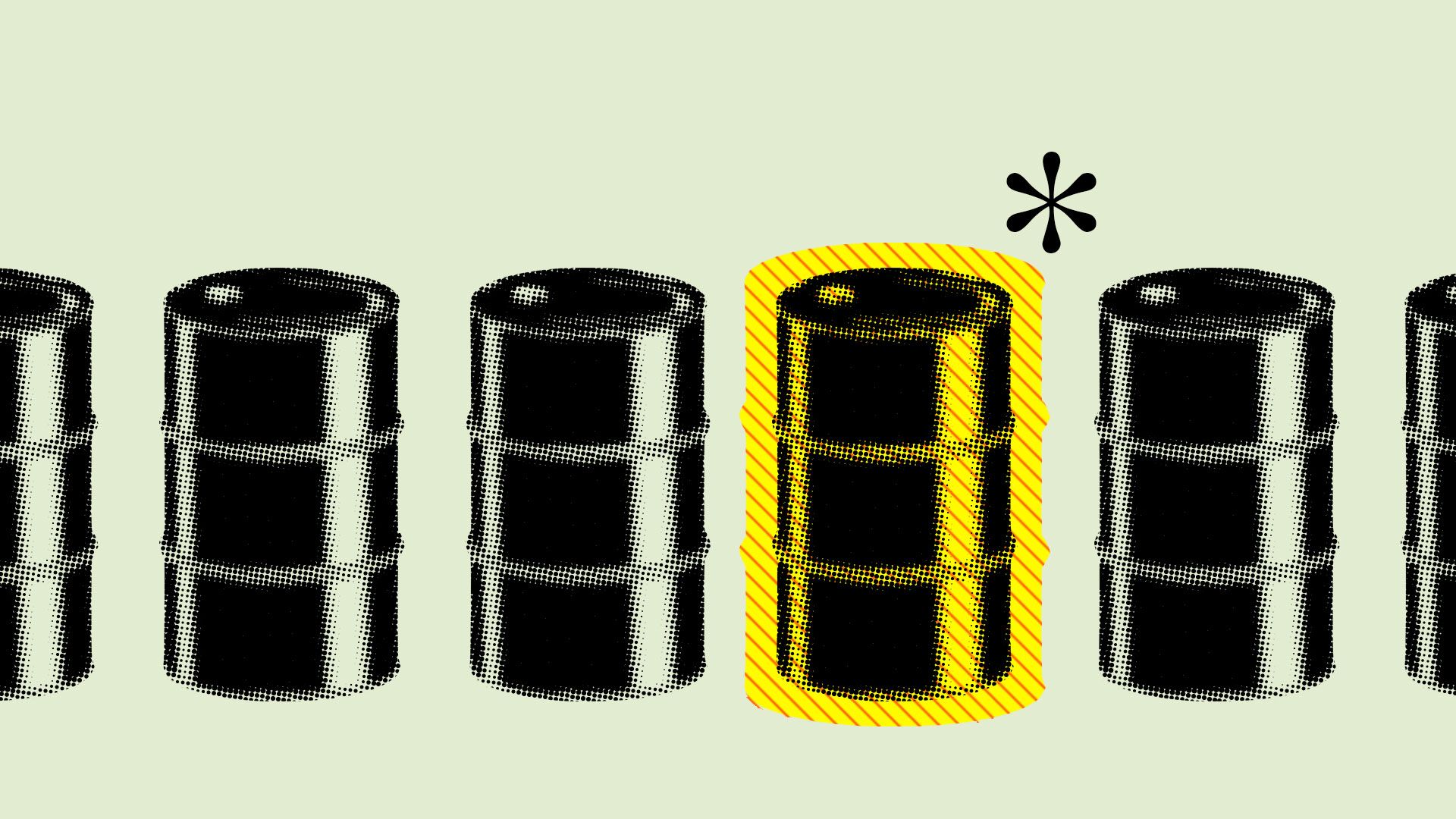 A new twist is unfolding in the fight between activist investors and the oil industry: an unprecedented move by federal regulators allowing a major producer to preemptively kill a shareholder resolution on climate change without a vote.
Why it matters: The Securities and Exchange Commission's support of oil producer EOG Resources is emerging as a flashpoint in what has become America's central battleground over climate change: what investors do about it. It's an arcane fight, but a consequential one too, because President Trump is reversing course on climate policy.
"What the SEC has done here really feels like interfering with the marketplace, substituting their judgment for what shareholders and investors already think and do."
—
Jonas Kron, director of shareholder advocacy at Trillium Asset Management, the investment firm that filed the now-blocked resolution
For the record, spokespeople at the SEC and EOG both declined to comment.
The details: Trillium proposed a resolution calling on EOG to set a target to reduce its greenhouse gas emissions. EOG complained to the SEC in late December that the proposal would micromanage the company, calling it a "rigid, time-bound" target, and asked to omit it from consideration.
Responding in late February, the SEC agreed and took a veiled shot at shareholders, implying they don't know enough to set company policy. The SEC sent another letter last month to Kron's firm rejecting an appeal request.
EOG is the largest oil producer in Texas, according to state data. It also has operations throughout the U.S. and a few places overseas. Kron, whose firm manages more than $2 billion in investments with a focus on sustainability, said other oil producers, like Hess Corporation, have committed to greenhouse gas reduction targets.
The big picture: The development comes ahead of this year's annual shareholder meetings that run through spring. Numerous energy companies are expected to face investor votes on non-binding, but symbolically important, climate resolutions in a process known as "shareholder democracy."
Investors, including large asset managers BlackRock and Vanguard, are putting increasing pressure on fossil-fuel companies to acknowledge the risks climate change pose to their bottom lines.
The SEC serves as a regulatory conduit for the shareholder engagement process, and it does often grant companies' requests to block proposals based on various agency rules. The situation with EOG is different for two reasons:
The SEC's decision came after the agency issued

new legal guidance

in November that appeared to some investors to broaden the definition of micromanagement, which can be grounds to block proposals.
The greenhouse gas target request isn't unique or new. Nearly 130 resolutions have been filed since 2010 asking companies to adopt such goals, according to The Sustainable Investments Institute, a nonprofit research group serving investors. Excluding instances of technical error, such as filing late, the SEC has never granted company requests to block this proposal until the EOG case, said the group's executive director, Heidi Welsh.
The shift is raising questions to casual observers and experts alike: Is Trump seeking to back the oil industry and stifle climate action in a new federal arena beyond regulations? So far, the answer seems to be no, but investors are still worried about the shift.
"In this particular environment a proposal on climate change certainly has political connotations. What I suspect is going on is some skepticism about the shareholder proposal process itself. There's been a lot of pressure from the business community to reduce the number of proposals."
— Adam Kanzer, managing director at Domini Impact Investments, which manages $2.4 billion in assets
Congress could act against shareholders, too. A House-passed bill that would roll back the Dodd-Frank financial rules includes a provision that would have significantly cut down on the number of resolutions shareholders could file. The overall bill hasn't gained much traction in the Senate.
What's next: Investors are looking for signs indicating whether the SEC's shift is broader and lasting. The agency has rejected other companies' requests to block other climate-related proposals this year, though under different rationales than claims of micromanagement.
Bottom line: "If the SEC is shifting its view on what micromanagement means, it has implications for almost any proposal you file, from human rights to the environment," said Kanzer, whose investments are not in fossil-fuel companies.
Kanzer signed a March 14 letter to the SEC along with other lawyers expressing concern about the precedent the EOG decision could set. He hasn't heard back.
Go deeper