The future of the Saudi-Russia oil relationship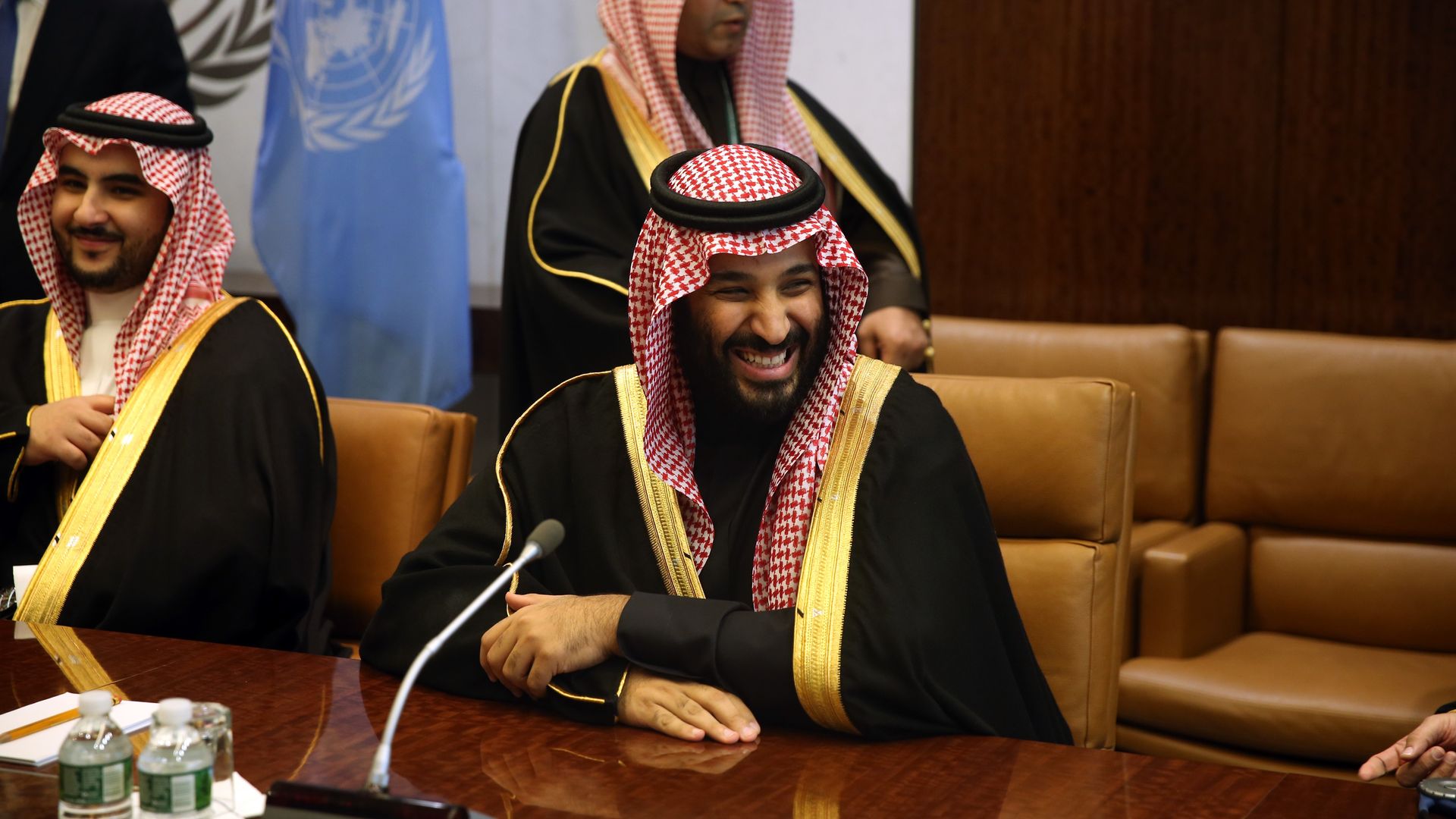 Saudi Crown Prince Mohammed bin Salman told Reuters that the kingdom and Russia are weighing plans for long-term extension of their cooperation on oil market management. "We are working to shift from a year-to-year agreement to a 10 to 20 year agreement," the heir to the Saudi throne said.
Why it matters: It's the strongest, highest-level signal yet that the two-year-old pact between OPEC and Russia to limit supplies could be transformed into a lasting agreement between the huge producers, whose market positions have been challenged by the rise of U.S. shale.
The big picture: Talk of transforming the so-called Vienna Group of OPEC and Russia (among other non-OPEC players) into a longer-term alliance has been in the bloodstream for months now.
For instance OPEC Secretary General Mohammed Barkindo brought it up repeatedly at a major energy conference in Houston this month. But the Financial Times points out that MBS' comments are the "first time a timeframe has been specified."
The intrigue: Prominent oil analyst Bob McNally told Axios that the comments from MBS raise the stakes of the idea for Russia. "This goes to Putin now," he said, referring to Russian President Vladimir Putin.
"It's a bit of an open question as to whether Russia will sign up for something as grandiose as a multi-decade cartel," said McNally, president of the Rapidan Energy Group consultancy.
The bottom line: McNally said the discussion represents an attempt to create long-term market stability:
"It is sort of transitioning the Vienna Group from just a reactive, ad-hoc cartel that came together in fear after a bust to $26 per barrel [in early 2016] and transition it to a permanent, pro-active swing producer that can attempt to stabilize prices over decades. That means preventing booms as well as busts."
But as McNally noted on Twitter yesterday, the jury is still out on whether this would work.
Between the lines: Amy Myers Jaffe of the Council on Foreign Relations said the discussion could signal that the Saudis and Russians are hedging in case global oil demand peaks sooner than they have publicly acknowledged is likely.
"The only reason anyone would need a decade-length agreement is if they believed in peak oil demand," said Jaffe, who leads CFR's energy security and climate program.
Otherwise, it would make more sense to just continue with one- or two-year deals, but a multi-decade plan "means the agreement is going cover investment policy, not just production policy," she notes.
To be sure: OPEC and Saudi Aramco have publicly batted aside the view that a demand peak is beginning to appear on the horizon and could even arrive as soon as the late 2020s, arguing the world's oil thirst will keep rising for decades. OPEC's forecast shows demand rising through at least 2040.
Go deeper