Inside Exxon's climate-change strategy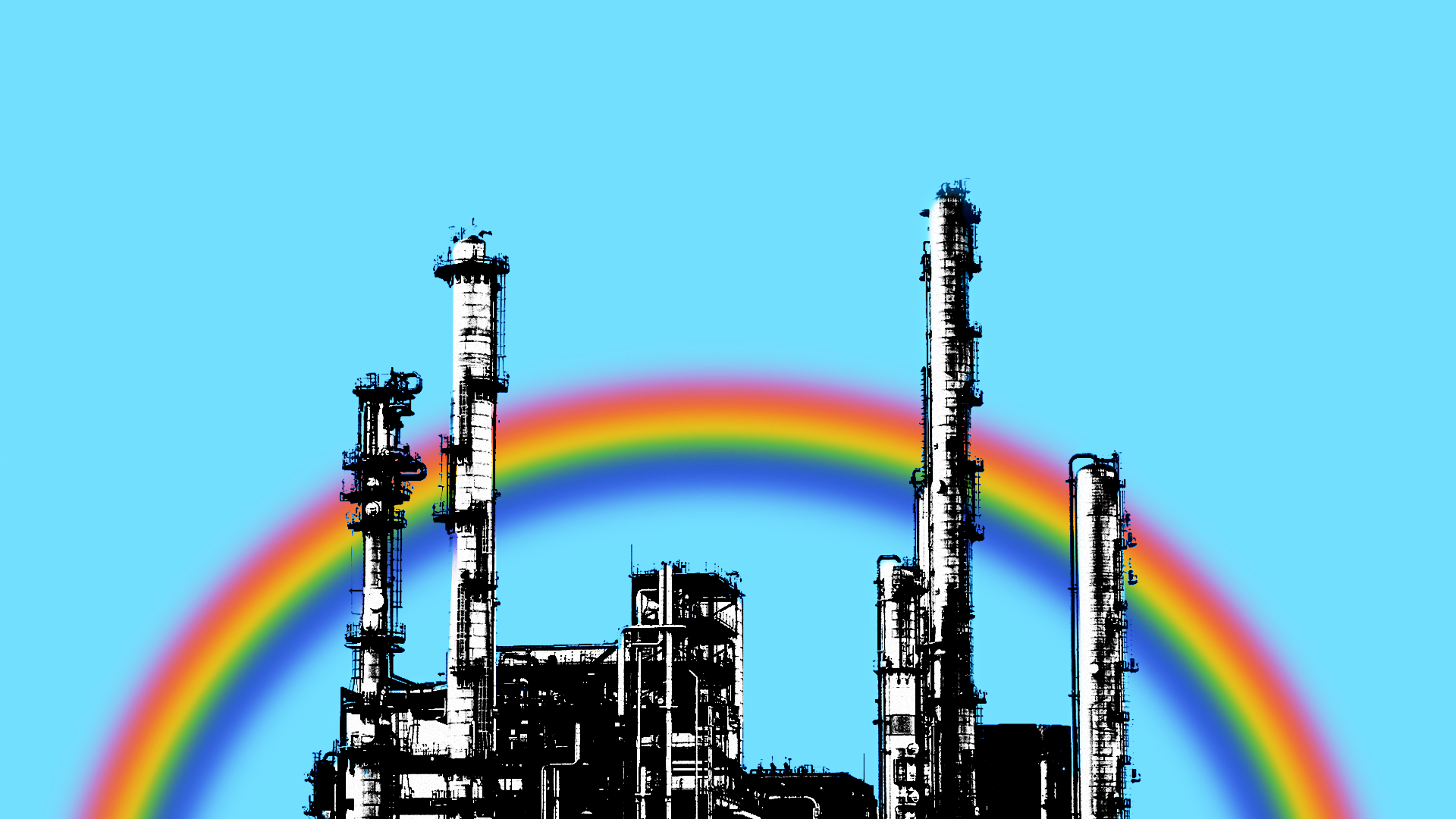 ExxonMobil is betting on two costly technologies — carbon capture and biofuels — and overly optimistic data to drive its climate-change strategy.
Why it matters: As the world's largest publicly traded oil company, Exxon is the face of America's fight over climate change and fossil fuels. While other oil majors like Shell and BP are branching out to wind and solar, and investing in electrification technologies, Exxon has made its existing natural gas and liquid fuels business the focus of its climate strategy.
Exxon is at the center of lawsuits alleging big oil companies knew about and concealed the dangers of climate change for decades, and a record share of its investors have urged it to be more transparent about the risks climate poses to its business. That's a trend proliferating within other publicly trading fossil-fuel companies.
A new Exxon report on navigating a carbon-constrained world, combined with recent comments by top executives, make Exxon's approach clear. The company is doubling down on a decade-old strategy by making relatively small, long-term investments in two costly technologies: carbon capture and algae biofuels as a way to stay focused on its core hydrocarbon business. Here's how:
If technology can capture carbon from natural gas, the fuel will thrive longer under policies demanding sharp emission cuts.
The use of algae biofuels will further the use of internal combustion engines in cars over electric batteries.
Exxon held a first-ever dedicated session on climate change with analysts earlier this month during an annual meeting, a discussion that received little outside coverage. An Exxon spokesman, when reached for comment, referred to that session.
A carbon tax of $100 a ton is needed to make carbon-capture technologies viable, Pete Trelenberg, Exxon's manager of environmental policy and planning, said at the analysts' meeting. The tax for biofuels to work would have to be even higher. Existing carbon prices around the world are much lower. "By and large, we don't yet see adequate incentives to drive a lot of [carbon capture] into the marketplace," he said.
Company executives, including CEO Darren Woods, reiterated their years-long support for a carbon tax at this meeting, but that isn't translating into lobbying with the Republican-controlled Congress that opposes the idea.
Exxon's climate report to shareholders released in February assumes a massive expansion of the carbon-capture market in the coming decades along with increased demand for natural gas.
"They're simultaneously negative on the existing technology but also betting on this breakthrough," said Andrew Logan, who directs the oil and gas program at Ceres, a group urging more sustainable investing. "Not only that it will work, but that it'll be scalable at what looks like extremely ambitious levels."
Critics say the purpose of these investor-pushed reports is to test companies' assets against a range of scenarios, not just ones with favorable assumptions. Logan also says Exxon's report doesn't assume much, if any, electrification of big trucks, which further bolsters the company's positioning in algae biofuels.
"We all know, the conclusion in these reports is always going to be 'we're just fine,' " Logan said. "What's more important is understanding what those assumptions are and where they're reasonable and less reasonable."
To be sure, this is not a knock on the modeling at issue, or even on Exxon to a certain degree.
Most modeling that keeps Earth's temperatures below the level scientists say is needed does envision widespread use of carbon-capture technologies because it has traditionally provided the most cost-effective pathway. I've written about that a lot:

here

and

here

and

here

and

here

.
Long-term modeling is also inherently uncertain work whose data often lags. Since 2012 when the data was collected, renewable-energy prices have plummeted, while carbon-capture tech hasn't. An updated version of the modeling is set to be released later this year.
Bottom line: Exxon's strategy is based on a range of scenarios with favorable assumptions for its core fossil-fuel business that let it address climate change without fundamentally changing its business model as a company that extracts fossil fuels. That makes it an outlier among giant oil companies that are making bigger bets outside the core hydrocarbon space.
"They are off track compared to their competitors," said Amy Myers Jaffe, an energy consultant and senior fellow at the Council on Foreign Relations.
Go deeper