Students prep for protests: "We have nothing to lose"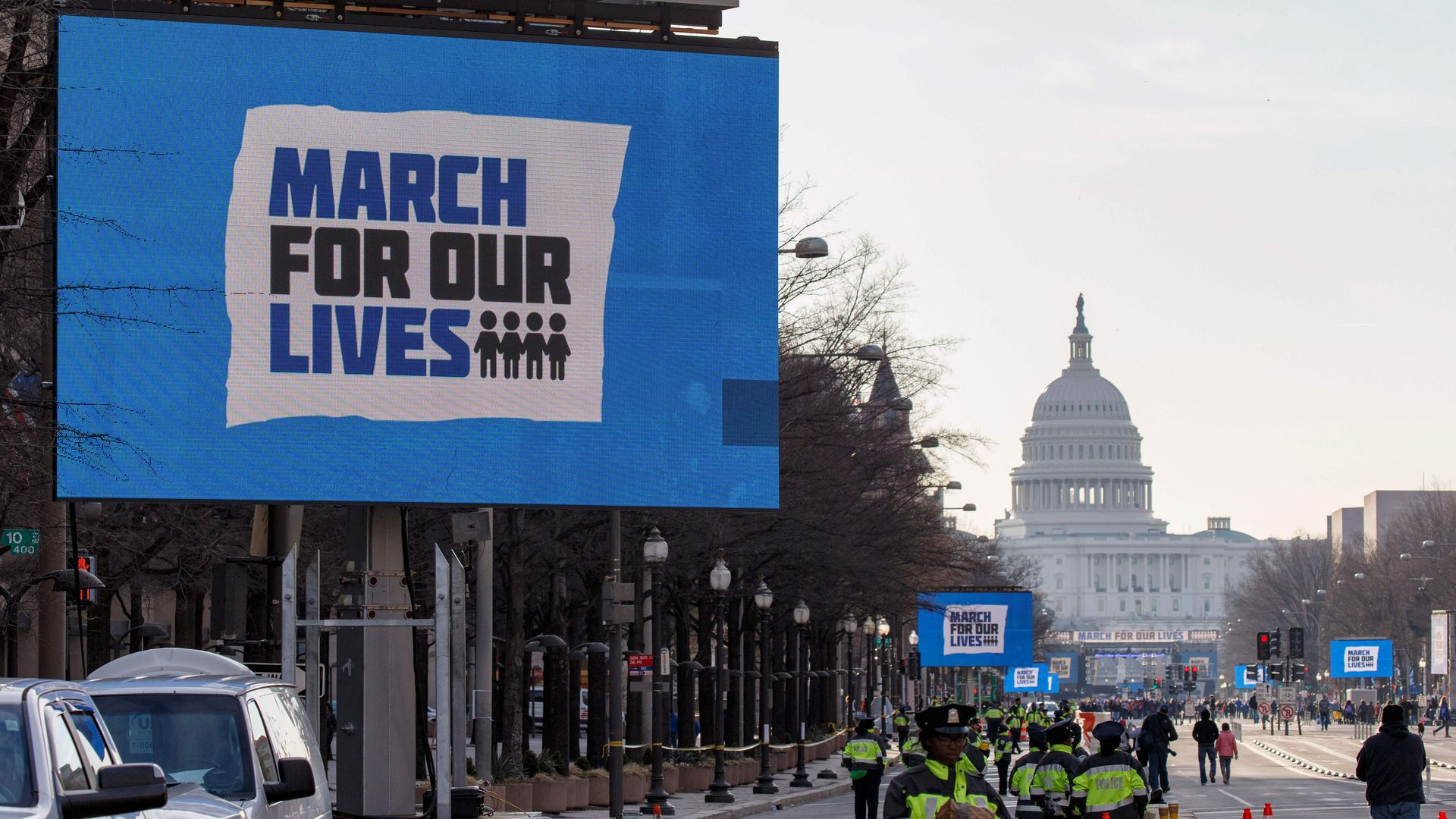 On Saturday, more than 800 March for our Lives protests are expected "in every American state and on every continent except for Antarctica," the New York Times reports.
Why it matters: The Parkland shooting was the tipping point for many, leading to a surge of the #NeverAgain movement led mostly by young people. Saturday can expect "more than half a million people" in D.C.'s march alone, the NYT reports, along with counter-protests, celebrities, and voting registration.
What to know about the marches:
There are counter-protests planned in several cities; a pro-second amendment University of Vermont student, Jace Laquerre, told the Times that gun rights supporters agree with students' "message to feel safe in school, we just have different solutions is all."
It's not just school shooting victims. Two shooting victims from Chicago, Dantrell Blake and Deshon Hannah, will also be marching in D.C. Blake told the NYT when something like the Parkland shooting happens, "it's like 'It's a massacre.' But it's a massacre in Chicago every day — and this definitely can be talked about.
The focus for many are the 2018 midterm elections. Per the Times, student activists will be working "to build support for candidates with whom they are aligned" on gun control issues. One organization, HeadCount, has "roughly 5,000 volunteers" attending marches around the U.S. to register people to vote.
Celebrities have gotten involved. People like George and Amal Clooney, Oprah Winfrey, and Steven Spielberg have been donating to the movement, per the Times. The protestors have received support from former Presidents Bill Clinton and Barack Obama.
The latest movement from the White House was President Trump's tweet on Friday that his administration "will issue the rule banning BUMP STOCKS...We will BAN all devices that turn legal weapons into illegal machine guns."
"What we're doing is because we're not scared of these adults, because we have nothing to lose, we don't have an election to lose, we don't have a job to lose — we just have our lives to lose."
— High School junior and protest organizer Jaclyn Corin to the NYT
Go deeper