Slovakia's political turmoil rumbles on month after journalist's assassination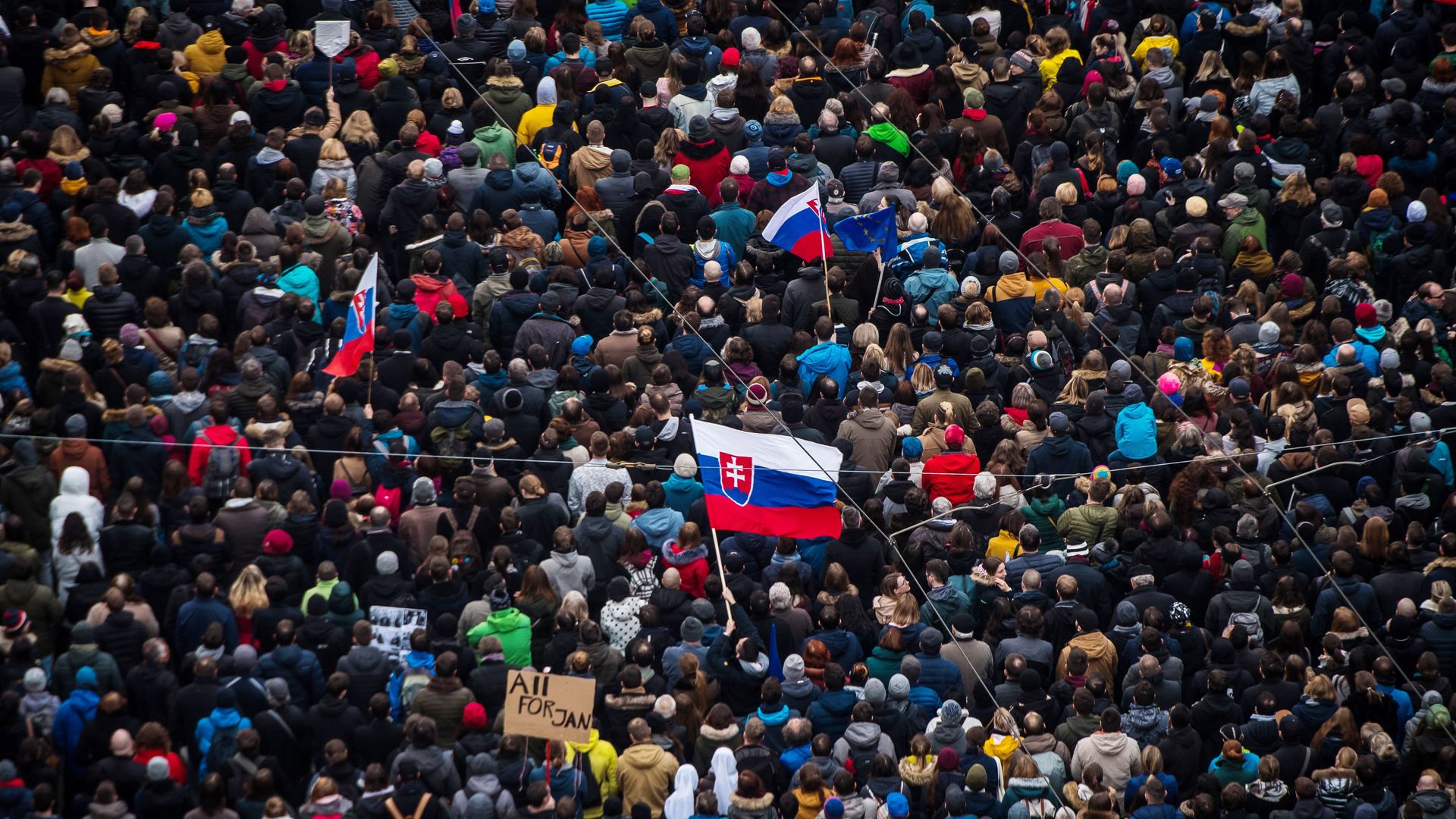 Slovakia is expecting another wave of mass protests a month after the assassination of a journalist who was investigating links between politicians and criminal gangs like Italy's 'Ndrangheta. The demonstrations have already led to the resignation of the country's prime minister.
Why it matters: Jan Kuciak, a 27-year-old investigative journalist with Aktuality.sk, was murdered along with his girlfriend while working on an in-depth investigation into the infiltration of the 'Ndrangheta, one of the world's most powerful criminal groups, into Slovakia and the neighboring Czech Republic. What has followed is the biggest display of public anger in Slovakia since the Velvet Revolution of 1989.
The big picture: Since joining the EU in 2004, Slovakia and other former communist states in Central Europe have made huge economic strides. Unfortunately, there have not been commensurate improvements in democratic standards, transparency and civil society, leaving these vulnerable young democracies open to organized crime and political corruption.
Kuciak's final piece of unfinished reporting was published on February 28. Titled "The Model, the Mafia, and the Murderers", it detailed an investigation into Slovakian prime minister Robert Fico's hiring of topless model Maria Troskova as one of his assistants, and Troskova's business ties to Antonino Vadala, 42, an Italian living in Slovakia who allegedly has close ties to the 'Ndrangheta.
The latest:
Organizers of the protests, the 'For a Decent Slovakia' initiative, have called for a fourth Friday in a row of national protest.
On March 20, Slovakia's president, Andrej Kiska, rejected the proposed cabinet makeup from Fico's designated successor, Peter Pellegrini. Kiska argued that more radical changes would be needed to satisfy the public's anger and asked Pellegrini to submit a new list of names by March 23.
Kiska particularly singled out Pellegrini's choice of interior minister, Josef Raz, who is the son of a popular rock singer and a night club owner in the capital Bratislava. Kiska hinted he would only accept an interior minister with no ties to Fico's Smer-SD party.
Go deeper Slovakia, Hungary, Czech Republic, Poland and the Baltic states are on the EU's front line with an increasingly assertive Russia, which is attempting to destabilize and weaken Europe through a hybrid war of corrupting politicians, interfering in elections, funding violent extremist groups, disseminating fake news and hacking.
Read more about the Kremlin's strategic deployment of corruption in Central Europe here.
Go deeper