Package believed to be en route to Austin explodes at FedEx facility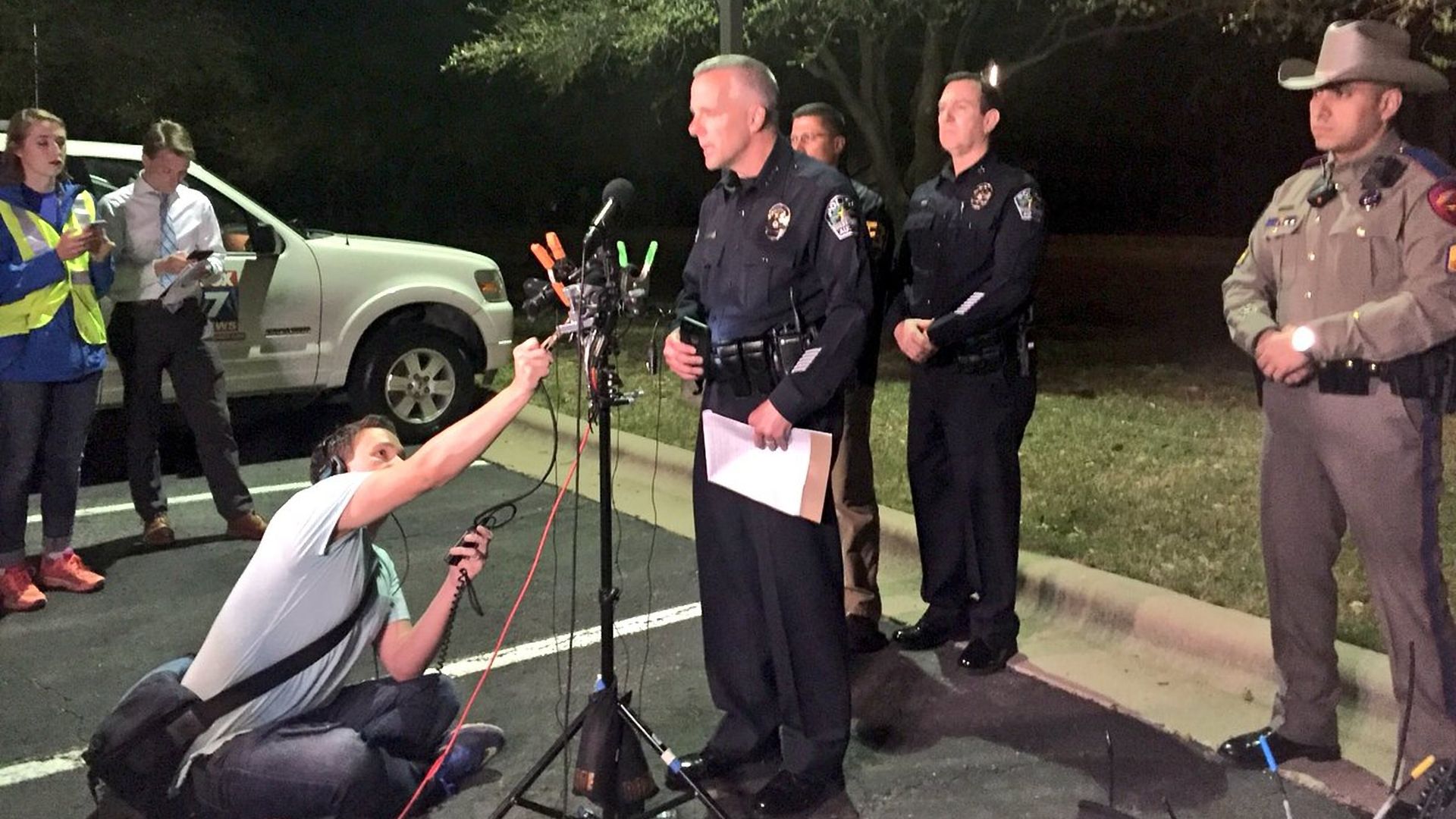 A package reportedly on its way to Austin, where there have been four bombings in less than three weeks exploded inside a Texas FedEx facility early Tuesday morning, per the Washington Post. No one is believed to be injured. Emergency services in Austin are also investigating another suspicious package this morning at a different Texas FedEx facility.
The latest: Local authorities said an earlier Sunday night explosion had "similarities" to the other package bombings that killed two people and injured two others earlier this month. They're now investigating what they consider to be a "serial bomber" situation.
The details: Three of the explosions were package bombs that the suspect left outside of the victims' homes. Local authorities said that none of the first four package bombs were delivered by UPS, FedEx or the Postal Service. Austin Police Chief Brian Manley said the fourth bomb, which occurred around 8:30 p.m. local time, was left on the side of the road and likely set off by a tripwire.
Manley added that the suspect(s) had "a higher level of sophistication, a higher level of skill" than what they previously thought.
The victims are 22 years old and 23 years old respectively, per Austin PD.
The Travis Country neighborhood, where the incident occurred, was under lockdown until 2 p.m. as police continue "gathering significant amount of evidence," said Manley, adding that police couldn't determine whether the bombings could be considered domestic terrorism. "We will have to determine if we see a specific ideology behind this," he said.
Authorities declared the Travis County neighborhood "safe" but still told residents to stay indoors as the department continues to process the area.
The two men injured in Sunday's explosion are white, Manley told ABC's "Good Morning America." The men were hospitalized with non-life threatening injuries and are expected to recover.
Why we're telling you this: The victims of the early bombings were African-American and Hispanic, fueling fears that the attacks might be hate crimes.
Anthony Stephan House, — a senior project manager at a limestone supplier, per his LinkedIn — died in the first blast.
Draylen Mason, 17, was killed in the second. He was a talented student and bass player accepted into the selective Butler School of Music at the University of Texas at Austin, CNN affiliate KXAN reported.
The third blast, just hours after the second, severely injured a 75-year-old Hispanic woman.

Police have offered a $100,000 award for any information leading to an arrest. It's unclear, authorities say, if this bombing is related to three other package bombings that killed two other people and injured two more.
Worthy of your time from The Washington Post: Exploding packages tap into simmering tensions over Austin's racial segregation
Go deeper