What Rexit could mean for climate change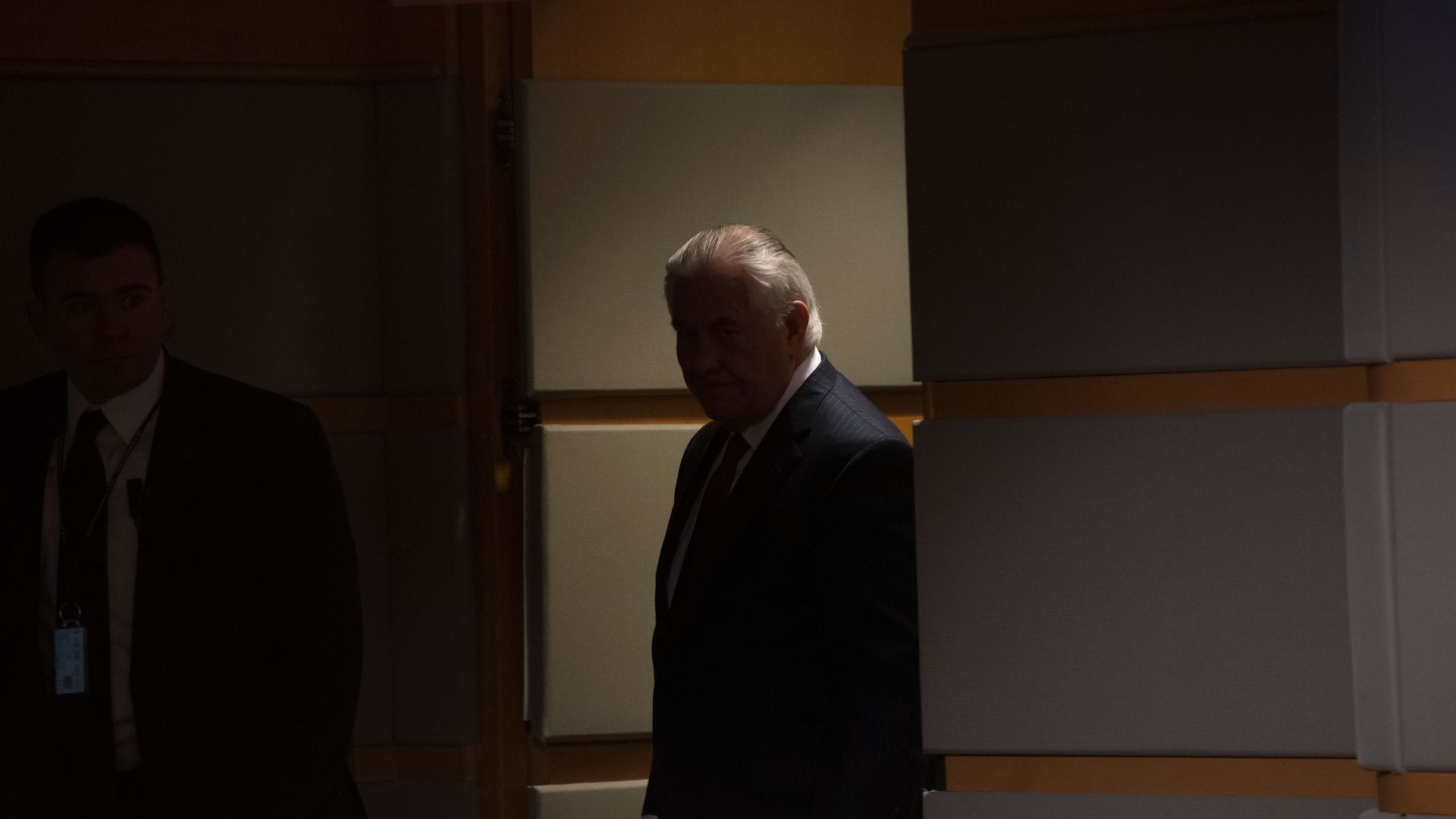 The firing of Secretary of State Rex Tillerson yesterday might impact U.S. climate policy, especially as the secretary-in-waiting, Mike Pompeo, has openly questioned the dominant scientific view on human-induced global warming.
The big picture: The rapid-fire departure of White House aides George David Banks, Gary Cohn, and now Tillerson means the disappearance of the more moderate voices — by Trump administration standards — on climate policy from the president's orbit.
Flashback: Banks, Cohn and Tillerson were all on the losing end of the fight to keep President Trump from saying he would withdraw from the Paris accord.
But, but, but: It's also true that the U.S. has not gone further by formally abandoning the underlying UN Framework Convention on Climate Change (UNFCCC), and has continued participating in talks around topics like the Paris deal's transparency provisions.
"Tillerson was not going to go out on a limb on climate, but the existing climate and environment career staff... were pretty secure and have had a role to play in Tillerson's State Department."
— Atlantic Council climate expert David Livingston in an interview.
"The downside scenario is Pompeo looks for an opportunity to signal a clean break with Tillersons's tenure at the helm of the State Department," Livingston said, noting effects on climate policy but also other environmental work.
One emerging idea: Some observers speculated that Pompeo will simply lack bandwidth to pare back climate efforts much beyond the watering down that has already occurred.
"Given the other issues on the plate of the State Department (North Korea, Iraq, etc.) and the need to hire key, unfilled positions, it's unclear that Director Pompeo would prioritize a major shift in the policy direction on climate," Kalee Kreider, a former adviser to Vice President Al Gore, tells Axios.
"The best outcome on climate might be a sort of benign neglect on the part of Pompeo, which would allow the more knowledgeable career staff to continue to look out for U.S. interests within Paris agreement deliberations, in particular in the Paris agreement working group on transparency, where the U.S. and China share leadership," Livingston said.
The intrigue: A lot could depend on who Pompeo seeks to install in key State roles. Pieces in the Washington Post and E&E News point out that the White House has not put forward a nominee to serve as assistant secretary of state for Oceans and International, Environmental and Scientific Affairs.
"I think Pompeo's views are fairly negative about the Paris agreement and climate action, particularly compared to Secretary Tillerson," said Sue Biniaz, a former State Department climate negotiator, tells the Post.
She adds: "But I think it all depends on whether this becomes an area of focus, and whether people are brought in to change the policy."
Post-mortem: In a blog post yesterday, Harvard's Robert Stavins, a longtime observer of international climate talks, said Tillerson deserves credit for keeping State engaged at UNFCCC talks, including the delegation he sent to annual negotiations in Germany last year.
"[N]egotiators from other Parties to the Paris Agreement personally related to me how surprised they were by the constructive role the U.S. delegation was continuing to play (in putting meat on the bones of the Paris Agreement)," writes Stavins, who is with Harvard's Kennedy School of Government.
The bottom line: Stavins also said, however, that Tillerson was ineffective at pushing Trump "toward a more sensible path on climate change policy."
Go deeper